Bhutan Thunder Dragon Tour
Duration: 9 Days 8 Nights
Description: Bhutan Thunder Dragon Tour is a short day cultural tour of western Bhutan. Yelha Bhutan Tours has organized this tour to give our guests the maximum sightseeing of the two western parts of Bhutan in the available short duration. Thimphu valley "Capital" and Paro valley is one of the most highly visited and popular valleys in the kingdom.
Bhutan is the last Mahayana Buddhist Kingdom, and the teachings of this school of Buddhism are a living faith among its people.
Highlight: Visit to the Ta Dzong (National Museum), Punakha Dzong, Worlds tallest bronze Buddha statue, Tigers nest hike, Phobjikha Valley, Visit the beautiful valley of Bumthang, east bhutan, Himalayas tallest Guru Rimpoche statue, spiritual tour….
DETAILED PROGRAM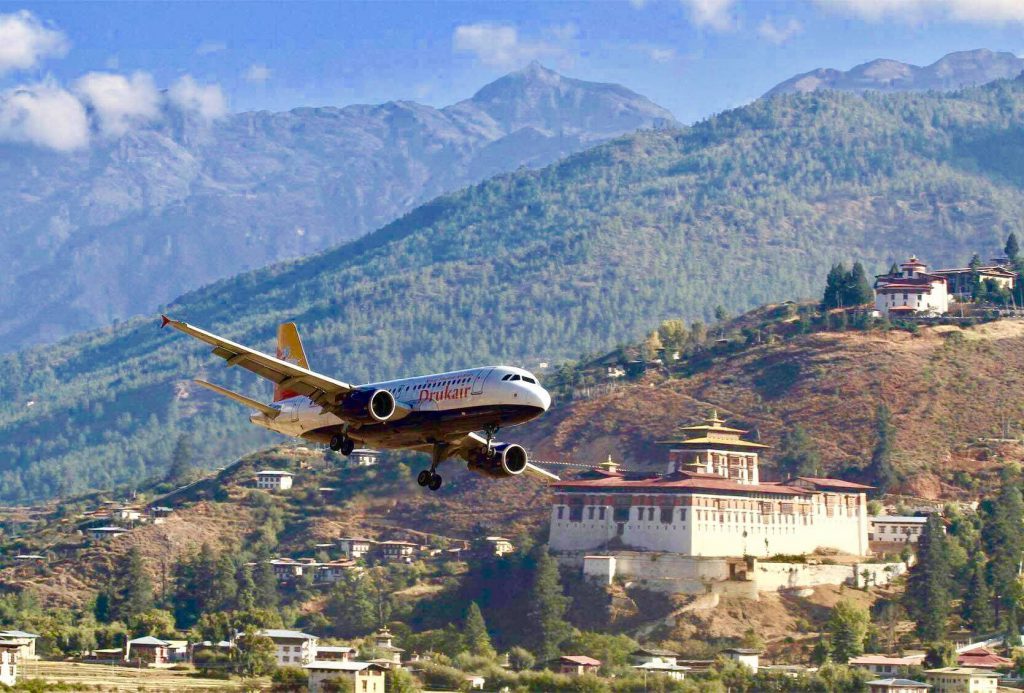 DAY 01: PARO-THIMPHU
DAY 02: THIMPHU
DAY 03: THIMPHU-PUNAKHA
DAY 04: PUNAKHA- BUMTHANG
DAY 05: BUMTHANG
DAY 06: BUMTHANG – PHOBJIKHA
DAY 07: PHOBJIKHA- PARO
DAY 08: PARO
DAY 09: DEPARTURE
DETAILED PROGRAM
Day 1: Arrive Paro, transfer to Thimphu
Elevation: 2334 m
Driving time: 1 hours
On a clear weather, magnificent views of the world's highest peaks and lush green Paro valley will be your first gift from Bhutan.You will be welcomed by cool, clean fresh air as you step out of the plane.
After clearing customs and visa control you will meet our guide. Afternoon in Paro visit Ta Dzong, once a watchtower, built to defend Rinpung Dzong during inter-valley wars of the 17th century, Ta Dzong was inaugurated as Bhutan's National Museum in 1968.
Afterwards, walk down a hillside trail to visit Rinpung Dzong. Built in 1646 by Shabdrung Ngawang Namgyal, the first spiritual and temporal ruler of Bhutan, the Dzong houses the monastic body of Paro, the office of the Dzongda (district administrative head) and Thrimpon (judge) of Paro district.
Later Drive to Thimphu. Distance: 54 k. Driving time: 1 hour.
On way we will stop at Tachog Temple. Built by the Tibetan saint Thangtong Gyalpo who is also known as the Iron chain builder of Bhutan. Arrival to Hotel and rest for a while.
After 5 pm visit the Seat of Government ( Tashicho Dzong Fortress)
Evening leisure time in the Capital town.
Overnight at the hotel in Thimphu.
Day 2: Thimphu Sightseeing.
After breakfast travel to Thimphu and check into your hotel. The full day Thimphu tour includes visit to the following:
Visit the memorial stupa, which was built in remembrance of the third king of Bhutan. It is centrally located in the capital. (5-7 minutes' drive away from the hotel)
Visit Buddha Point and offer your prayers to the largest Buddha statue in the country and walk around to enjoy the great view of Thimphu valley below
The National Library, housing an extensive collection of priceless Buddhist manuscripts.
The Institute for Zorig Chusum (commonly known as the Painting School) where students undergo a 6-year training course in Bhutan's 13 traditional arts and crafts.
We will visit weaving centre at changzamtog and see how Bhutanese wcomen weave the traditional costumes on a loom.
Centenary Farmers' Market, where farmers sell their fresh farm produces.
Options: Bhutan post office, Paper making factory, Archery ground.
Resorts/Hotels: In Thimphu
Day 03: Thimphu -Punakha -Wangduephodrang
Altitude: 1,300 meters
Distance: 71 km
Estimated driving time: 2 1/2 hrs
After breakfast, travel to Punakha through Dochula Pass (3,088m/10,130ft). If you have a clear sky, the view of the Himalayan Mountain ranges is spectacular and you can even see the Gasa Dzong as a white dot in the horizon.
Visit the beautiful 108 chortens built on the hill by Her Majesty Ashi Dorji Wangmo for the security and wellbeing of His Majesty the King of Bhutan.
Travel onto Punakha, the old capital of Bhutan and presently the winter residence of the central monk body. After lunch, walk through the Metshina Village and take a 20-minute walk through the rice fields to the Devine
Madman's Monastery-Chhimi Lhakhang, famously known for its fertility shrine, where one can receive a special fertility blessing.
Visit the Punakha Dzong, located on the island of the Pho – Chu (male) river and the Mochu (female) river.
Later we will visit the longest suspension bridge in Bhutan. It is around ten minute's drive from the Dzong.
Overnight at a hotel in Wangdue/Punakha.
Day 04: Wangduephodrang – Bumthang
Altitude: 2,650 meters
Distance: 198 km
Estimated driving time: 8 hrs
After breakfast, drives to Bumthang via Pelela pass at the altitude of 3,150 meters, a wonderful opportunity for photographs.
On way you can see the magnificent Trongsa Dzong, the largest fortress in Bhutan. En-route stops at Chummey village to visit yathra weaving central. Which Yathra are made into colorful scarves, bags, blankets and sweater.
Continue drive to Bumthang.
After check in your can visit the Bumthang town. Bumthang valley is one of the most beautiful valley in Bhutan and it is known as Switzerland of Bhutan, have a local meal in a resorts/Hotels.
Overnight in Bumthang
Day 05: Bumthang valley.
After breakfast sightseeing in Bhutan are as follows
In the morning visit the Jakar Dzong. The fortress is now used as an administrative centre of the valley and summer residence of monks. (located around 10-15 minute drive from your resort)
Visit Jambay Lhakhang, the 7 th century temple built by the famous Tibetan King Songtshen Gyalpo. Visit Kurjey Lhakhang (Kurjey means, "Body imprint").
The temple to the right was built by Minjur Tempa in 1652. It was built around the cave in which Guru Rinpoche meditated and left his body imprint.
We will hike to Tamshing temple, and have picnic lunch on way if time permits or we can have a local meal in the town. Later we will visit the famous cheese shop and also try the famous red panda beer.
Option : Kharchu Dratshang, leisure in town or rest at resort.
Resorts/Hotels: In Bumthang.
Day 06: Bumthang – Phobjikha:
Altitude: 2,900 meters
Distance: 188 km
Estimated driving time: 7 hrs
After breakfast drive to Trongsa. And then Visit Trongsa Dzong – seat of the district administration, built in the 1648.
Option visit Tower of Trongsa -converted into the museum from watch tower that once guarded Trongsa Dzong from internal rebellion, stands in Bhutan's history.
After lunch drive to Phobjikha after lunch. Phobjikha- is a bowl-shape valley on the western slopes of Black Mountain. Optional: After lunch or in Morning visit Gantey Goenpa – This monastery is a major attraction with an old monastery date back to the 16 century.
Later hike around the valley which is also the winter home to the rare black-necked cranes, which migrate, from remote parts of Tibet, China and Siberia during winter to this valley.
Overnight Resorts/Hotels:At Gangtey.
Day 07: Phobjikha-Paro
Altitude: 2,280 meters
Distance: 190 km
Estimated driving time: 7 hrs
Today after well rest we will drive to Paro. Sightseeing and photography enroute as per the wishes of the clients.
Option: We will do some sightseeing on way and also stop at Thimphu for while if there are any last minute shopping.
( Note : Thimphu is capital city and there are many shops in the valley, so there are more options to shop and also it is much cheaper here comparing to Paro valley )
Later stroll through the town and rest in Resort.
Resorts/Hotels: Overnight in Paro valley.
Day 8 : A Day Hike to Paro Taktsang Monastery.
Tshog offering, private prayers and meditation at Taktsang.
After breakfast, drive up to the base camp of Taktsang and then hike up to the most famous Monastery in the entire kingdom of Bhutan perched on the edge of a steep cliff, about 900 meters above Paro Valley.
The hike to the viewpoint will take about an hour and it will take 2 hours to the monastery. Lunch at the view point or at Paro town.
Later visit the 7th century Kyichu temple. Farewell dinner and overnight at a hotel in Paro valley.
Option: Visit a farm house in the evening and enjoy the special
Traditional home cooked meals.
Resorts/Hotels: At Paro valley.
Day 9: Departure from Paro
In the morning, your tour guide from Bhutan (local Bhutan travel agent) will escort you to Paro International Airport for your departure