Best of Bhutan Tour- 6 Days
Duration: 6 Days, 5 Nights.
Locations: Thimphu, Paro, Punakha and Wangduephodrang valley.
Highlight: Hike to the Tigers nest temple temple, visit to the Ta Dzong (National Museum), Punakha Dzong, Worlds tallest bronze Buddha statue, Tigers nest hike, Dochula mountain pass, Fertility temple, Souvenir shopping, prayer flag ceremony at Paro, wear Bhutanese costumes during the trip which will be provided by the company, heritage farm house dinner etc.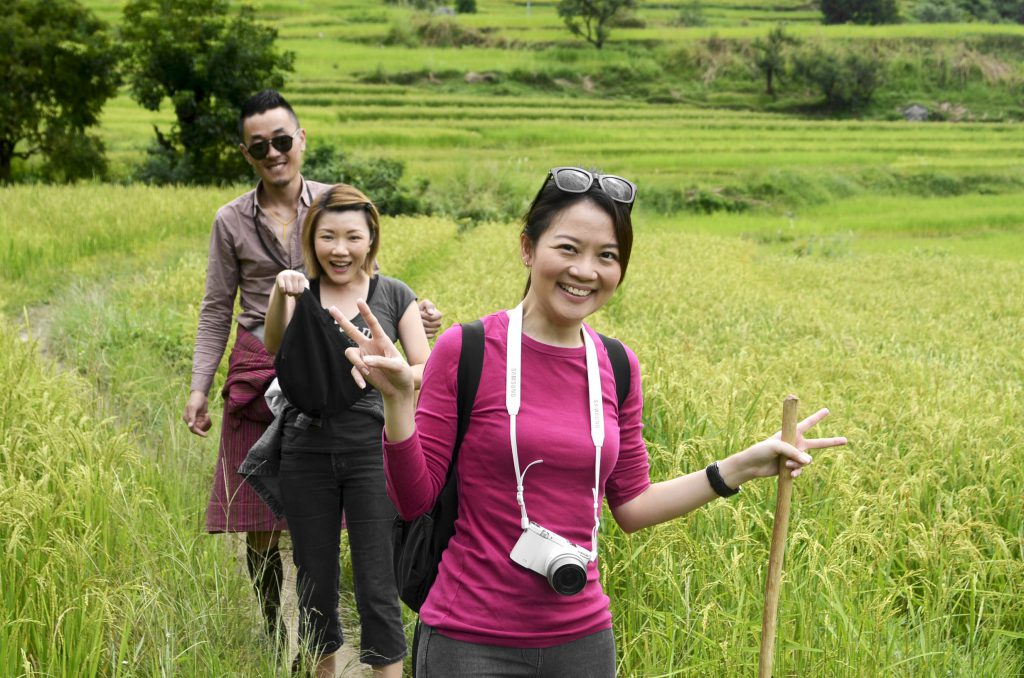 ITINERARY OVERVIEW
DAY 01 : ARRIVE PARO- EVENING STAY IN THIMPHU
DAY 02 : THIMPHU SIGHTSEEING TOUR
DAY 03 : THIMPHU- PUNAKHA VALLEY
DAY 04 : PUNAKHA-PARO VALLEY
DAY 05 : PARO TIGERS NEST HIKE
DAY 06 : FAREWELL
DETAILED TOUR PROGRAM
Day 01 : Arrive Paro
Fly into Paro by Druk Air, Bhutan's National Airline. The great snow-capped peaks of the inner Himalayas rise up to the heavens can be seen during clear weather.
You will be received by the representative of Yelha Bhutan Tours and Travels (Bhutan tour operator) who will be your Bhutan travel guide throughout your tour.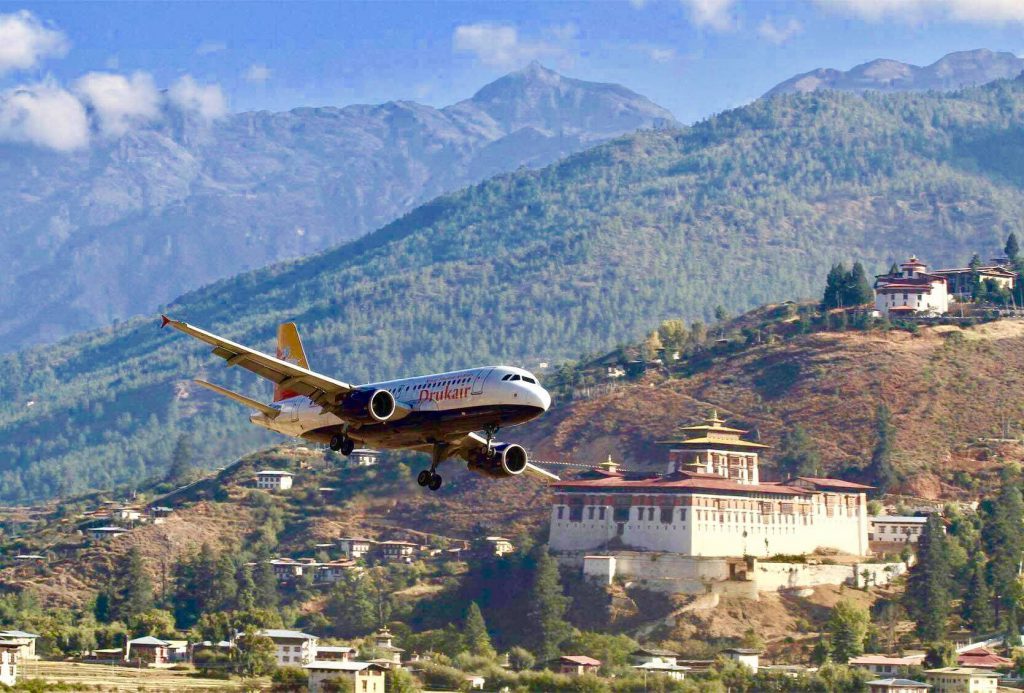 Altitude: (2280m)
Distance: 65 km
Estimated driving time: 1 hrs
After lunch visit the followings –
Drive to Kuensel Phodrang. "This massive statue of Buddha statue measures in at a height of 51.5 meters [169 feet], making it one of the largest statues of Buddha in the world.
The statue is made of bronze and is gilded in gold. 125,000 smaller Buddha statues have been placed within the Buddha Dordenma statue, 100,000 8-inch-tall and 25,000 12-inch tall statues respectively. Each of these thousands of Buddhas have also been cast in bronze and gilded. The throne that the Buddha Dordenma sits upon is a large meditation hall."
Memorial stupa, Tashi Chhodzong and the stroll through the town in the evening.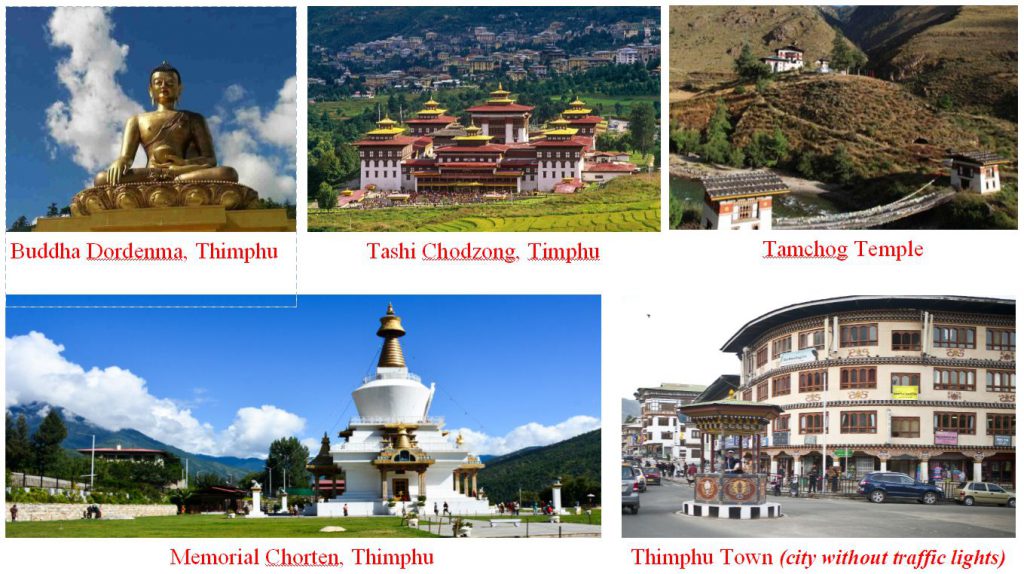 Overnight at a hotel in Thimphu and dinner will be set in the hotel.

Day 02 : Thimphu Sightseeing
After breakfast we have a full day Thimphu tour which includes visit to the following:
• The Institute for Zorig Chusum (commonly known as the Painting School) where students undergo a 6-year training course in Bhutan's 13 traditional arts and crafts.)
• Changangkha temple. it was established in the 12th century on a site chosen by Lama Phajo Drukgom Shigpo, originally from Ralung in Tibet. Parents come here to get auspicious names for their newborns or blessings for their young children from the protector deity Tamdrin (to the left in the grilled inner sanctum).
• Changzamtog National Weaving,The place is owned by Mr Kezang, the first men to weave textiles in Bhutan.
• Centenary Farmers' Market (open from Thursday to Sunday) where farmers sell their farm produces.
• Takin Preserve which houses the national animal- takin which is found only in Bhutan. Takin is an extremely rare member of goat family.
Optional : The National Library. The National Library of Bhutan, Thimphu, Bhutan was established in 1967 for the purpose of "preservation and promotion of the rich cultural and religious heritage" of Bhutan.
Optional : Heritage farm house dinner etc.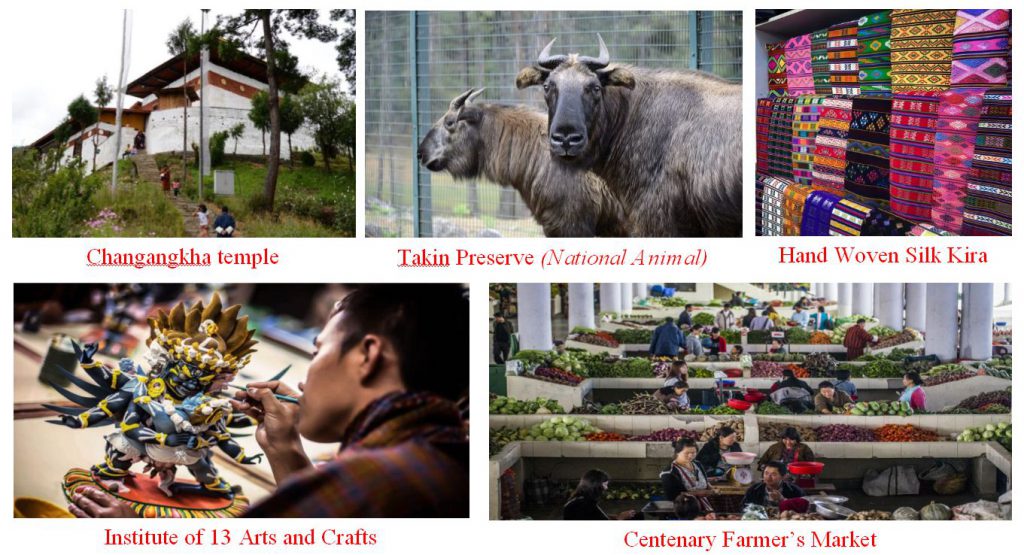 Day 03 : Thimphu-Punakha/Wangdue
Altitude: (1300m)
Distance: 77 km
Estimated driving time: 2 ½ hrs
After breakfast, drive to Punakha via the Dochula pass.
Visit the beautiful 108 chortens built on the hill by Her Majesty Ashi Dorji Wangmo for the security and well being of His Majesty the King of Bhutan.
After breakfast, drive to Punakha via the Dochula pass.
Visit the beautiful 108 chortens built on the hill by Her Majesty Ashi Dorji Wangmo for the security and well being of His Majesty the King of Bhutan.
In the evening, walk to the Devine Madman's Monastery-Chhimi Lhakhang, famously known for its fertility shrine, where couples unable to conceive come here for blessing.
Optional: Suspension bridge. Punakha suspension brudge length is 160 metres! Gyalpo chain bridges did not include the suspended wooden deck and this makes walking across the bridge quite a thrilling experience.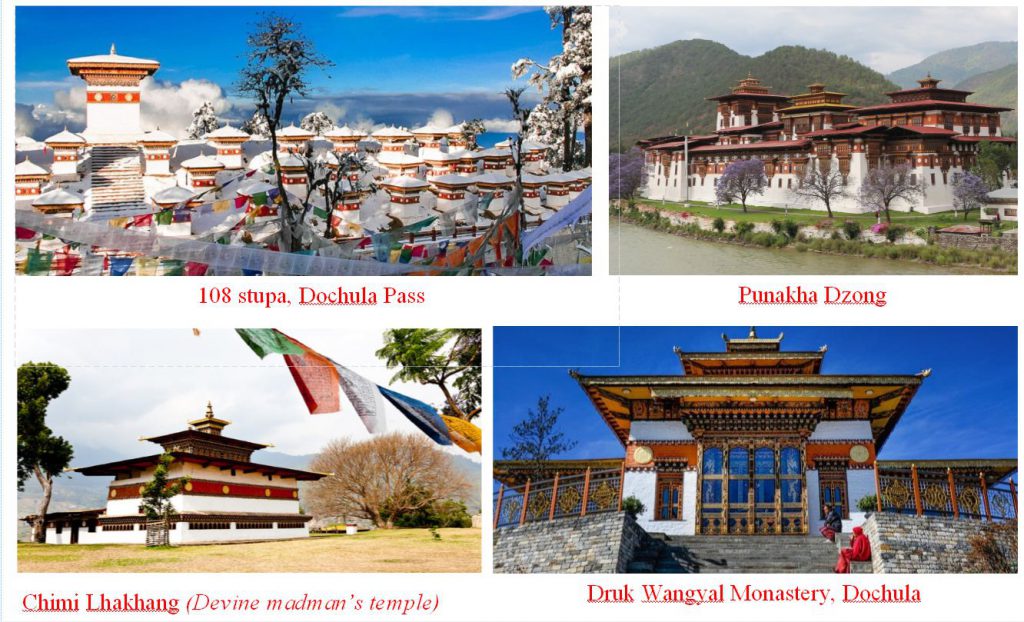 Overnight at a hotel in Punakha

Day 04 : Punakha -Paro
Altitude: (2334 m)
Estimated driving time: 3 ½ hrs
After breakfast, drive to Paro via Dochula and stop for a moment if you want to visit wash room or photo shoot. Continue with the drive and after reaching Paro, check into the hotel and visit Kyichu temple. It is one of the 108 temples built in the 7th century by the Tibetan King Songsten Gampo. A giant demon lay
Paro Rinpung dzong, built in 1645 to defend the valley against Tibetan invaders. The Dzong is now being used as an administration center and school for monks.
Visit Taa dzong which was built in the 17th century as a watchtower for the Paro Dzong. This dzong was converted into the National museum in 1967 and is filled with antique thankha paintings, textiles, weapons and Armour.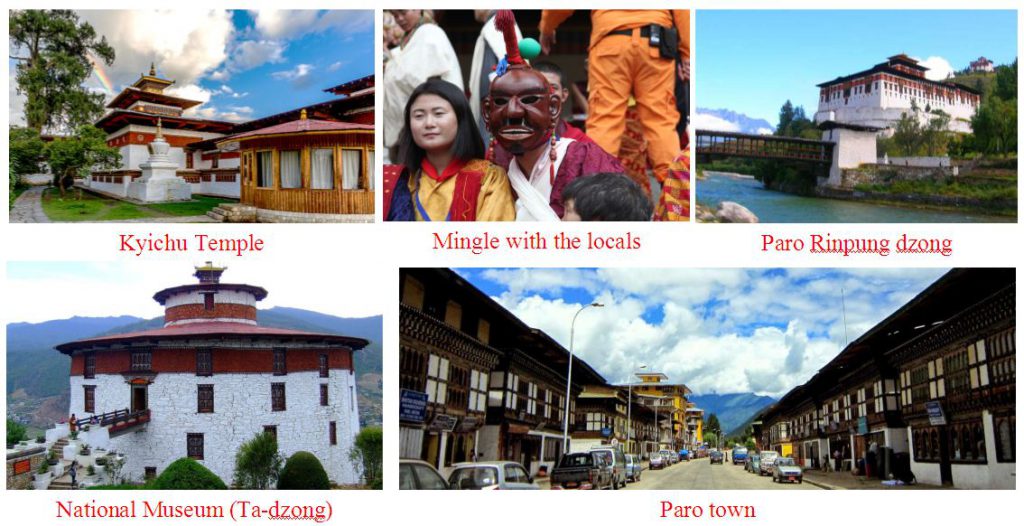 Overnight at a hotel in Paro

Day 05 : A Day Hike to Taktsang Goempa (Tiger's Nest Monastery)
Altitude: (3120 m)
Hiking time: 5 hours in total
After breakfast, drive up to the base camp of Taktsang and then hike up to the most famous Monastery in the entire kingdom of Bhutan perched on the edge of a steep cliff, about 900 meters above Paro Valley.
The hike to the viewpoint will take about an hour and it will take 2 hours to the monastery. Till view point, you can experience horse ride by paying USD 15 to USD 20 per horse but if you prefer hike, then it is great.
Lunch at Taktshang Café just above view point or you can have picnic lunch.
After completing the hike, you will be visiting one of the farm houses in Paro to experience Bhutanese life-Style and the organic Bhutanese dinner.
You can also experience hot-stone bath at farm house (US $ 20 per person).
Benefits of Hot stone bath:
It is a good remedy for skin diseases, joint pains, body aches and to relax after a hard day's work.
No scientific study has been done but it's believed that the herbs and the chemical in the stones are a good source of medicine. Families in olden days would soak after their seasonal farm work in winter. The long, healing bath relaxed their tired bodies and helped cure backaches and joint pains.
In the evening relax and overnight at a hotel in Paro.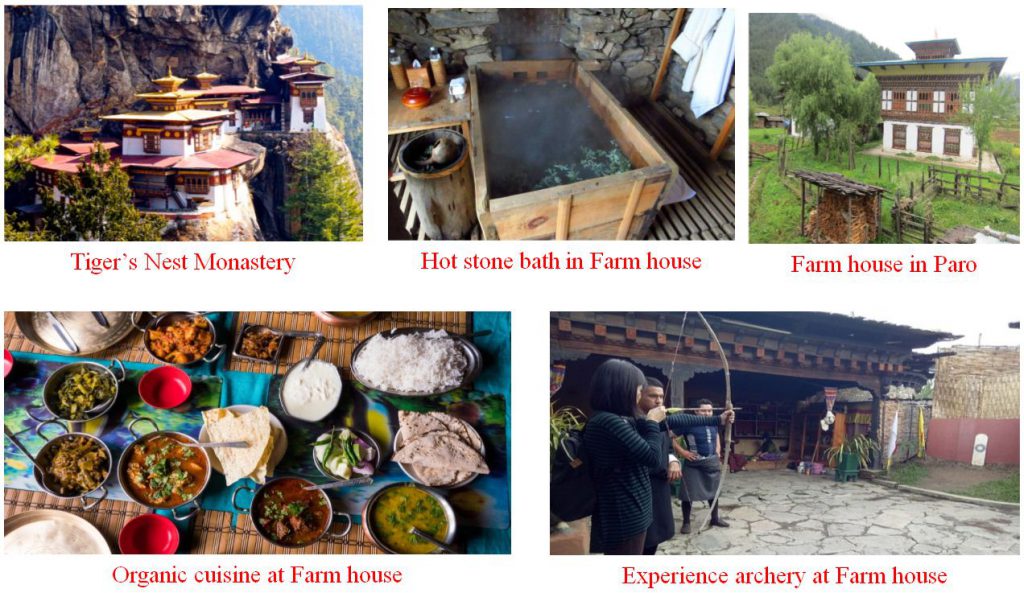 Day 06 : Departure from Paro
In the morning tour guide from Yelha Bhutan Tours will escort you to the Paro airport for your flight to your onward destinations.
End of Tour