East Bhutan tour : 14 Days
Duration: 14 Days, 13 Nights.
Locations: Thimphu, Paro valley, Punakha, Wangdi Phodrang, Bumthang, Mongar,Takila, Tashiyangtse, Yonphula, Yonphula, Phobjikha
Highlight: Eastern Bhutan tour is one of the best designed tour program for the travellers to see the best of Bhutan From urban Bhutan to the eastern parts. You will experience the cultural and traditional of different parts of Bhutan and also see the different activities and festival each different regions has to offer.
OVERVIEW ITINERARY
DAY 01 : ARRIVE PARO
DAY 02 : PARO – YONGPHULA.(DOMESTIC AIRPORT OF FAR EAST/35 MIN FLIGHT )
DAY 03 : DAY EXCURSION TO TASHIYANGTSE
DAY 04 : TRASHIGANG – MONGAR
DAY 05 : MONGAR – LHUNTSE (TAKILA IS SITE OF LARGEST GURU RINPOCHE STATUE)
DAY 06 : MONGAR –BUMTHANG
DAY 07 : BUMTHANG VALLEY
DAY 08 : BUMTHANG – PHOBJIKHA
DAY 09 : PHOBJIKHA – PUNAKHA VALLEY
DAY 10 : PUNAKHA – THIMPHU
DAY 11 : THIMPHU SIGHT SEEING AND LEISURE.
DAY 12 : THIMPHU – PARO
DAY 13 : PARO TIGER NEST HIKE AND FAREWELL DINNER
DAY 14 : DEPARTURE
DETAILED TOUR PROGRAM
Day 01 : Paro
Altitude: 2,250m / 7,382ft
Fly into Paro on our national carrier, Druk Air, is a befitting introduction to the spectacular beauty of our country. In clear weather, magnificent views of the world's highest peaks give way to the lush green Paro valley as you land. First gift from Bhutan will be the cool, clean fresh air as you step out of the plane.
After clearing customs and visa control you will meet our guide and driver.
In the afternoon visit Ta Dzong, once a watchtower, built to defend Rinpung Dzong during inter valley wars of the 17th century, Ta Dzong was inaugurated as Bhutan's National Museum in 1968.
Afterwards, walk down a hillside trail to visit Rinpung Dzong. Built in 1646 by Zhabdrung Ngawang Namgyal, the first spiritual and temporal ruler of Bhutan, the Dzong houses the monastic body of Paro, the office of the Dzongda (district administrative head) and Drangpoen (judge) of Paro district.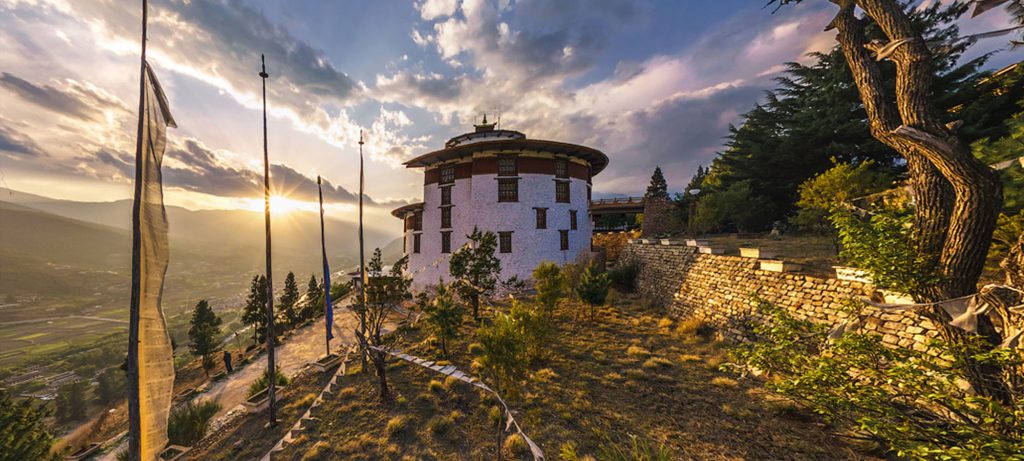 Overnight in hotel at Paro

Day 02 : Paro – Yonphula
Altitude: 2,743 m
Flying Distance : 35 minutes
As per the flight timing, you will be escorted to Paro International airport for the onward departure to Yonphula (Eastern Bhutan) via domestic flight. Guide and driver will receive you from the domestic airport, Yonphula and then enjoy the beautiful view from there. After that drive to Tashigang, one of the biggest district in Bhutan.
Check into the hotel and then visit Tashigang dzong, the fortress which was built in 17th century and has commanding view of the valley. Inside are few interesting temples and local government offices.
(If you arrive early in Tashigang, then drive to Rangjung for the sightseeing).
Day 03 : Day excursion to Tashiyangtse
After the breakfast, drive to Tashiyangtse which will take about 2 hours' drive time. On the way, visit to the Gomphu Kora temple, place where 8th century magician-saint Guru Padmasambhava left his body imprints. Further drive will offer occasional views of Snowy Mountain in clear weather.
Finally you will see impressive building of the old Trashi Yangtse dzong which is home to 300 monks. The dzong used to protect former trade route with Tibet and was established by the saint Pema Lingpa of 15th century.
The temples with valuable statues are worth of exploring. Also near the Trashi Yangtse is the famous Chorten Kora, the largest stupa in Bhutan built in Nepali style. This is the site of two colorful local festivals at the beginning of the year.
Trashi Yangtse is also home to National Institute for Zorig Chusum, the school where the young people learns the art crafts of their forefathers to keep Bhutan's traditional arts alive. Evening return to Trashigang.
Day 04 : Tashigang – Mongar
Altitude: 1,600 m
Driving distance : 2 hours 15 minutes
After breakfast, you will drive to Mongar which will take 31⁄2 hours' drive but on the way, you can visit Dramtse Gompa, which is one of the most important monasteries of eastern Bhutan.
This is the place from where the famous Naga Chham (mask dance of the drums from Drametse), mask dance with drums originated. This dance is ubiquitous feature of many festivals and also it was included to the UNESCO list of oral and intangible heritage. Monastery itself was founded in 16th century by descendants of the saint Pema Lingpa and its name means "the peak where there is no enemy".
There is number of interesting chapels with a lot of important statues of the saints and protector deities. After that drive to Mongar and on the way visit Ngatshang monastery. You will also stop for a coffee at Korila pass between before reaching Mongar.
After reaching Mongar, you will visit a dzong (castle). Although built in 1930, the dzong maintains Bhutanese architectural traditions.
overnight in Mongar in a nice 3 start resort.
Day 05 : Mongar – Lhuentse (Takila) – Mongar
Driving distance : 2 hours 25 minutes
Morning drive to Lhuntse which is one of the most rural and isolated districts in Bhutan. The landscape is spectacular with stark cliffs and gorges, beautiful conifer and pine forests and remote villages with rice, millet and corn fields.
Kurtoe region of Lhuntse is the ancestral home of Bhutan's royal family. We will visit Takila, the place where the gigantic statue of Guru Rimpoche was recently built. Inside the statue, you find number of richly decorated chapels, which.
Further you will continue to Khoma village for most elaborate traditional cloths in Bhutan. Quality of weaving is so fine that even Royal Family places their order for clothes here. Village itself is interesting and beautiful so we will spend some extra time here having a lunch in local house and tasting local delicacies.
Then drive back to Mongar for overnight.
Day 6 : Mongar – Bumthang
Altitude: 2,800 m
Driving distance : 2 hours 25 minutes
The journey continues westwards winding through more rugged terrain. The drive will take minimum 7 hours, but it won't be boring at all. Road offers most spectacular views in the country ascending 3200 meters in the distance of 84 kilometers.
After about a hour drive, you'll pass along the ruins of Sengor dzong, which burned to ash in 1899. Chortens on the roadside are built in memory of 300 laborers who died during road building in 1970's.
You'll also come along the stunning Namling waterfall. After crossing the second highest motor able pass in Bhutan, the Thrumshing-la (3,580 m), you gradually descend to clustered village of Ura.
It's good idea to stop at rhododendron garden just after the pass to see the number of species of this beautiful tree. From Ura village we will continue drive to the Shertong-la pass (3580 m). Right after that in sharp turn,
the Gangkhar Punesum, the highest mountain in Bhutan might be seen in clear weather.
Overnight at hotel in Bumthang.

Day 07 : Bumthang Valley Tour
After lunch, we will visit the following:
Jakar Dzong: The fortress is now used as an administrative center of the valley and summer residence of monks.
Jambay lhakhang, built in the 7th century by the King Songtsen Goempo of Tibet. In his effort to propagate Buddhism he had a plan to build a total of 108 temples in Tibet and neighboring kingdoms.
Kujey Lhakhang (Kujey means, "Body imprint"). The temple to the right is the oldest and was built by Minjur Tempa in 1652. It was built around the cave in which Guru Rinpoche meditated and left his body imprint.
Mebar tsho (Burning lake)– Optional
Day 08 : Bumthang – Phobjikha
Altitude: 3000 m
Driving distance : 5 hours
After breakfast, drive to Wangdue/ Punakha via Phobjikha valley. Driving through the dense forests of the Phobjikha Valley you arrive at Gangtey village where you see the Gangtey Monastery and visit the monastery.
Phobjikha valley is part of the beautiful Jigme Singye Wangchuck National Park (formerly known as Black Mountains National Park), one of Bhutan's most important nature sanctuaries.
Each winter it is home to a flock of 300 rare and endangered black-necked cranes. The surrounding hills and mountains are home to nomadic shepherds and yak-herders. This is one of the most remote and untouched regions in Bhutan and is only just opening its doors to the outside world. After lunch at Gangtey and explore Phobjikha valley and also visit the Black Necked Crane Center.
Overnight in hotel at Gangtey

Day 09 : Phobjikha – Punakha
Altitude: 2,900 m
Driving distance : 2 hours 33 minutes
Today after breakfast we will drive to Punakha valley with sightseeing en-route. We will stop at certain places for tea/refreshments and drive slowly towards Punakha valley.
Punakha was the winter capital for over 300 years until the time of second King. Punakha Dzong, which dominates the whole area, was built in 1637 by Zhabdrung Ngawang Namgyel, and established the central monastic body with 600 monks.
Today, Punakha is still the home for Je Khempo (Chief Abbot) and the central monastic body. Punakha Dzong is one of the most impressive Dzong in the Kingdom. If time permits, we will take leisure time and walk around.
Visit Punakha suspension bridge. Punakha suspension Linking Punakha Dzong to Shengana, Samdingkha, and Wangkha villages across the Tsang Chu River (aka Po Chu), this is one of the longest suspension bridges in Bhutan.
It is roughly 160 meters long suspension bridge, it's surprisingly stable. The bridge offers a spectacular view of the river and valley, and the east bank is a good starting point for multi-day treks in the nearby mountains.
Overnight Punakha at Hotel.

Day 10 : Punakha – Thimphu
Altitude: 2,334 m
Driving distance : 2 hours 25 minutes
After breakfast, we will drive through upper Punakha valley passing through farm houses and take a leisure walk through farmhouses to the beautiful Khamsum Yuelley Namgyal Lhakhang (temple) built by Ashi Tshering Yangdon Wangchuck (the Queen Mother of Bhutan) for peace and stability in this ever changing world.
The leisurely walk up to the temple would take about an hour.
After lunch, we will travel to Thimphu and on the way we will visit Devine Madman's temple (Chimi Lhakhang). Before arriving in Thimphu you come across Dochula (Dochula Pass 3140m).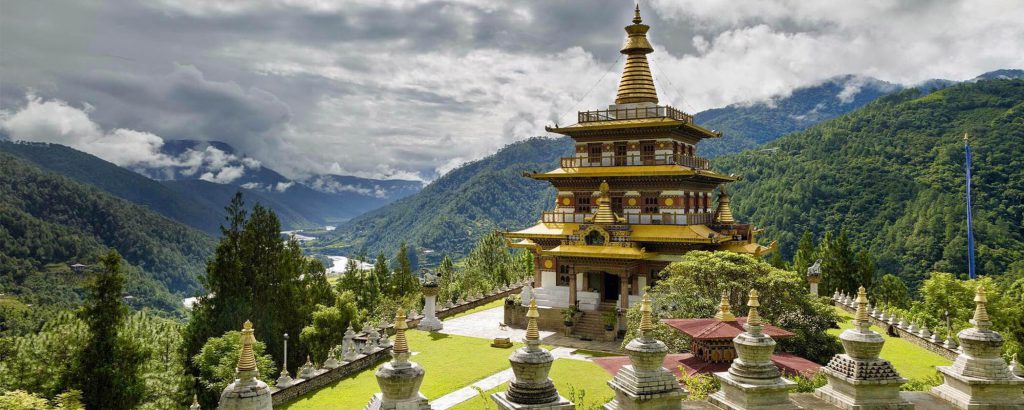 In the clear sky, enjoy the panoramic view of Himalayan Mountain ranges. Then pass by the beautiful 108 chortens (Stupa) built on the hill by Her Majesty Ashi Dorji Wangmo Wangchuck (Queen Mother of Bhutan) for the security and well being of His Majesty, the King of Bhutan.
In the evening relax and overnight at a hotel in Thimphu

Day 11 : Thimphu Sightseeing
After breakfast visit Kuensel phodrang (commonly known as Buddha Point) where the largest Buddha statue in the country is perched on the hillock overlooking the Thimphu Valley. You may take a nature hike through Kuensel Phodrang Nature Park.
Then visit, National Memorial Chorten (stupa) which was constructed in 1974 as a memorial for the third King of Bhutan, King Jigme Dorji Wangchuck.
Meet the elderly generation in circumambulation, especially in the evenings, at the National Memorial Chorten.
After lunch visit the following:
Dechenphodrang (meaning, Palace of great bliss) Monastery located at north of Thimphu valley. It is a monastic school for about 500 young monks enrolled for 8 years courses.
You will visit the monastery and have free interaction with young monks who are mostly from poor family ground and some even orphan.
The "Palace of Great Bliss" serves as a home and learning center for these young monks. You will spend some time interacting with young monks.
Tashichhoe Dzong, a fortress of the glorious religion. It was built in 1641 by Zhabdrung Ngawang Namgyel and was reconstructed into presentstructure by the late King, His majesty Jigme Dorji Wangchuck in the year 1962-1969. It houses the secretariat building, the throne room and the office of the king, and the central monk body.
Centenary farmer's market where the farmers/locals sells their organic farm produces.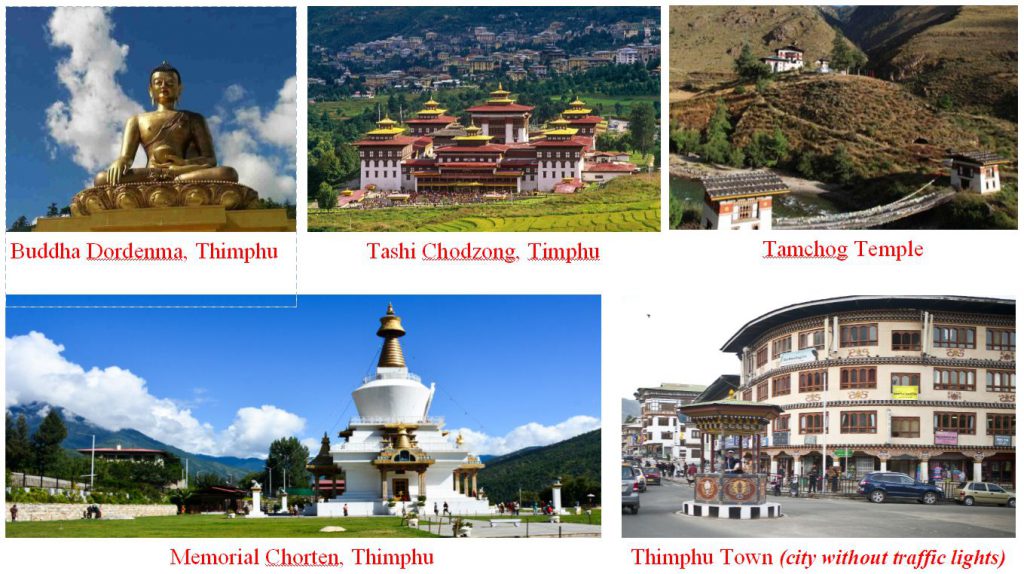 Day 12 : Thimphu – Paro
Driving distance : 1 hour
Have breakfast in hotel and then visit the following:
Takin Preserve which houses the national animal- takin which is found only in Bhutan. Takin is an extremely rare member of goat family.
Institute of 13 Arts and Craft (Zorig Chusum)
After lunch, visit weaving Center at Changzamtog.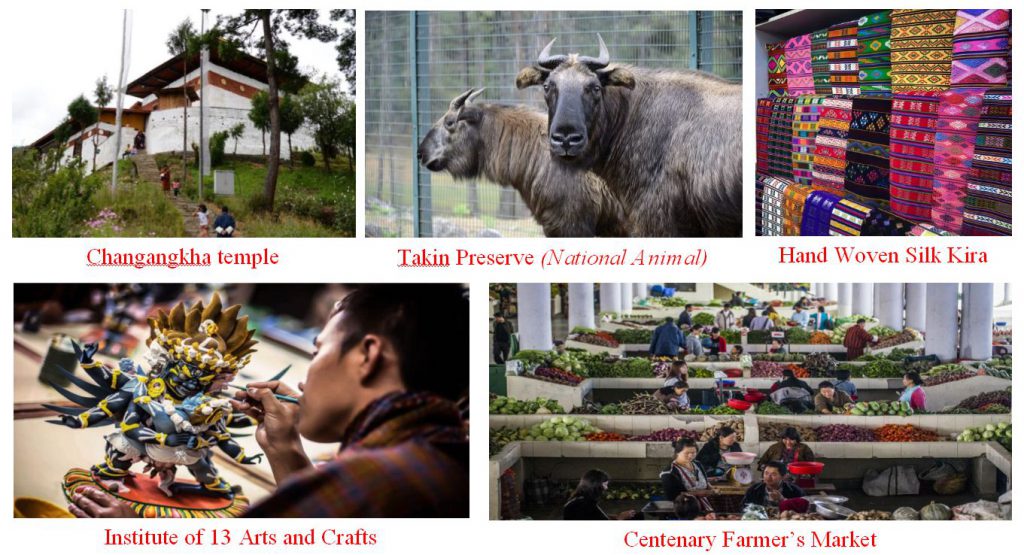 Later continue with the drive to Paro.Check into the hotel and then visit small Paro town for shopping if you wish.
Overnight in hotel at Paro

Day 13 : Hike to Tiger's Nest Monastery
Altitude: (3120 m)
Hiking time: 5 hours in total
After breakfast, drive up to the base camp of Taktsang and then hike up to the most famous Monastery in the entire kingdom of Bhutan perched on the edge of a steep cliff, about 900 meters above Paro Valley.
The hike to the viewpoint will take about an hour and it will take 2 hours to the monastery. Till view point, you can experience horse ride by paying USD 15 to USD 20 per horse but if you prefer hike, then it is great.
Lunch at Taktshang Café just above view point or you can have picnic lunch.
After completing the hike, you will be visiting one of the farm houses in Paro to experience Bhutanese life-Style and the organic Bhutanese dinner.
You can also experience hot-stone bath at farm house (US $ 20 per person).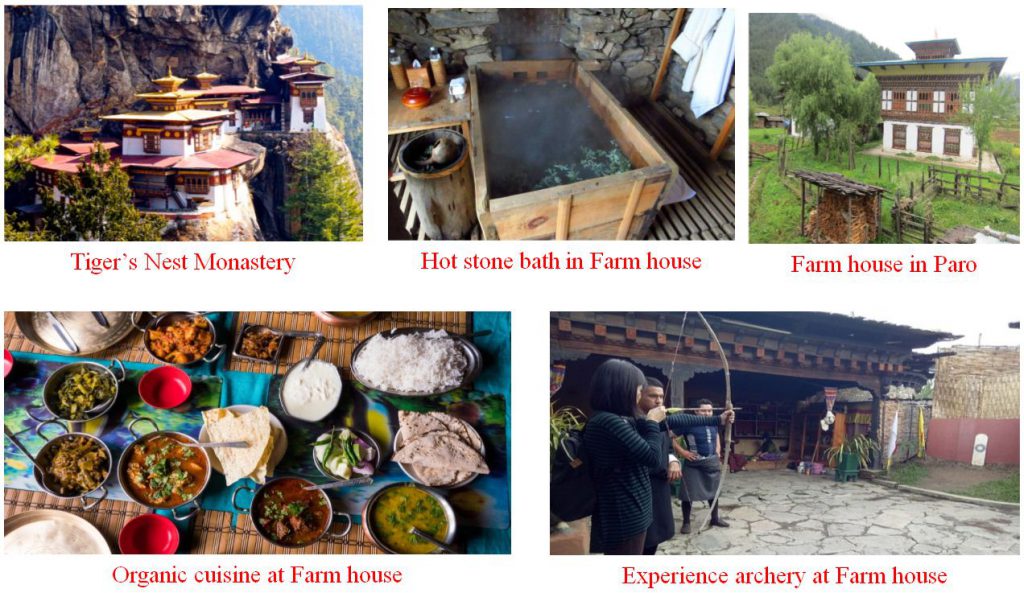 Day 14 : Departure From Bhutan
In the morning, your tour guide from Yelha Bhutan Tours & Travels (local Bhutan travel agent) will escort you to the airport for your onward destinations.
End of Tour