Self-Drive Central Bhutan -10 Days
Durations: 10 days and 9 nights tour
Locations: Paro, Thimphu, Wangdue, Punakha, Phobjikha, Trongsa and Bumthang valley.
Highlights: The scenery and the highways on Kingdom of Bhutan are one of the most beautiful every in the kingdom of Bhutan.There will also be various cultural trips into Bhutan to introduce visitors to the unique aspects of Bhutanese culture including sacred masked dance festivals and pilgrimage sites.
ITINERARY OVERVIEW
DAY 01 : ARRIVE PARO – THIMPHU
DAY 02 : THIMPHU SIGHTSEEING
DAY 03 : THIMPHU – PUNAKHA
DAY 04 : WANGDUE – TRONGSA
DAY 05 : TRONGSA – BUMTHANG
DAY 06 : BUMTHANG SIGHTSEEING
DAY 07 : BUMTHNAG – PHOBJIKHA
DAY 08 : PHOBJIKHA – PARO
DAY 09 : HIKE TO TIGER'S NEST MONASTERY
DAY 10 : DEPARTURE FROM PARO
DETAILED TOUR PROGRAM
Day 01 : Arrive Paro – Thimphu
Distance: 54 km
Estimate driving time: 1 hr drive
Altitude: 3,334 meters.
After you arrive in the Kingdom of Bhutan, you will be received at the Paro International Airport by the guide and driver who will be you throughout the tour.Drive to Ta Dzong the national museum.After visit to Paro town.
We will travel to Thimphu, Kezang Weaving centre: Kezang weaving centre at changzamto is a very popular weaving centre.
Kuensel phodrang (commonly known as Buddha Point) where the largest Buddha statue in the country is perched on the hillock overlooking the Thimphu Valley. You may take a nature hike through Kuensel phodrang Nature Park for about 20-30 minutes.
The National Memorial Chorten which was constructed in 1974 as a memorial for the third King of Bhutan, King Jigme Dorji Wangchuck, who is widely regarded as the father of modern Bhutan.
Centenary Farmer's Market (open from Thu-Sun only) Most of the Thimphu's population and many valley dwellers converge on the bustling weekend market, held by the side of Wangchu River.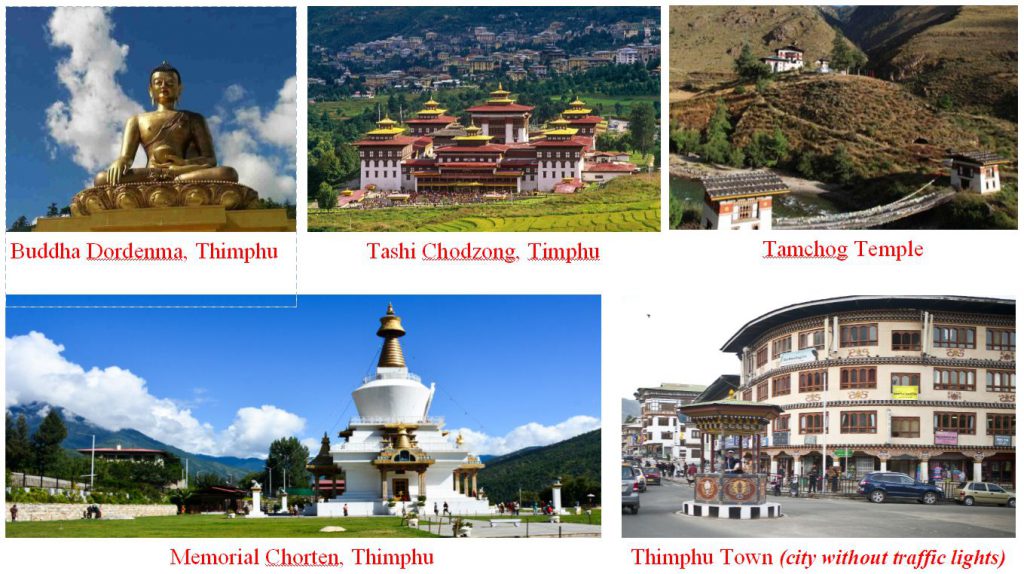 Overnight in resort/hotel at Thimphu

Day 02 : Thimphu Sightseeing
After breakfast visit the following: School of Traditional Painting of Arts and Crafts where students undertake a six-year course on the 13 traditional arts and crafts of Bhutan.
Traditional Bhutanese paper making factory making factory. The handmade paper making in Bhutan stemmed from the age old tradition originated in 8th century of Bhutanese history. The handmade paper constitutes as valuable National heritage of Bhutanese cultural identity and is preserved through all the ages.
Takin Preserve canter which houses the national animal the Takin that is only found in Bhutan. This is an extremely rare member of the goat family. Found in herds in the very high altitudes (13,125ft and over). They live on
a diet of grass and bamboo. It can weigh as much as 550pounds.
Changangkha Lhakhang (temple) Changangkha Lhakhang is an old fortress like temple and monastic school perched on a ridge above Thimphu. It was established in the 12th century on a site chosen by Lama Phajo Drukgom Shigpo, who came from Ralung in Tibet. T
Tashichhoe Dzong a fortress of the glorious religion. It was built in 1641 by Zhabdrung Ngawang Namgyel and was reconstructed into present structure by the late King, His majesty Jigme Dorji Wangchuck in the year 1962-1969.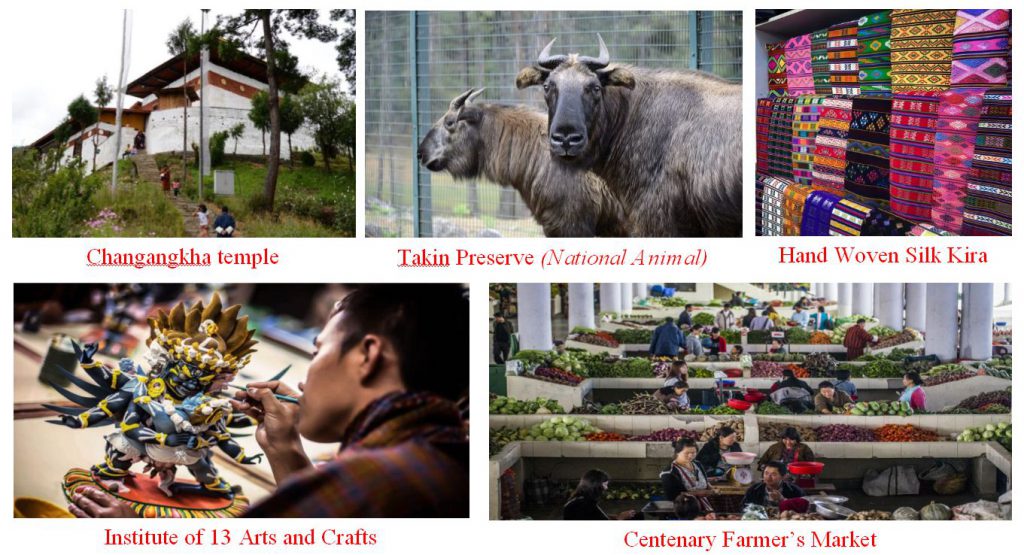 In the evening stroll through Thimphu downtown. Dinner and overnight at a hotel in Thimphu.
Day 03 : Thimphu -Punakha -Wangduephodrang
Altitude: 1,300 meters
Distance: 71 km
Estimated driving time: 2 1/2 hrs
After breakfast, travel to Punakha and visit the following places.
Dochula Pass (3,088m/10,130ft) beautiful 108 chortens built on the hill by Her Majesty Ashi Dorji Wangmo for the security and wellbeing of His
Majesty the King of Bhutan.
Also visit Druk Wangyel Temple which was built to honor His Majesty, the fourth king Jigme Singye Wangchuck. The past and future appear to merge in the details of the temple that tells the story of a supreme warrior figure whose vision pierces the distance future.
Travel onto Punakha, the old capital of Bhutan Evening, walk through the Metshina Village and take a 20-minute walk through the rice fields to the Devine Madman's Monastery- Chhimi Lhakhang, Known for its fertility shrine, where couples unable to conceive come here for blessing.
Overnight in hotel/resort at Punakha


Day 04 : Wangduephodrang – Trongsa
Altitude: 2,200 meters
Distance: 129 km
Estimated driving time: 5 hrs
After breakfast, drive to Trongsa through Wangdue Phondrang and lunch will be served enroute. Trongsa is the ancestral home of the royal family. The drive will take you through dense forests of oak trees and rhododendrons and through the tropical vegetation through the village of
Nobding and Pele la pass (11,000ft).
You will also pass through open meadows, and valley of yak herders and several other villages via Chendebji Chorten (Stupa) and drive for another 2 hours to Trongsa.
Visit the National Museum which is housed in the Ta Dzong (watch tower). A museum in which aspects of Bhutanese culture and history are explained by beautifully objects. Documentary will be shown too which explains a great deal about Bhutanese history and history of monarchy.
Option: You can also visit Trongsa Dzong, which is the most impressive dzong in Bhutan. Built in 1644 by the Shabdrung, the dzong is an architectural masterpiece. In the evening visit Trongsa town.
Dinner and overnight at a hotel in Trongsa.
Day 05 : Trongsa – Bumthang Valley
Distance: 68 km
Estimated driving time: 2 hrs
Altitude: 2800 meters.
After breakfast drive to Bumthang, On the way, visit the "Yathra" Weaving Centre at Zugney. Yathra is the name for the colorful, hand woven woolen cloth (often with geometric designs) that is produced in this region and wool used for this type of textile is sheep wool as the sheep is reared in the Bumthang district. Yathra is made into jackets or bags, etc.
On arrival at Bumthang Check into your hotel and after lunch visit Jakar Dzong: The fortress is now used as anadministrative center of the valley and summer residence of monks. Chamkhar Lhakhang (Iron Castle). It is the site of the palace of the Indian King Sendha Gyab also known as Sindhu Raja.
Visit the Thangbi Temple. Tangbi temple is locatedon a plateau above the Chamkhar River north of Kurje Temple. The 4th Shamar Rinpoche, one of the two highest ranking lamas of the Karma Kagyu religious school came to Bumthang from Tibet in the 15th century in order to establish a monastery. In 1470 he founded Tangbi, located in the middle of a wide, fertile plateau overlooking the river.
Overnight at a hotel/resort in Bumthang.

Day 06 : Bumthang Valley
Sightseeing includes visit to the following:
Jambay Lhakhang, built in the 7th century by the King Songtsen Goempo of Tibet. In his effort to propagate Buddhism he had a plan to build a total of
108 temples in Tibet and neighboring kingdoms.
Kujey Lhakhang (Kujey means, "Body imprint") The temple to the right is the oldest and was built by Minjur Tempa in 1652. It was built around the cave in which Guru Rimpoche meditated and left his body imprint.
Hike from Kurje temple to Tamshing temple. The hike is through the plain and cross the bridge and it will take around 30 minutes to conquer.Tamshing Lhakhang. This temple is also known as Tamshing Lhendrup Chholing (Temple of the Good Message).
Visit the popular Swiss cheese stall shop and enjoy the red panda beer which is brewed in the distillery nearby.Overnight in hotel.
Day 07 : Bumthang – Phobjikha
Altitude: 2,900 meters
Distance: 188 km
Estimated driving time: 7 hrs
After breakfast drive to Trongsa and we will have tea at trongsa, later drive to phobjikha after lunch at chendibji cafeteria.
Optional: After lunch or in Morning visit Gantey Goenpa – This monastery is a major attraction with an old monastery date back to the 16 century.
Jigme Singye Wangchuck National Park ( formerly known as Black Mountains National Park), one of Bhutan"s most important nature sanctuaries.
Each winter it is home to a flock of 300 rare and endangered black-necked cranes.The surrounding hills and mountains are home to nomadic shepherds and yak-herders.
This is one of the most remote and untouched regions in Bhutan and is only just opening its doors to the outside world. After lunch at Gangtey and explore Phobjikha valley and also visit the Black Necked Crane Center.
Overnight Resorts/Hotels at Phobjikha

Day 08 : Phobjikha – Paro
Altitude: 2,280 meters
Distance: 190 km Estimated driving time: 7 hrs
We will do some sightseeing on way and also stop at Thimphu for while if there are any last minute shopping.
We will stop en-route for any last minutes shopping or visit any other place as per the interest of the guest.Later stroll through the town and rest in Resort.
Overnight in hotel/resort at Paro

Day 09 : A Day Hike to Paro Taktsang Monastery
Altitude: 3120meters
Distance: 60 km
Estimate driving time: 1 hrs, 30 mins
After breakfast, drive up to the base camp of Taktsang and then hike up to the most famous Tigers nest Monastery also known as "Tigers Nest". The climb up to the viewpoint will take around 1 ½ hours and from there you will enjoy a spectacular view of the monastery clinging to the side of the cliff. Stop for refreshment at the View Point Cafeteria.
Then walk further up to the monastery which will take about 1 hour. It is said that in the 8th century Guru Rinpoche flew on the back of a tigress from eastern Bhutan to this place and meditated in a cave here for 3 months.
The principal Lhakhang (monastery) of the present monastic complex dates from 1692. Taktsang was damaged severely by fire in 1998 but has now been fully restored to its former in the entire kingdom of Bhutan perched on the edge of a steep cliff, about 900 meters above Paro Valley.
Farewell dinner at a Farm house and overnight at a hotel in Paro valley.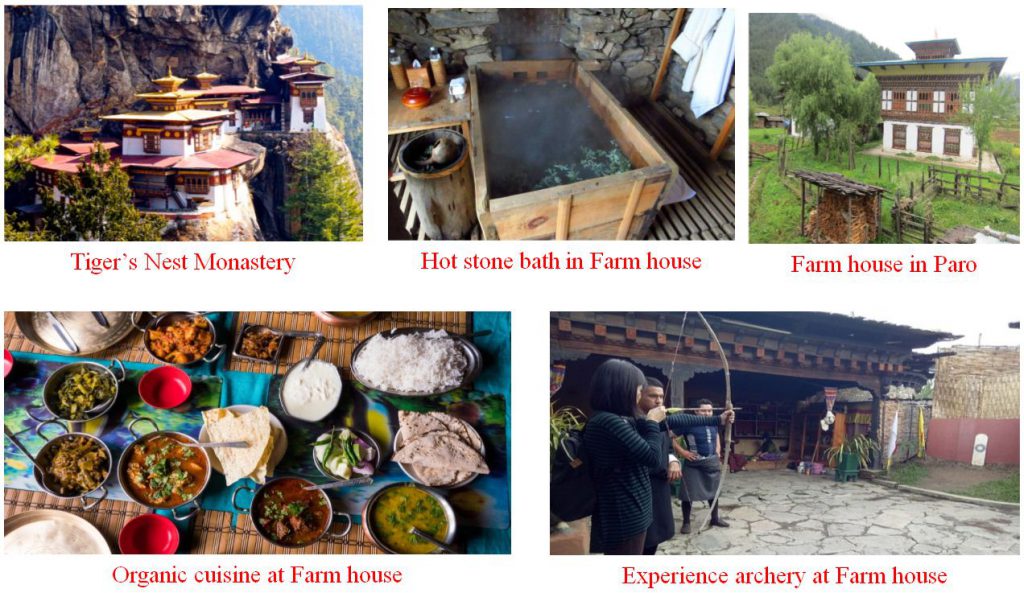 Day 10 : Departure from Paro
In the morning, your tour guide from Bhutan will escort you to Paro International Airport for your departure.
End of Tour