Dagala Trek 13 Days Tour
Duration: 13 day and 12 nights tour.
Location: Paro, Genekha, Gur, Labatama, Genekha, Pankha, Punakha, Phobjikha and Thimphu,
Highlight: Trekking start from Genekha with five days of trekking. Hike to the Tigers nest temple temple, visit to the Ta Dzong (National Museum), Punakha Dzong, Worlds tallest bronze Buddha statue, Tigers nest hike, Dochula mountain pass, Fertility temple, Souvenir shopping, prayer flag ceremony at Paro, wear Bhutanese costumes during the trip which will be provided by the company, heritage farm house dinner etc.
ITINERARY OVERVIEW
DAY 01 : ARRIVE PARO VIA FLIGHT
DAY 02 : PARO TIGER'S NEST (MONASTERY) HIKE
DAY 03 : PARO – GENEKHA – GUR (TREK START)
DAY 04 : GUR – LABATAMA
DAY 05 : HALT AT LABATAMA
DAY 06 : LABATAMA – PANKHA
DAY 07 : PANAKHA – CHAMGANG – THIMPHU
DAY 08 : THIMPHU – PUNAKHA
DAY 09 : PUNAKHA – PHOBJIKHA
DAY 10 : PBOBJIKHA – THIMPHU
DAY 11 : THIMPHU SIGHTSEEING
DAY 12 : THIMPHU SIGHTSEEING
DAY 13 : DEPARTURE FROM THIMPHU
DETAILED TOUR PROGRAM
Day 01: Arrive Paro Via Flight
The flight into Paro is a befitting introduction to the spectacular beauty of our country. In clear weather, magnificent views of the world's highest peaks, give way to the lush green Paro valley as you land. On arrival at Paro airport, you will be received by our representative from Bhutan Travel Adventures, and will escort you to the hotel.
In the afternoon visit is Ta Dzong, an ancient watchtower, which now houses the National Museum. Below the museum is the Paro Rimpung Dzong, the centre of civil and religious authority in this valley. A short walk takes you to the base of the dzong and across a traditional cantilevered, covered bridge.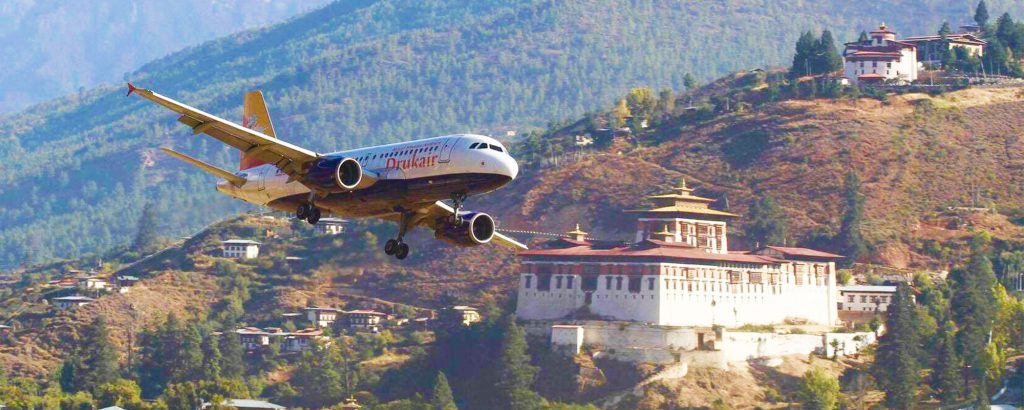 A short distance further is one of the innumerable archery grounds. (Archery is the national sport of Bhutan). If you are lucky, you may catch a match in action. In the evening start sorting and packing your trekking equipment for the trek you will start tomorrow.
Overnight at Paro in Hotel.

Day 02 : Paro Tiger's Nest (Monastary)
Right after the breakfast drive towards the road point to Taktshang. Taktshang Monastery, the most famous of Bhutan's monasteries is perched on the side of a cliff 900m above the Paro valley floor. Taktshang means "Tiger's Nest," so named because Guru Rimpoche reportedly flew to the site of the monastery on the back of a flying tiger in the late centuries of the first millennium.
The monastery is perched on a cliff nearly 800 meters above the Paro valley floor. This day hike is not only historically and culturally interesting, but also incredibly scenic! It takes about 1 ½ hours to reach the cafeteria, which gives a breathtaking view of the Tiger's Nest.
If you still feel like hiking then you can take another hour to reach the temple. Then return back to the cafeteria for your lunch and then walk down hill after your lunch. Drive back to the hotel.
Day 03 : Paro – Genekha – Gur (Trek Start)
Distance 7Km, Time 5 hours, Ascent 550m, Descent 60m, Camp Elev 3290 m.
From Thimphu you will drive for 45km to the starting point of the trek. Today's trail is all through terraced fields and conifers vegetation.
The trek starts from beautiful Genekha village (2800m) with a short descent down to the river. From here – after crossing the river- you start climbing till you reach a huge rock platform at 3350m from where you have a picturesque view of the valley below. After another 2 hours you reach Gur amid yak pastures at 3290m.
Day 04 : Gur – labatama

Distance 12Km, Time 6 hours, Ascent 1220m, Descent 110m, Camp Elev 4100m.
While trekking across the ridges, one enjoys beauty of the rugged mountains vegetation. The path winds through flowers and wild asparagus (in spring).
The meadows are refreshing and inspiring.The first pass symbolize by a huge cairn gives a spectacular view of Kanchenjunga (Sikkim) and more or less all the Bhutanese Himalayan peaks. Once descended into the Lamatama valley you ascend gradually through the valley passing some yak herder huts till you reach Utsho Lake where
golden trouts are in abundance. The campsite is right next to the lake at 4100.
Day 05 : Halt at labatama
Today you will have a day excursion to Sertsho and Jagetsho lakes. Hike up hill to Sertsho Lake is easy and interesting after wards walk over a small ridge and then down to Jagetsho Lake. Or you can also attempt to climb the Aum Jomo, a 5000m peak if there is no snow on the Jumo Mountain.
From the summit you can have spectacular views around the Dagala range during the clear weather. Return to the camp by dusk and prepare for the next day.
Day 06: labatama – Pankha

Distance 8Km, Time 5-6 hours Ascent 269m, Descent 520m, Camp Elev 400m.
The trail along the western side of the Dalatsho up to a saddle at 4520m from where you can have majestic view of Himalayan peaks during descent. This point is around 4460m. The mountain peaks include Everest (Nepal), Kanchenjunga (Sikkim), Jumolhari, Jitchu Drake, Tshering Gang,
Khangbum, Masa Gang , Tshenda Gang and Gangche Ta. If you want even better view, you can climb a peak close to the saddle with an altitude of 4720m.
From the saddle the path descends, passing some yak herder huts to Docha Chu. You follow the river for a while, but stay higher up on the slop to reach Pankha with some ups and down on the way. Camp at Pankha at 4000m.

Optional Note: If you are trekking in spring time, the Pankha camp will not have drinking water.So you can hike about another 1 ½ hours further from Pankha for your tonight's camp. And this can also make your last day easier and bit shorter too.
Day 07 : Panakha – Chamgang – Thimphu
Distance 14Km, Time 8 hours, Ascent 180m, Descent 1630m.

You will start early today. This day entails the crossing of several passes, each one more impressive than the other. Search for different varieties of Blue Poppy (June-July) and mountain birds. After crossing the last small ridge, you will gradually decent toward the main Junction pass, which
crisscrosses each other for the trail towards Chamgang, Talekha, Ganekha and Gaselo. So just make a very short descent on your right, and then take left horizontally for few minutes towards Chamgang trail with about three to four small ridges to go up and down before you begin a steep downhill hike until you reach a Chamgang village. You will finally arrive at the motor able road where transport will be awaiting to transfer you to Thimphu.

Day 08 : Thimphu – Punakha
Distance: 86.4 km; approx. driving time: 2 hrs 32 minutes
Drive to Punakha via amazing Dochula Pass (3100 meters). If the weather is clear, you could have a superb view of the Bhutan's Himalayas from the pass. Upon arrival in Punakha, check in at the hotel first. Have lunch in Punakha town and visit:
Punakha Dzong built in 1637 by Shabdrung Ngawang Namgyal
Devine Madman's temple (also called as fertility temple)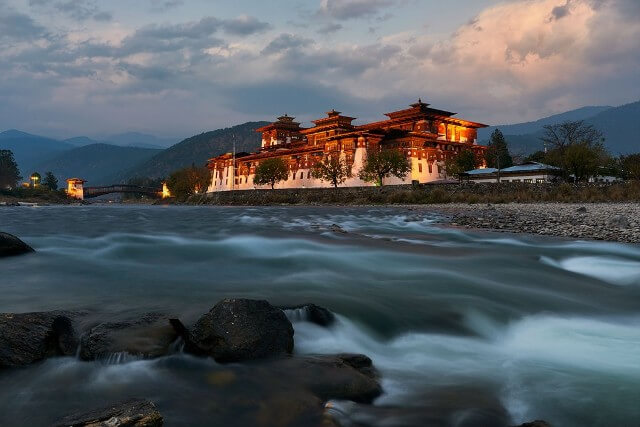 Overnight at hotel in Punakha

Day 09 : Punakha – Pbobjikha
Distance: 78 km; approximate driving time: 3 – 4 hrs
Altitude: 3000 m above the sea level
After breakfast, we will drive to beautiful Phobjikha Valley and after arrival check into the hotel and we will do short hike. Then visit the black crane information center which is ituated on the edge of the forest and wetland along the main road of Phobjikha valley, the black-necked crane information Centre has an observation room equipped with high power telescope and spotting scopes for catching the best view of the cranes. The centre also offers display information that outline the natural and cultural history of the area.
Overnight at hotel in Phobjikha

Day 10 : Pbobjikha – Thimphu
Distance: 135 km; approximate driving time: 5 – 6 hrs
After breakfast, visit Gangatey Goenpa then start our journey to Thimphu from Phobjikha. On the way you can stop for the photo shooting and enjoying the scenic landscape and the nature.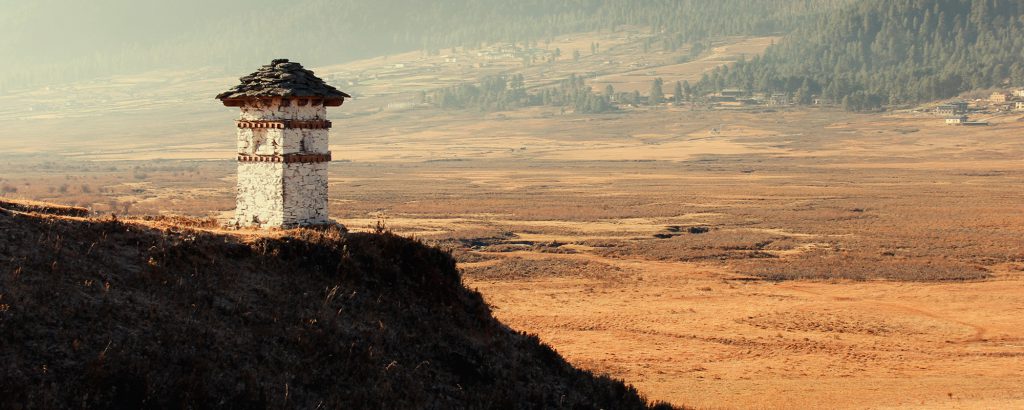 If time permits then visit Wangdue town and drive to Punakha to take lunch. After reachingThimphu, check into the hotel and take rest for a while and stroll through town.
Overnight at Thimphu in hotel

Day 11 : Thimphu Sightseeing
Sightseeing in Thimphu includes:
Buddha Point (Kuenselphodrang)
National Memorial ChortenTakin Preserve (Takin zoo)
Changangkha Lhakhang
Tashi Chodzong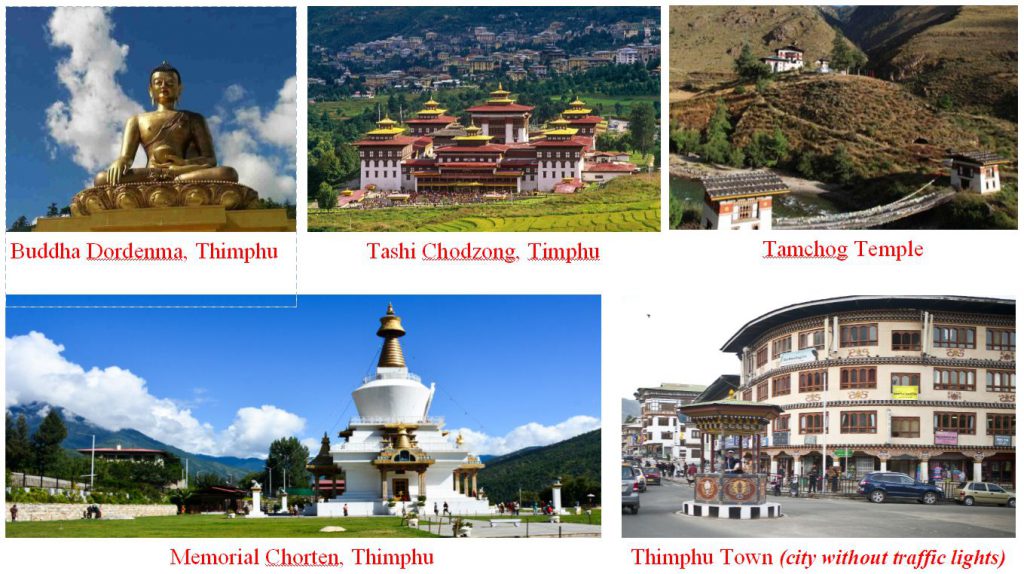 In the evening you can stroll through the town and if you want to do shopping then your tour guide will help you.
Day 12 : Thimphu Sightseeing
Today also we will do the following sightseeing:
Changzamtog weaving center.
Zorig Chusum (thirteen traditional visual arts and crafts that Bhutanese have practiced for generations)
Desho (Bhutanese local made paper) factory
If you are lucky and it coincides with the weekends then visit the centenary farmer's
vegetable market which will be available during the weekends.
If time permits then visit Dechenphodrang temple and nunnery.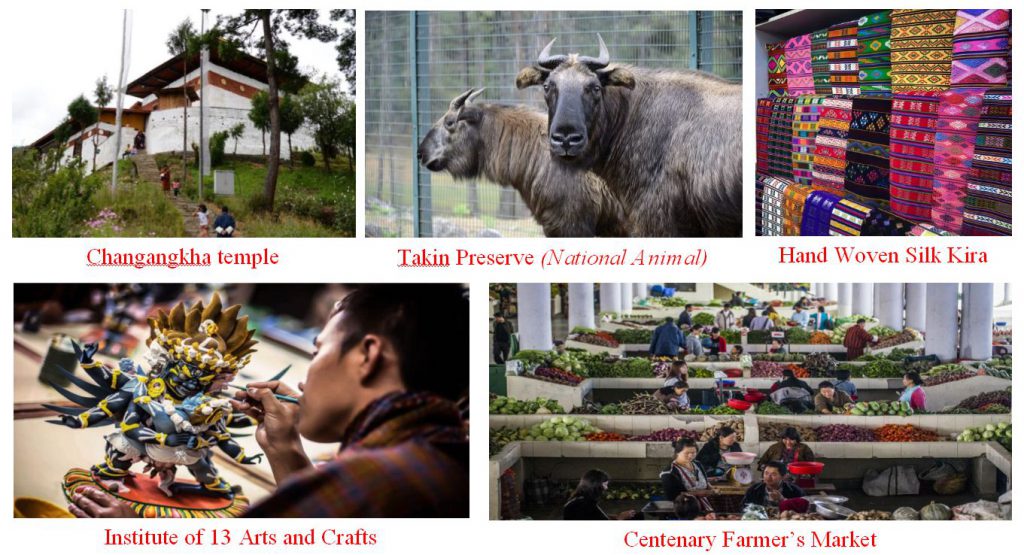 Day 13 : Departure from Thimphu
In the morning our guide and driver will drop you to the airport and bid you good bye for your flight departure to onwards destination.
End of Tour