JOMOLHARI TREK: 10 DAYS TREK
Duration: 10 Day and 9 Nights
location: Paro, Thangthangkha, Jangothang, Lingshi, Lingzhi, Shodu, Barshong, Dolamkencho and Thimphu.
Highlight: Jumolhari trek in Bhutan is an exhilarating adventure in the Himalayas. First, you will take an acclimatization hike to the Tiger's Nest Monastery in Paro and then you will start the trek from the historic Drugyal Dzong. For the first three days of the trek you will be following the Pachhu (Paro river) valley to Jangothang base camp. The walk is through country side of Paro through scattered farmhouses, orchards and rice fields.
En route you will have spectacular views of Mount Jichu Drake (6989m) and Tshrim Gang (6789m). From Lingzhi, you will descend to the lower valleys of Thimphu through varied vegetation and gorges formed by unique rock canyons. You will finally end your trek in the north of Thimphu valley.
ITINERARY OVERVIEW
DAY 01 : ARRIVAL IN PARO, BHUTAN
DAY 02 : PARO SIGHTSEEING
DAY 03 : PARO – THANGKHA VIA SHANA
DAY 04 : THANGTHANGLHA – JANGOTHANG
DAY 05 : JANGOTHANG – LINGSHI
DAY 06 : DAY 06 : LINGZHI – SHODU
DAY 07 : SHODU – BARSHONG
DAY 08 : BARSHONG – DOLAM KENCHO
DAY 09 : DOLAMKENCHO – THIMPHU
DAY 10 : DEPARTURE FROM PARO
DETAILED TOUR PROGRAM
Day 01 : Arrival in Paro, Bhutan
Welcome to Bhutan, the Land of the Thunder Dragon. Touching down at Paro International Airport, you will be greeted by your guide upon exiting the arrival hall. Today, we will take it easy to acclimatize to the altitude. Check into the hotel and rest.
Overnight in Paro Hotel.

Day 02 : Paro Sightseeing
Taktsang Monastery – A one hour hike to the cafeteria is also a vantage view whereby you can enjoy the stunning view of the monastery. Prayer flags adorn the cliff and this is also where Guru Padmasambhava landed on the back of a tigress in the 8th century.
Kyichu Lhakhang – After a sumptuous local lunch, we will retrace our steps to visit Kyichu Lhakhang, one of the oldest temples in Bhutan.
Drukgyal Dzong – A morning drive, north of Paro valley brings us to the ruins of Drukgyal Dzong. Built in 1647 by the great Zhabdrung Ngawang Namgyal, father and unifier of medieval Bhutan,the Dzong was destroyed by an accidental fire and left in ruins as an evocative reminder of the
great victories it was built to commemorate. Explore the ramparts and relive the memories of a glorious past.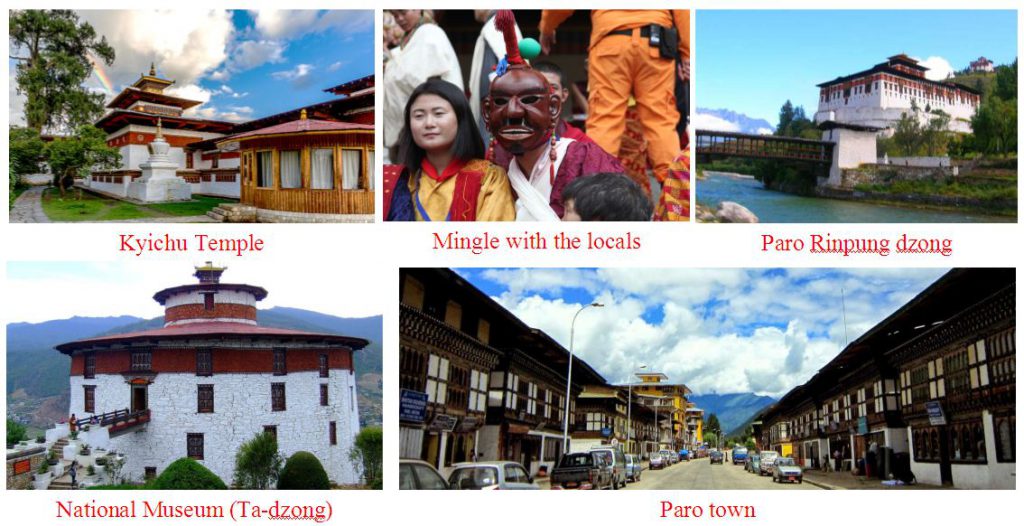 Day 03 : Paro – Thangkha Via Shana
Elevation 4,044 m
Distance: 13.6 miles / 22 km
Duration: 6-8 hours
Early morning drive from hotel to Shana. The trail follows the river through a heavily forested area with a few isolated farmhouses. As we go up the valley becomes narrow, wilder and steeper. The trail winds up and down along the drainage. We pass a junction en route, where another path leads over the Tremo La to Tibet. This route was formerly used by Bhutanese people as a trading route to Tibet. We cross several traditional wooden bridges finally arriving Thanthangka. Camp is in a meadow with a stone shelter. From this campsite for the first time-in case of good weather the
Mount Jomolhari may be seen.
Day 04 : Thangthanglha – Jangothang
Elevation 4,010 m
Distance: 10.5 miles / 17 km
Duration: 4-6 hour
The path ascends for a while until we reach the army camp. We then follow the river above the tree line, enjoying stunning views of the surrounding peaks. Hot lunch is served at a yak herder's camp. A short walk from here into the valley takes us to our campsite at Jangothang (4,040m).
From here, the views of Jhomolhari and Jichu Drake are superb.
Day 05 : Jangothang – Lingshi
The trail follows the stream for half an hour and crosses the bridge to the right bank. We now start our climb up to the first ridge, enjoying breathtaking views of Chomolhari, Jichu Drake andTserimgang. The trail then takes us across a fairly level valley floor, until the climb up to Nyele-
la pass (4,700m). We descend gradually from the pass to our campsite at Lingshi (4,000m) enjoying a panoramic view of the mountain peaks and Lingshi Dzong as we walk.
Day 06 : Lingzhi – Shodu
First half of the trek is mostly through treeless valley until we start ascending to Yale-la pass at 4950 m. On clear day, we can see Mt. Jumolhari, Mt. Tsherimgang and Mt. Masagang. Nomads traveling between Lingshi and Thimphu use the Yale la so the trail is well marked. The descent from the pass joins the Jaradinthang Chhu which later becomes the Thimphu Chhu. At the altitude of 4150 m is a chorten (stupa) from where the trail takes an easterly direction following the river. The camp is at Shodu just after crossing the sandy slope.
Day 07 : Shodu – Barshong
Elevation 3,720 m
Distance: 8.7 miles / 14 km
Duration: 4-5 hours
Day 08 : barshong _ Dolamkencho
There are several ups and downs and crossings of small streams. Reach a split in the trail, the one to the right descends to your campsite for tonight.
Day 09 : Dolkhamkencho – Thimphu
Elevation: 2,280 m
Distance: 4.3 miles / 7 km
Duration: 3 hours
Today is an easy walk and with small ups and downs followed by a couple of short steep switchbacks to descend a vertical cliff before finally reaching the last stretch to Dodina.
The trails descends through bamboo forests, following the mule trail high above the river and reach Dodina where your vehicle will meet you and drive you half an hour to Thimphu.,the modern capital of Bhutan. Thimphu has a population of about 98,500. The town is made up of just three lines of shops and is the only capital in the world without traffic lights.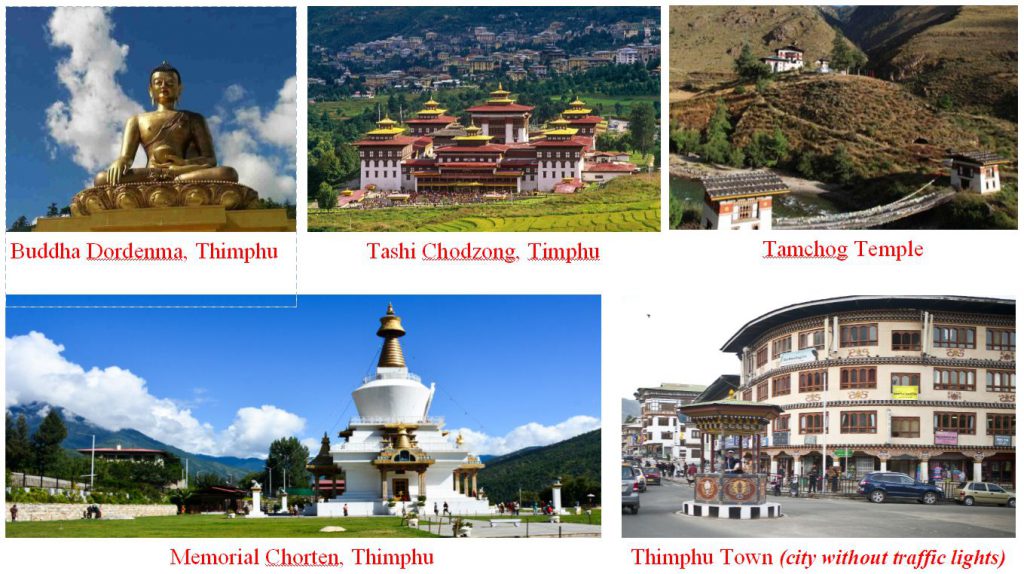 Day 10 : Departure from Paro
Today we will bid fond farewell to this beautiful Himalayan country and take an early flight back to Singapore. We hope by now you would have made some friends and also kept many photos and beautiful memories of Bhutan! And we look forward to seeing you again in this beautiful land of
endless Enchantments!
End of Tour