PARO TAKTSHANG
Taktshang Palphug Monastery more famous as Paro Taktshang is a Buddhist temple complex which clings to a cliff, 3120 meters above the sea level on the side of the upper Paro valley, Bhutan. The Taktshang Monastery is one of the most famous touristic destinations of the country and the cultural icon of Bhutan.
Visiting the Paro Taktshang Monastery is an unforgettable experience thanks to its unique location and the views of surrounding majestic mountains and emerald green valleys. The main peculiarity of the monastery is its isolated location. It is only accessible by mountainous paths. The remote location of the monastery makes it amazingly beautiful and unique, but also creates technical difficulties.
It was first built in 1692 at a cave where Guru Rinpoche meditated in the 7th century A.D. Legend states that Guru Rinpoche flew to the site atop the back of a tigress and meditated in the cave for 3 years, 3 months, 3 days and 3 hours in order to subdue evil demons residing within it. The cave has been considered a sacred site ever since and many famous saints have travelled to meditate in it.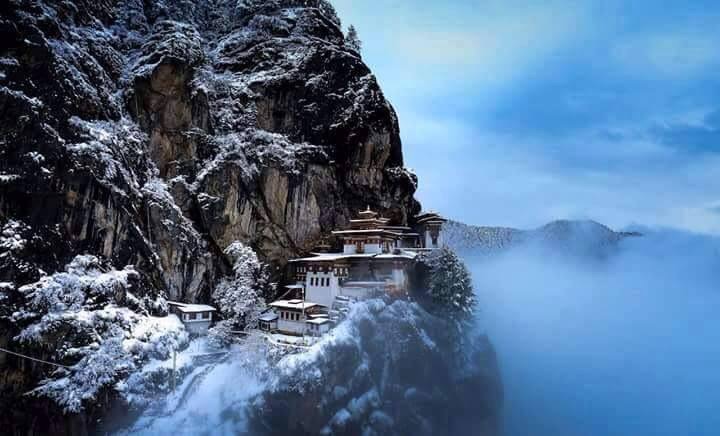 Taktshang Lhakhang is located approximately 10 km north of Paro town at an altitude of 3.120 meters. In order to arrive at the temple visitors must trek for around 2-3 hours through beautiful, shady pine forests. No trip to Bhutan would be complete without a visit to this remarkable heritage site.