NATIONAL MUSEUM – PARO DZONG
National Museum of Bhutan is a cultural museum in the town of Paro in western Bhutan.
Perched above Paro Dzong is its ta dzong (watchtower), built in 1649 to protect the undefended dzong and renovated in 1968 to house the National Museum. The unusual round building is said to be in the shape of a conch shell, with 2.5m-thick walls.
The ta dzong suffered damage in the 2011 earthquake but is due to reopen in 2016 as the nation's premier museum.
Displays include an impressive collection of thangkas, both ancient and modern, depicting Bhutan's important saints and teachers, as well as fearsome festival masks grouped according to their tsechu dances.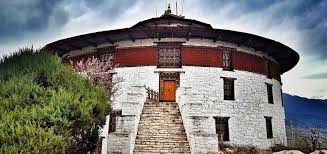 There's a natural-history gallery with a 3D map of Bhutan, while the Heritage Gallery contains such oddities as an egg laid by a mule and a horse horn attributed to Guru Rinpoche, plus a few original iron links from the iron bridge at Tamchhog. An underground tunnel is said to lead from the watchtower to the water supply below.
Cameras are not allowed inside the museum, but you can photograph the ta dzong and surrounding grounds. The museum closes an hour earlier in winter (November to February).
Driving to the museum involves a 4km loop into the Dop Shari valley. After visiting, you can walk down a path from the museum to the dzong and back to the town, enjoying good views of the valley and of the Ugyen Pelri Palace. Alternatively, you can start the excellent hike to Zuri Dzong from just about the museum.