Bhutan 7 Days Tour
Duration: 7 Days 6 Nights
Locations: Thimphu, Punakha and parovalley.
Highlight: Visit to the Tashichho Dzong,Memorial stupa,Ta Dzong (National Museum), Punakha Dzong, Worlds tallest bronze Buddha statue, Tigers nest hike, 7th Century Jampa Lhakhang, Dochula mountain pass, Fertility temple, Souvenir shopping at Paro and Thimphu town etc.
ITINERARY OVERVIEW
DAY 01 : ARRIVAL PARO.( DRIVE TO THIMPHU )
DAY 02 : THIMPHU CAPITAL OF BHUTAN SIGHTSEEING
DAY 03 : THIMPHU – PUNAKHA VALLEY.
DAY 04: PUNAKHA VALLEY SIGHT SEEING.
DAY 05 : PUNAKHA – PARO VALLEY.
DAY 06 : PARO TIGER NEST HIKE AND Farewell.
DAY 07 : DEPARTURE FROM BHUTAN
DETAILED TOUR PROGRAM
Day 01 : Arrival Paro Transfer to Paro
As the aircraft enters the Paro valley, you will see Paro Dzong on the hillside overlooking the Paro Chu (river), with Ta Dzong, formerly a watchtower and now the National Museum, above it. You will be received by the representative of Yelha Bhutan Tours and Travels (Bhutan tour operator) who will be your Bhutan travel guide throughout your tour.
After meeting with the guide and driver then drive to Thimphu, the capital of Bhutan. Check into the hotel and rest for a while and then visit Buddha Dordenma (the large Buddha statue at Kuenselphodrang), Memorial stupa, Tashi Chhodzong and the strol through the town in the evening.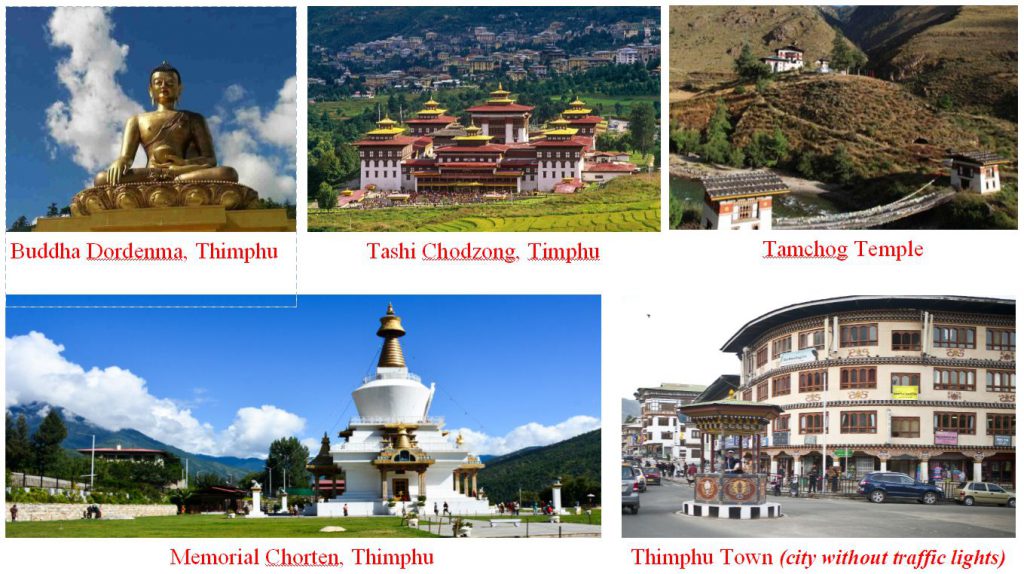 Overnight in hotel Thimphu

Day 02 : Thimphu Sightseeing
After the breakfast, we will visit Institute of Zorig Chusum (Institute of 13 Arts and Crafts) where students undergo 6-year training course in Bhutan's 13 traditional arts and crafts.
Gagyel Lhundrup Weaving Centre, a small cottage industry which offers a variety of traditionally hand woven Bhutanese clothing and other textile products
Then visit Changangkha temple and end with Centenary Farmer's Market where farmers sell their farm produces ( vegetables, fruits, cereals, spices, wild vegetable collections, livestock products and free interaction with local people who come shopping to this market, especially on weekends.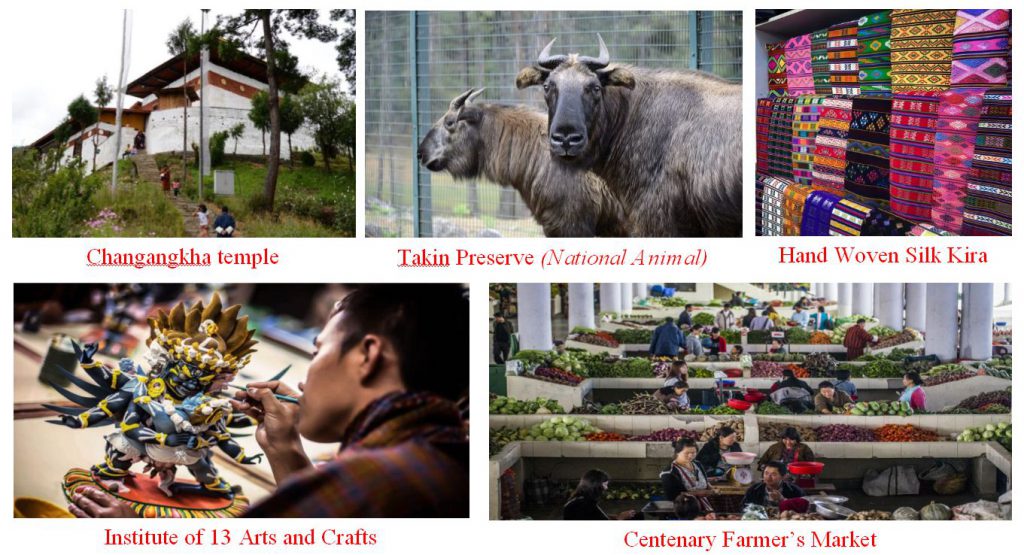 Overnight in Thimphu resort. ( Minimum best 3 Star Resort )
Day 03 : Thimphu – Punakha via Dochula pass
Elevation: 1300 m
Driving time: 2 hrs, 30 minutes
After breakfast, travel to Punakha through Dochula Pass (3,088m/10,130ft). If you have a clear sky, the view of the Himalayan Mountain ranges is spectacular and you can even see the Gasa Dzong as a white dot in the horizon.
Visit the beautiful 108 stupas built on the hill by Her Majesty Ashi Dorji Wangmo for the security and wellbeing of His Majesty the King of Bhutan.
Travel onto Punakha, the old capital of Bhutan and presently the winter residence of the central monk body. Visit the Punakha Dzong, located on the island of the Pho – Chu (male) river and the Mochu (female) river.
Places to visit:
108 stupa, Dochula Pass ( Beautiful mountain pass with Himalayan mountain scenery)
Punakha Dzong ( One of its most majestic structures in Bhutan )
Chimi Lhakhang ( World famous fertility temple)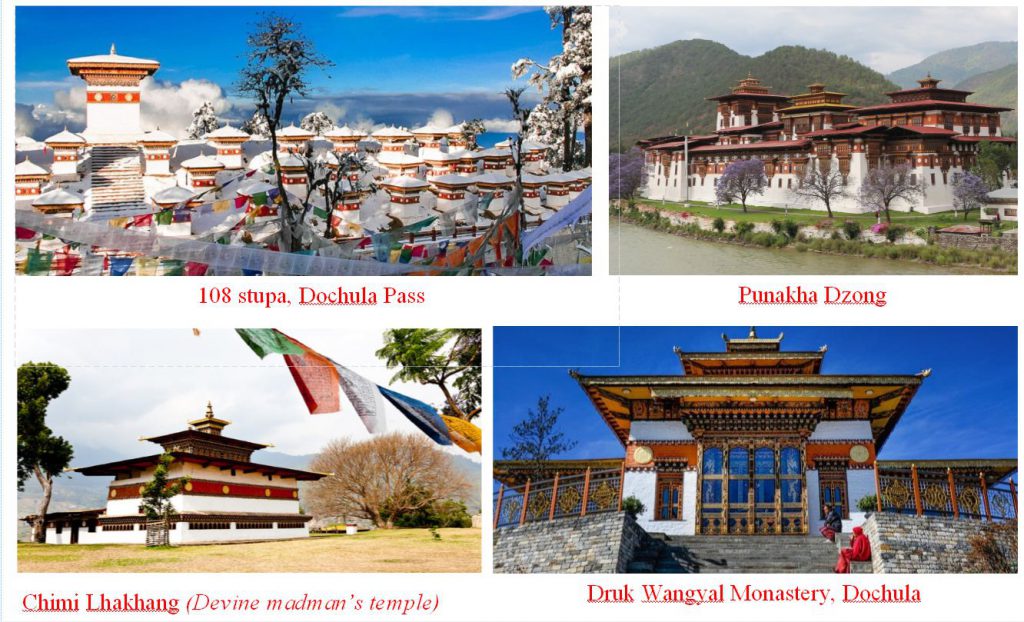 Overnight in hotel at Punakha

Day 04 : Punakha Valley Tour
Today after Breakfast we will drive onto Punakha, the old capital of Bhutan and presently the winter residence of the central monk body.
We will drive to upper Punakha via Punakha Dzong for a short Hike to Khamsum Yuelley Namgyel Temple located at the upper Punakha Valley. You can adjoin the adventurous River rafting (only if there are more than 3 pax): While coming back from the hike, if you want to experience river rafting then you can tell guide to arrange it.
It will take almost two hours to complete the rafting sport and you can pay to them directly (excluded in the package).
Visit longest suspension bridge in Punakha the later, drive to Wangdue town and walk through nearby village.
Places to visit:
Khamsum Yuelley Namgyal temple (Hike to the hilltop temple)
River Rafting Mo chhu (optional) – River sport in Punakha
Optional : Suspension bridge ( Longest suspension )
Optional : Rinchengang village, Wangdue ( Village on hillside )\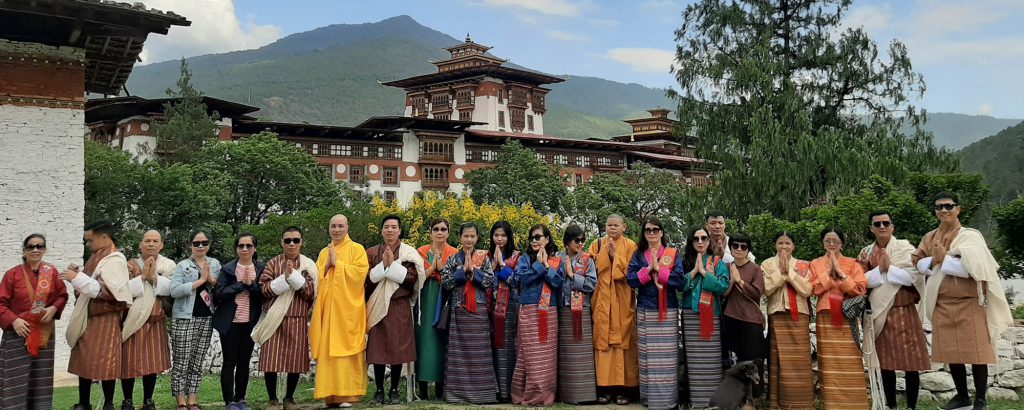 Day 05 : Punakha – Paro
Elevation: 2334 m
Driving time: 3 hours 40 minutes
After breakfast, drive to Paro via Dochula and stop for amoment if you want to visit wash room or photoshoot. Continue with the drive and after reaching Paro, check into the hotel and visit Kyichu temple.
It is one of the 108 temples built in the 7th century by the Tibetan King Songsten Gampo. A giant demon lay across the whole area of Tibet and the Himalayas and was preventing the spread of Buddhism.
To overcome her, King Songtsen Gampo decided to build 108 temples, which would be placed on all the points of her body. Of these 108 temples, 12 were built in accordance with precise plans. Thus, it happened that in about the year AD 638 the temple of Jokhang in Lhasa was built over the very heart of the demon.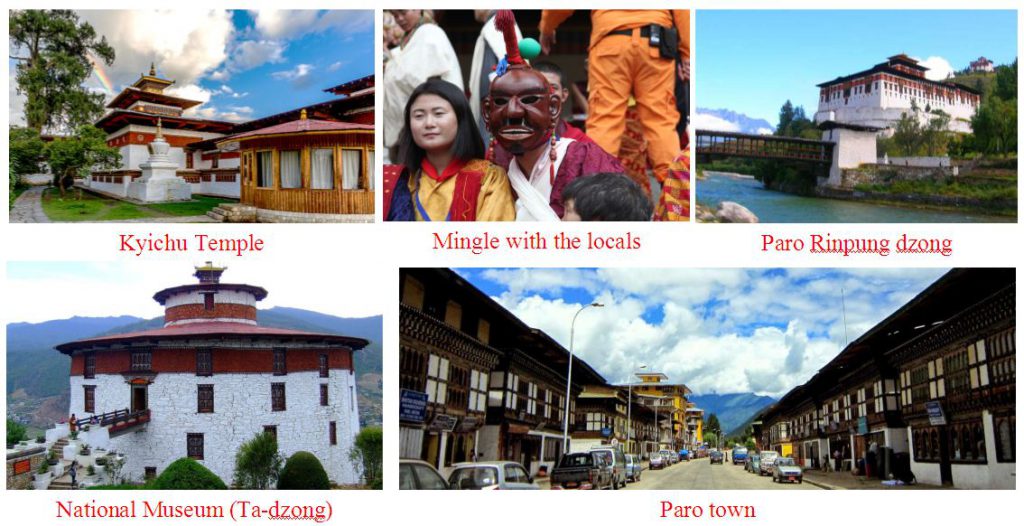 Paro Rinpung dzong, built in 1645 to defend the valley against Tibetan invaders. The Dzong is now being used as an administration center and school for monks.
Visit Taa dzong which was built in the 17th century as a watchtower for the Paro Dzong. This dzong was converted into the National museum in 1967 and is filled with antique thankha paintings, textiles, weapons and armour.
Places to visit:
Kyichu Temple (One of the oldest sacred temple )
Punakha- Paro Highway ( The beautiful highway with bountiful scenery )
Optional : Paro Rinpung Dzong ( Magnificent administration and monastic building)
Ta Dzong ( The national museum )
Paro town ( The city center )
Overnight in hotel at Paro

Day 06 : A Day Hike to Tiger's Nest Monastery
Elevation: 3120 m
Hike time: 5 hours (Both ways)
After breakfast, drive up to the base camp of Taktsang and then hike up to the most famous Monastery in the entire kingdom of Bhutan perched on the edge of a steep cliff, about 900 meters above Paro Valley.
The hike to the viewpoint will take about an hour and it will take 2 hours to the monastery. Till view point, you can experience horse ride by paying USD 20 to USD 25 per horse but if you prefer hike, then it is great.
Lunch at Taktshang Café just above view point or you can have picnic lunch.
After completing the hike, you will be visiting one of the farm houses in Paro to experience Bhutanese life-Style and the organic Bhutanese dinner. You can also experience hot-stone bath at farm house (US $ 25 per person).
Places to visit:
Hot stone bath in Farm house
Farm house in Paro ( 300 years old farm houses (
Organic cuisine at Farm House ( Vegetables from the gardens )
Experience archery at Farm House
Benefits of Hot stone bath:
It is a good remedy for skin diseases, joint pains, body aches and to relax after a hard day's work. No scientific study has been done but it's believed that the herbs and the chemical in the stones are a good source of medicine. Families in olden days would soak after their seasonal farm work in winter. The long, healing bath relaxed their tired bodies and helped cure backaches and joint pains.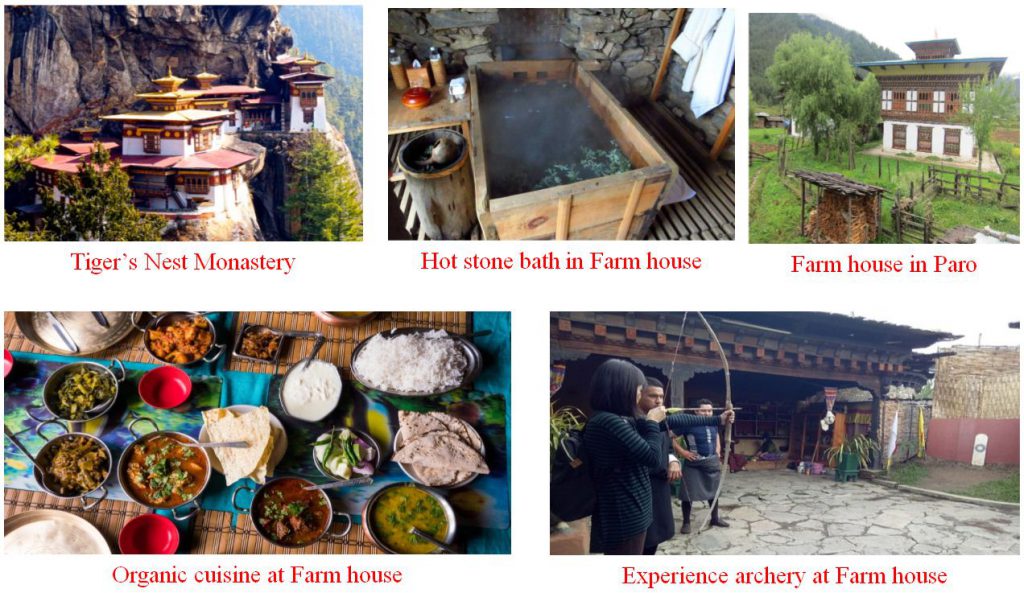 Day 07 : Departure From Bhutan
After the breakfast, our representatives will escort you to the International Airport accordingly with the departure time. You have to reach there at the airport 2 hours prior to the departure time.
End of Tour