EAST-WEST BHUTAN TOUR WITH MERAK VILLAGE: 14 DAYS
Durations: 14 days & 13 Nights
Locations: Thimphu, Punakha, Paro, Phobjikha, Trongsa, Bumthang, Mongar , Trashigang and Merak.
Highlights: Merak and Sangteng are two highland villages inhabited by semi-nomad people popularly known as Brokpa, a yak herders which is under Trashigang district (eastern part of the country). Until 2009, it is close for tourist to preserve the unique culture and tradition of Brokpa where the researchers were needed special permissions to enter these places. Almost all the population are yak herder and they make living with it. They speak unique dialect and wear completely different outfit/costumes from other Bhutanese. Unlike anywhere else in the country, it offers a visitor to experience a unique semi-nomadic lifestyle, culture and vernacular in one of the most scenic pastoral valleys in the protected area of Sakteng Wildlife Sanctuary (SWS)
OVERVIEW ITINERARY
DAY 01 : ARRIVE PARO SIGHTSEEING
DAY 02 : PARO – TRASHIGANG VIA YONGPHULA.(DOMESTIC AIRPORT)
DAY 03 : TRASHIGANG – MERAK VILLAGE VIA(Rangjung Woesel Choling Monastery).
DAY 04 : DAY EXCURSION IN MERAK (VILLAGE OF BROKPA)
DAY 05 : MERAK – TRASHIGANG – MONMGAR
DAY 06 : MONGAR – TAKILA(LHUENTSE)- MONGAR
DAY 07 : MONGAR – BUMTHANG VALLEY
DAY 08 : BUMTHANGVALLEY EXCURSION
DAY 09 : BUMTHANG – PHOBJIKHA VALLEY
DAY 10 : PHOBJIKHA – PUNAKHA
DAY 11 : PUNAKHA – THIMPHU
DAY 12 : THIMPHU SIGHTSEEING
DAY 13 : THIMPHU – PARO TIGER NEST HIKE
DAY 14 : DEPARTURE FROM PARO AIRPORT
DETAILED TOUR PROGRAM
Day 01: Arrive Paro and Sightseeing (L, D)
The flight into Paro, Bhutan takes you close to the great Himalayas that offer scenic views great snow-capped peaks of the inner Himalayas rise up to the heavens can be seen during clear weather. As the plane approaches descends, if you look down, the farmhouses as dots on the hillsides can be seen. As the aircraft enters the Paro valley, you will see Paro Dzong on the hillside overlooking the Pachu (river), with Ta Dzong, formerly a watchtower and now the National Museum, above it.
After clearing the visa formalities and custom, you will be received by the representative of Yelha Bhutan Tours and Travels in Bhutanese way of welcoming. They will be your experienced tour guide and driver throughout the tour.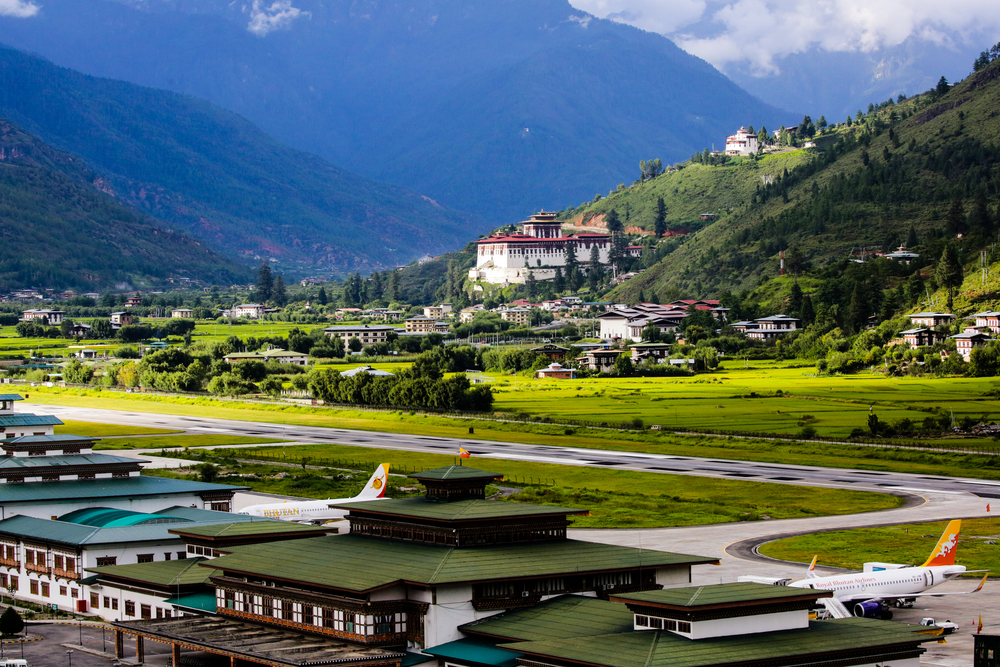 Then transfer to the hotel and relax with the cup of welcome tea. After refreshing it, then visit the following.
Ta Dzong: Built in 1656 as a watchtower for Rinpung Dzong is now used as the National Museum which is a repository of not only precious works of art but also costumes, Armour and other hand crafted objects of daily life that provide a good snapshot of the rich cultural traditions of the country. It opens 7 days a week except on National Holidays.
Rinpung Dzong: Built in 1646 by Lama Zhabdrung Nawang Namgyal and strategically located to thwart Tibetan incursions into the rest of the country, this Dzong became one of Bhutan's strongest and most important fortresses.
Dungtshe Lhakhang:Dungtse Lhakhang was constructed by the great bridge-builder Thangtong Gyelpo in 1433. It is said to have been built on the head of demoness, who was causing illness to the inhabitants. The building was restored in 1841 and is a unique repository of Kagyu lineage arts. You may or may not be permitted inside but can walk around this three story stupa-type building.
Overnight in Paro Hotel/Resort

Day 02: Paro – Trashigang via domestic flight (B, L, D)
Trashigang, "The Jewel of the East", spans the easternmost corners of the kingdom, skirting up to the edge of the Indian state of Arunachal Pradesh. It is the country's largest district, with an altitude ranging from 600 m to over 4000 m.
After the breakfast, drive to the airport to travel Paro to Yonphula, the domestic airport under Trashigang district. You will enjoy the beautiful views of Drametsi Dratshangand serene snowcapped mountains from airport. Travel to Trashigang (driving time: 5o minutes) and check into the hotel and prepare for few sightseeing. Overnight in Trashigang hotel/resort.
Visit Trashigang Dzong, standing at the extreme end of the spur, overhanging the Gamri River. It serves as the administrative seat for the district and part of the dzong is occupied by the Drukpa monastic community. After that take a leisure walk from town towards District hospital and court. It is neither warm nor cold which is best for walk.
Day 03: Trashigang – Merak village via Rangjung Woesel Choling Monastery
From Trashigang, the drive will first brings you to the small town of Ranjung and stop for a few mintes and take time to visit Woesel Choling Monastery. Further drive up the hill through terraced rice paddies will take you to Radhi village, popularly known for the raw silk and rice. Till Phongme, there is peace road (tar) but from there till Meraak village, it's rough and bumpy.
Day 04: Day excursion in Merak (village of Brokpa)
After breakfast, today the whole day will be devoted to visit in and around the Merak village. It involves visit to the local home, if possible school, interaction with people and delving deeper into their social, cultural and religious structure of this unique community. Merak is a large village with about 60 or so households, located at an elevation of 3480m. Then take a walk around the beautiful valley.
Day 05: Merak – Trashigang – Mongar
Today, we will travel to Mongar which is another district which is much developed than Trashigang. Take early breakfast, then drive back from the same route. From Trashigang – Mongar, the way will en route through rich vegetation and come across Korila Pass. Check into the hotel and rest.
Day 06: Mongar – Takila (Lhuentse) – Mongar
Day excursion to Lhuntse District
Distance: 76km; Driving time: 3 hours
You will drive to Lhuentse districts and there you will visit the 157 feet bronze statue of Guru Nangsey Zileon which sits atop a hill in Takila. You will also visit Khoma village which is famous for producing the best textile in Bhutan. Intricately patterned textile known as Kishuthara which is worn as kira, the national dress for women in Bhutan. You will drive back to Mongar and halt the night in Mongar.
Day 07: Mongar – Bumthang Valley (Central Bhutan)
Distance: 255 km; estimated driving time: 7 hours
After the breakfast, drive to Bumthang and stop at Kurizam and short sightseeing. After that continue with the drive and after reaching Thrumsengla stop for the the photo shoot and then continue with the drive and overnight at hotel in Bumthang.

Day 08: Bumthang valley excursion
Whole day sightseeing in Bumthang, which is the most beautiful place in Bhutan and we normally say, "Switzerland of Bhutan".
In the morning visit the Jakar Dzong. The fortress is now used as an administrative center of the valley and summer residence of monks.
Chakhar Lhakhang (Iron Castle). It is the site of the palace of the Indian King Sendha Gyab also known as Sindhu Raja. Also visit Kurjey Lhakhang (Kurjey means, "Body imprint"). The temple to the right was built by Minjur Tempa in 1652. It was built around the cave in which Guru Rinpoche meditated and left his body imprint.
Jambay lhakhang, built in the 7th century by the King Songtsen Goempo of Tibet. In his effort to propagate Buddhism he had a plan to build a total of 108 temples in Tibet and neighbouring kingdoms. Then visit small Bumthang town and take leisure time by walking through villages nearby.
Day 09: Bumthang – Phobjikha Valley
Elevation: 2900 m, 163.3 km; estimated driving time: 6 hours
After breakfast drive to Trongsa and visit Trongsa Dzong, seat of the district administration, built in 1648, then drive to Phobjikha (lunch on the way). It is a bowl-shape valley on the western slopes of Black Mountain. Visit Gantey Goenpa – This monastery is a major attraction with an old monastery date back to the 16 century. Later start short short hike from Gangtey Goenpa to beautiful Phobjikha valley.
Overnight in Phobjikha resort

Day 10: Phobjikha – Punakha (elevation: 1242 m)
Distance: 82 km; estimated driving time: 2 hours, 45 40 minutes
Today after breakfast we will drive to Punakha valley with sightseeing en-route. We will stop at certain places for tea/refreshments and drive slowly towards Punakha valley. Punakha was the winter capital for over 300 years until the time of second King.
Punakha Dzong, which dominates the whole area, was built in 1637 by Zhabdrung Ngawang Namgyel, and established the central monastic body with 600 monks. Today, Punakha is still the home for Je Khempo (Chief Abbot) and the central monastic body. Punakha Dzong is one of the most impressive Dzong in the Kingdom. (You will have picnic lunch at the river side)
Then drive to longest suspension bridge in Punakha and short hike to Khamsum Yuelley Namgyel Temple. It is located on the hill of upper Punakha valley which is unique traditions and architecture. It was built by our Queen mother Azhi Tshering Yangden Wangchuk in order to bring the peace in the world in general and to clear the obstacles of the country in particular. From there, view is really astonishing, so you can enjoy it.
After completing the hike, drive to hotel in Lobesa and on the way, visit Chimi Lhakhang which is popularly known as Divine Madman's temple and people believed it to be a fertility temple hopes of having a child, as well as receiving a Wang (blessing) from the saint with the 'magic thunderbolt of wisdom married.
Overnight in Punakha Hotel/resort

Day 11: Punakha – Thimphu (Capital of Bhutan)
Distance: 71 km: estimated driving time: 2 hours, 30 minutes
After breakfast, travel to Thimphu and on the way we will visit Dochula (Dochula Pass, altitude: 3140 m) where there are 108 stupas and druk Wangyel Monastery. In the clear sky; enjoy the panoramic view of Himalayan Mountain ranges. On arrival to Thimphu, the capital town of Bhutan, you will check into the hotel and rest for a while. If all ready, then start sightseeing as follows.
Kuensel phodrang (commonly known as Buddha Point) where the largest Buddha statue in the country is perched on the hillock overlooking the Thimphu Valley. You may take a nature hike through Kuensel Phodrang Nature Park.
The National Memorial Chorten (stupa) which was constructed in 1974 as a memorial for the third King of Bhutan, King Jigme Dorji Wangchuck, who is widely regarded as the father of modern Bhutan. The term "chorten" literally means ' seat of faith' and Buddhists often call such monuments the 'Mind of Buddha'. Meet the elderly generation in circumambulation, especially in the evenings, at the National Memorial Chorten.
Tashichhoe Dzong, a fortress of the glorious religion. It was built in 1641 by Zhabdrung Ngawang Namgyel and was reconstructed into present structure by the late King, His majesty Jigme Dorji Wangchuck in the year 1962-1969. It houses the secretariat building, the throne room and the office of the king, and the central monk body.
In the evening, you can visit Centenary Farmer's Market where farmers sell their organic and local farm produces. It is also called weekend market because it opens from Thursday till Sunday.
Overnight in Thimphu hotel/resort

Day 12: Thimphu
Today, you will do another short hike to Tango monastery. Tango monastery, initially built in 13th Century and Tango – literally translates as 'horse head' in honour of the main idol, Hayagriva. The story goes, lama heard the echo of a horse neigh in the direction of the cliffs, only for the crags to take the form of the god Tandin, consumed by flames. It was prophesised that a monastery and temple would be built at the site and dedicated to meditation and prayer. The temple is a short 30-minute drive from Thimpu, followed by an hour long walk through an iridescent violet and crimson rhododendron cloaked woodland. The monastery has a rich history, where colourful lamas added to the structure over centuries, and venerated saints meditated within its walls at times of war. Today, the monastery serves as a Buddhist University of Bhutan.
After that, walk down to the road point and drive to base of the Cheri Goenpa andenjoy the lunch at river side (picnic lunch). If you do not prefer picnic lunch, we can take you to the town. After driving back to town, visit the following.
Changangkha Lhakhang (temple): Changangkha Lhakhang is an old fortress like temple and monastic school perched on a ridge above Thimphu. It was established in the 12th century on a site chosen by Lama Phajo Drukgom Shigpo, who came from Ralung in Tibet. The central statue is Chenrezig in an 11-headed, thousand-armed manifestation (God of compassion). There are enormous prayer wheels to spin and even the prayer books in the temple are larger in size than usual Tibetan texts.
Dechenphodrang (meaning, Palace of great bliss) Monastery located at north of Thimphu valley. It is a monastic school for about 500 young monks enrolled for 8 years courses. You will visit the monastery and have free interaction with young monks who are mostly from poor family ground and some even orphan. The "Palace of Great Bliss" serves as a home and learning center for these young monks. You will spend some time interacting with young monks.
Zorig Chusum (Institute of 13 Traditional Arts and Crafts) where students undertake a sixyear course on the 13 traditional arts and crafts of Bhutan. In the evening, drive to Paro for overnight.
Day 13: Thimphu – Tiger's Nest Monastery Hike
Paro Hike to Paro Taktsang (Tiger's Nest) Monastery perched on a cliff at 2950 m takes anywhere from 4 to 6 hours as per your hiking ability. It is an uphill hike to the Monastery. There is a cafeteria (Taktsang Jakhang) on the half way. Legend has it that Guru Padmasambhava (the great Buddhist master) with his magical powers came to Taktshang in the eighth century, flying from the east of the country on the back of a tigress (a form that one of his consorts is believed to have taken). He is said to have meditated for about three months in a cave on the cliff and subdued the evil spirits. The primary Lhakhang was built around Guru Rimpoche's meditation cave in the 1692 by the fourth Desi Tenzin Rabgay. This incredible monastery clings to the edge of a sheer rock cliff that plunges 900 meters into the valley below Kyichu Lhakhang: It was built in 659 by the Tibetan King Songtsen Gampo. The temple fell into disrepair but was superbly restored in 1839 by the 25th Je Khempo (Chief Abbot). He also contributed the outstanding statue of Avalokiteshwara, with eleven heads and thousand arms, which is located in the sanctuary.
Evening at leisure or visit the Paro town with a street of typical Bhutanese traditional buildings for souvenir shopping.
After that there will be farewell dinner with traditional cultural item (mask dances and dance) for 1 hour, 3o minutes. To enjoy, any of the guest can also come up with the item either dance or song and speeches such as experience and enjoyment in Bhutan.
Day 14: Departure (Paro International Airport)
As per the flight departure time, our guide and driver will escort you to the airport and wave good bye. Breakfast will be served at the hotel and if your flight departure is early in the morning, then you will be given packed breakfast.