Bhutan Rhododendron Festival- 8 Days
Duration: 8 Days, 7 Nights.
Locations: Paro, Thimphu, punakha & Phobjikha Valley
Highlights: Visit to the Ta Dzong (National Museum), Punakha Dzong, Worlds tallest bronze Buddha statue, Tigers nest hike, Rhododendron Festival at Lamperi Botanical Garden.
ITINERARY OVERVIEW
DAY 01 : PARO-THIMPHU
DAY 02 : THIMPHU
DAY 03 : THIMPHU-PUNAKHA
DAY 04 : PUNAKHA
DAY 05 : PHOBJIKHA
DAY 06 : PHOBJIKHA-PARO
DAY 07 : PARO
DAY 08 : DEPARTURE
DETAILED TOUR PROGRAM
Day 01 : Fly Into Bhutan
The flight into Paro on our national carrier, Druk Air, is a befitting introduction to the spectacular beauty of our country. In clear weather, magnificent views of the world's highest peaks give way to the lush green.
Paro valley as you land. First gift from Bhutan will be the cool, clean fresh air as you step out of the plane. After clearing customs and visa control you will meet our guide.
Afternoon in Paro visit Ta Dzong, once a watchtower, built to defend Rinpung Dzong during inter-valley wars of the 17th century, Ta Dzong was inaugurated as Bhutan's National Museum in 1968.
Afterwards, walk down a hillside trail to visit Rinpung Dzong. Built in 1646 by Shabdrung Ngawang Namgyal, the first spiritual and temporal ruler of Bhutan, the Dzong houses the monastic body of Paro, the office of the Dzongda (district administrative head) and Thrimpon (judge) of Paro district.
Later Drive to Thimphu.
Distance: 54 km
Estimated driving time: 1 Hour
In the evening we will visit Tashichho Dzong the main
administrative building of the capital and walk through the town.
Overnight at a hotel/resort in Thimphu

Day 02 : Thimphu Sightseeing.
After breakfast travel to Thimphu and check into your hotel. The full day Thimphu tour includes visit to the following:
The national memorial stupa built in memory of the late 3rd king of Bhutan.
Visit Buddha Point and offer your prayers to the Largest Buddha statue in the country and walk around to enjoy the great view of Thimphu valley below.
Takin Preserve which houses the national animal- takin which is found only in Bhutan. Takin is an extremely rare member of goat family.
Changangkha Lhakhang is the main temple of the Thimphu. This popular fortress-like temple perched on a ridge above central Thimphu regularly hums with pilgrim activity. It was established in the 12th century
The Institute for Zorig Chusum (commonly known as the g Painting School) where students undergo a 6-year training course in Bhutan's 13 traditional arts and crafts.
The Folk Heritage Museum to get an insight into the typical Bhutanese way of life.
The National Library, housing an extensive collection of priceless Buddhist manuscripts.
Centenary Farmers' Market (open from Thursday to Sunday) where farmers sell their farm produces (vegetables, fruits, cereals, spices, wild vegetable collections, livestock products etc and free interaction with local people who come shopping to this market, especially on weekends and the craft bazaar.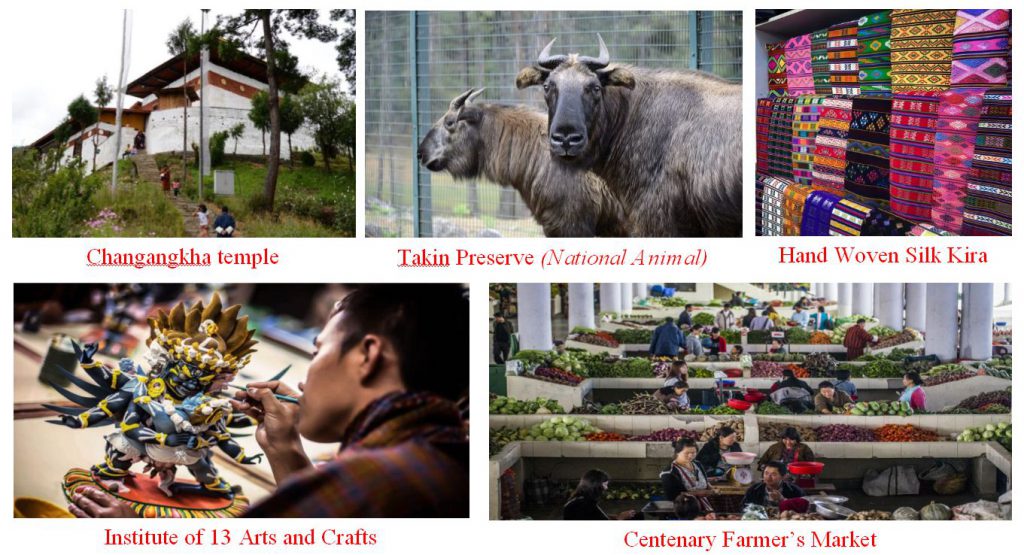 Overnight at a hotel/resort in Thimphu.
Day 03 : Thimphu-Punakha (Rhododendron Festival At Lamperi)
Altitude: 1,300 meters
Distance: 71 km
Estimated driving time: 2 1/2 hrs
After breakfast drive to the Rhododendron festival.
Dochula is one hour drive from Capital and you will have your refreshment tea at Dochula mountain pass.
After Dochula we will drive to Lamperi where the famous flower festival will be held.
Rhododendron Festival is a Bhutanese event that shares the cultures affection for the flower. It brings attendees a local garden walk, traditional foods, storied games and more.
Bhutan boosts 46 various species of Rhododendron and the event's venue has 29 of them. Not to far from Thimphu, the festival's rural location offers an authentic look into Bhutanese culture
After festival Travel onto Punakha, the old capital of Bhutan and presently the winter residence of the central monk body.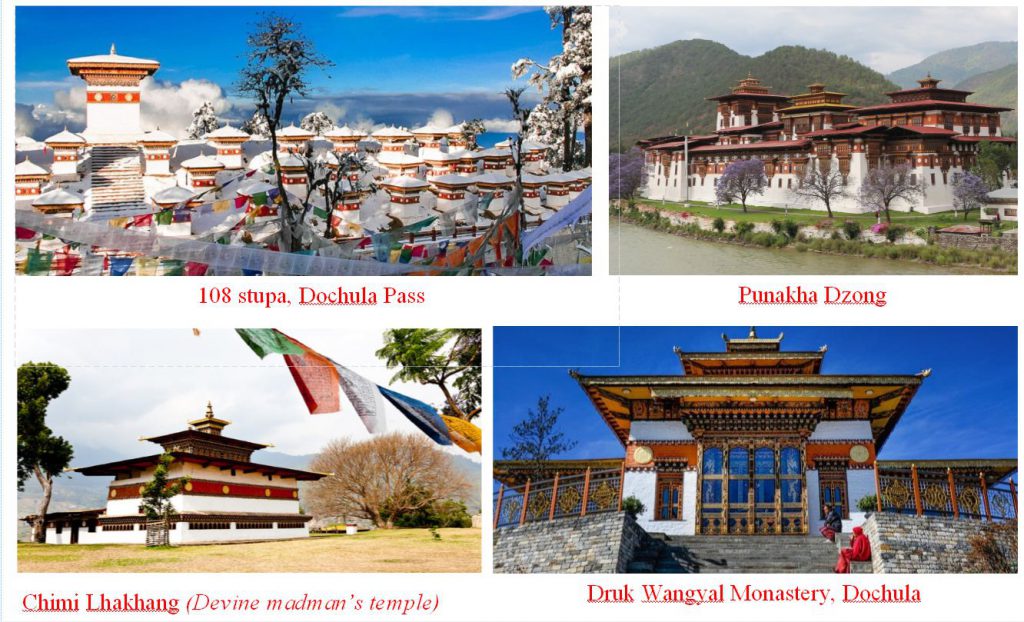 Overnight at a hotel in Wangdue/Punakha

Day 04 : Wangdue and Punakha Valley Excursion
Today after Breakfast we will drive onto Punakha, the old capital of Bhutan and presently the winter residence of the central monk body. We will drive to upper Punakha via Punakha Dzong for a short Hike to Khamsum Yuelley Namgyel Temple located at the upper Punakha Valley.
River rafting (only if there are more than 3 pax): When coming back from the hike, if you want to experience river rafting then you can tell guide to arrange it. It will take almost two hours and you can pay to them directly (excluded in the package).
Visit longest suspension bridge in Punakha the later, drive to Wangdue town and walk through nearby village.Overnight in Punakha.
Day 05 : Punakha – Wangdue – Gangtey And Phobjikha Valleys
Altitude: 3,000 meters
Distance: 198 km
Estimated driving time: 2 hrs 30 Minutes
After breakfast, we will go to Phobjikha valley on the way we will stop at Wangdue town and visit the on going Wangdue dzong construction, drive to Phobjikha after lunch.
Phobjikha– is a bowl-shape valley on the western slopes of Black Mountain.
Optional: After lunch or in the next Morning visit Gantey Goempa – This monastery is a major attraction with an old monastery date back to the 16 century.
Later walk around the valley which is also the winter home to the rare black-necked cranes, which migrate, from remote parts of Tibet, China and Siberia during winter to this valley.
Overnight in resorts/Hotels at Phobjikha

Day 06 : Phobjikha – Paro
Altitude: 2,280 meters
Distance: 190 km
Estimated driving time: 5hrs, 30 min
Today after well rest we will drive to Paro. We will do some sightseeing on way and also stop at Thimphu for while if there are any last minute shopping.
Visit the Tachog Temple. This 600 year old bridge crosses the Paro Chhu (Paro River) and was traditionally restored in 2005 after being washed away during a 1969 flood.
The bridge was originally built by the legendary Tibetan architect, physician, blacksmith and civil engineer Thangtong Gyalpo who is an important figure in Bhutanese and Tibetan history.
Overnight in hotel/resort at Paro

Day 07 : Taktsang Monastery – Highlight of Your Trip
After breakfast, drive up to the base camp of Taktsang and then hike up to the most famous Monastery in the entire kingdom of Bhutan perched on the edge of a steep cliff, about 900 meters above Paro Valley.
The hike to the viewpoint will take about an hour and it will take 2 hours to the monastery. Lunch at the viewpoint or at Paro town.
Later we will visit the Kichu Lhakhang. Its is one of the oldest and sacred temples in the Kingdom built 1300 years ago by the Tibetan king Songtshen Gyalpo to subdue the Ogress.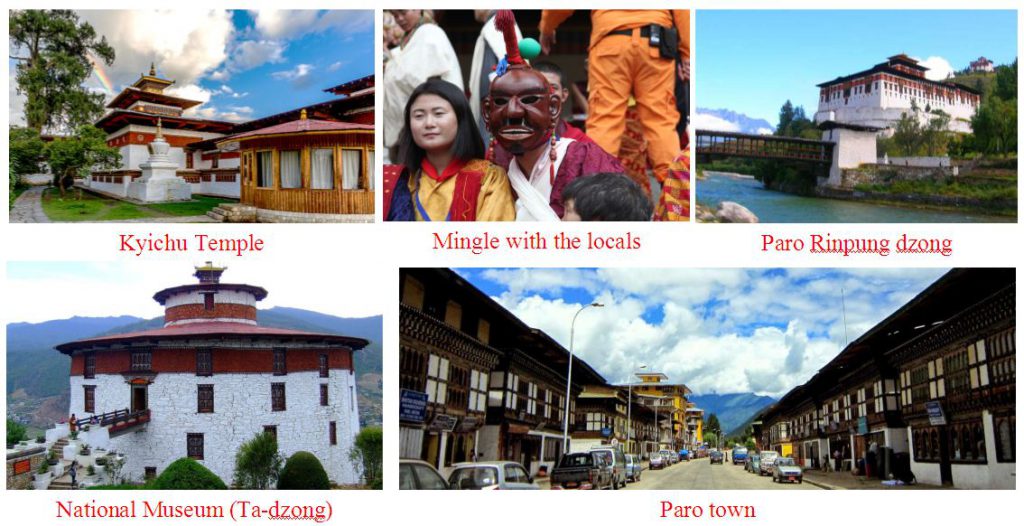 Overnight at a hotel/resort in Paro.
Day 08 : Departure from Paro International Airport
After breakfast, drive to Paro International Airport, your tour guide and driver will bid you farewell and we hope you had a pleasant visit and hope to see you soon again in Bhutan.
End of Tour