Haa Summer Festival- 7 Days
Durations: 7 Days & 6 Nights
Locations: Thimphu, Punakha, Paro, Haa and Wangdue Valley
Highlights: Bhutan is the last Mahayana Buddhist Kingdom, and the teachings of this school of Buddhism are a living faith among its people. Spirituality exists even in the urban centers where the spinning of prayer wheels, the murmur of mantras and the glow of butter lamps in the houses are still important features of their everyday life.
ITINEARY OVERVIEW
DAY 01 : ARRIVAL TO BHUTAN
DAY 02 : THIMPHU SIGHTSEEING
DAY 03 : THIMPHU-PUNAKHA
DAY 04 : PUNAKHA – HAA
DAY 05 : HAA SUMER FESTIAVEL (HALT PARO)
DAY 06 : A DAY HIKE TO TIGER'S NEST MONASTERY
DAY 07 : DEPARTURE FROM BHUTAN
DETAILED TOUR PROGRAM
Day 01 : Arrive Bhutan to Thimphu
You will be received by the representative of Yelha Bhutan Tours and Travels (Bhutan tour operator) who will be your Bhutan travel guide throughout your tour. Now you will drive to Thimphu and check into your hotel. After refreshments.
visit the following:
National Memorial Chorten: Chorten literally means ' seat of faith' and Buddhists often called such monuments the 'Mind of Buddha'. Meet the elderly generation in circumambulation at the National Memorial Chorten.
Drive to Kuensel Phodrang and take a short leisure hike to the Kuensel Phodrang Nature Park and enjoy the full view of Thimphu Valley below.
Visit Buddha Point and offer your prayers to the largest Buddha statue in the country and walk around to enjoy the great view of Thimphu valley below. In the evening stroll through Thimphu town and leisure time.
Tashi Chhodzong, Tashichhodzong, "the fortress of the glorious religion". This is the center of government and religion, site of the monarch's throne room and seat of the Je Khenpo or Chief Abbot. Built in 1641 by the political and religious unifier of Bhutan, Shabdrung Ngawang Namgyal, it was reconstructed in the 1960s in traditional Bhutanese manner, without architectural plan.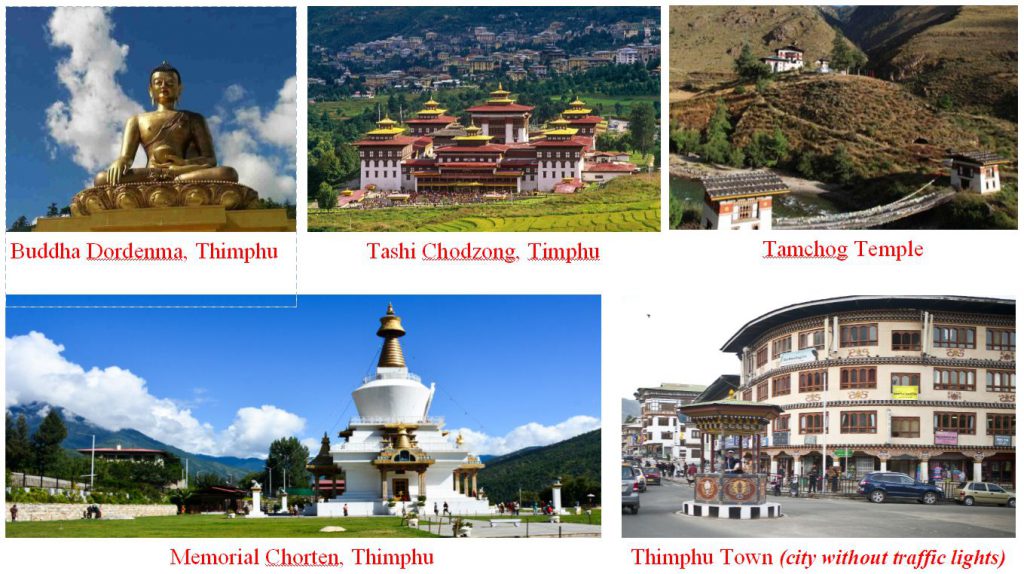 Overnight in hotel/resort at Thimphu

Day 02 : Thimphu Sightseeing
The full day Thimphu sightseeing includes visit to the following:
The Institute of Zorig Chusum (commonly known as the Painting School) where students undergo a 6-year training course in Bhutan's 13 traditional arts and crafts.
The National Folk Heritage Museum to get an insight into the typical Bhutanese way of life.
Changzamtog Weaving centre.
Centenary Farmers' Market (open from Thursday to Sunday so called weekend market) where farmers sell their farm produces ( vegetables, fruits, cereals, spices, wild vegetable collections, livestock products,etc and free interaction with local people who come shopping to this market, especially on weekends.
Takin Preserve which houses the national animal- takin which is found only in Bhutan. Takin is an extremely rare member of goat family.
Changangkha lhakhang/temple.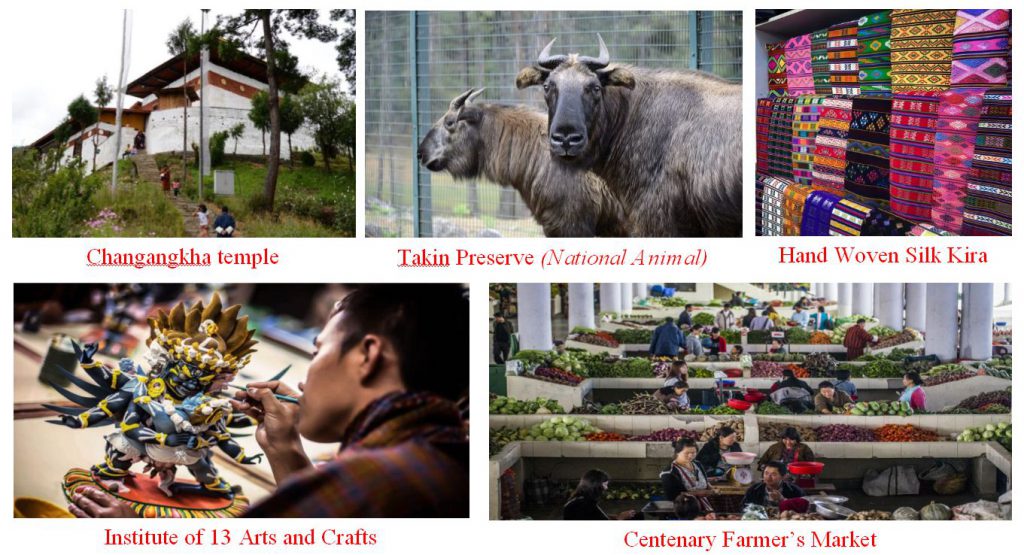 Day 03 : Thimphu – Punakha
After breakfast, travel to Punakha through Dochula Pass (3,088m/10,130ft). If you have a clear sky, the view of the Himalayan Mountain ranges is spectacular and you can even see the Gasa Dzong as a white dot in the horizon. Visit the beautiful 108 chortens built on the hill by Her Majesty Ashi Dorji Wangmo for the security and wellbeing of His Majesty the King of Bhutan.
Travel onto Punakha, the old capital of Bhutan and presently the winter residence of the central monk body. Visit the Punakha Dzong, located on the island of the Pho – Chu (male) river and the Mochu (female) river.
Evening, walk through the Metshina Village and take a 20minute walk through the rice fields to the Devine Madman's Monastery-Chhimi Lhakhang, famously known for its fertility shrine, where one can receive a special fertility blessing.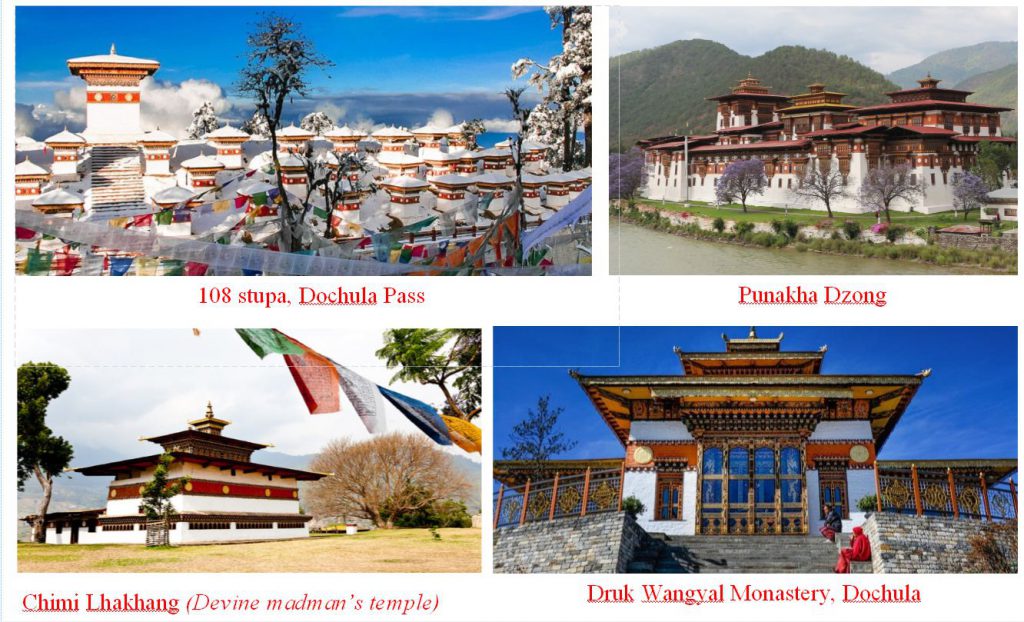 Overnight in hotel/resort at Punakha

Day 04 : Punakha – Haa
After the breakfast, we will drive to Haa Valley via Dochula and Chele la Pass. After arriving in Haa, we will do short valley tour and visit Black temple.
Then relax and dinner at Farm house with the local people and experience the Bhutanese culture and lifestyle in the remote place.

Day 05 : Haa Summer Festival – Paro
Today after the breakfast, you will be given Bhutanese traditional dress so that you can dress and experience our National dress (GHO for Man and Kira for Woman).
You will get to watch skilled local craftsmen weaving yak hair into their traditional tents and also traditional arts of yak shearing and wool making. You will also see how delicious traditional meals are made using yak dairy products as main ingredients.
Food, A Taste of Tradition: You will get to taste delicious Haapi Hoentoe, hearty dumplings made from buckwheat and stuffed with fragrant grated turnip, dried turnip grees, mushrooms, garlic, onions and chopped cabbage seasoned with gingerp, ground walnut, chili-powder, salt, butter, sesame and poppy seeds. This is the special dish of Haa valley and made only by people of Haa Valley. There will also be other traditional Bhutanese dishes to sample.
Song and Dance: You will get to watch and enjoy the lively folk songs and mask dances performed at this festival and also experience Haapi Ausa, traditional songs extolling the virtue of their yaks that are typically sung while tending their yaks.
Sports: you can either watch or participate in the local sports such as Archery, yak and Horse riding, Khuru (darts), Soksum (light javelin throwing). These lively competitions are energetic affairs accompanied by much laughter, singing and friendly taunts.
We will drive to Paro for overnight. If we reach early, we will visit Taa dzong, now it is national museum and Paro Rinpung Dzong.
Overnight in hotel/resort at Paro

Day 06 : A Hike to Tiger's Nest Monastery
After breakfast, drive up to the base camp of Taktsang and then hike up to the most famous Monastery in the entire kingdom of Bhutan perched on the edge of a steep cliff, about 900 meters above Paro Valley. The hike to the viewpoint will take about an hour and it will take 2 hours to the monastery.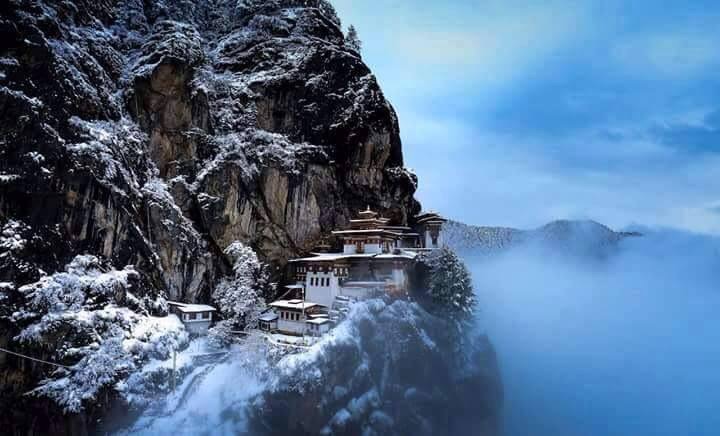 Lunch at the viewpoint or at Paro town. Later sightseeing in town and Kichu Lhakhang. The 1300 years old Jo Jampa Temple.
Day 07 : Departure from Paro
In the morning, your tour guide from Yelha Bhutan Tours & Travels (local Bhutan travel agent) will escort you to Paro International Airport for your departure.
End of Tour