Paro Tshechu 8 Days Tour
Duration: 8 days/ 7 nights
Locations: Paro, Thimphu, punakha & phobjkha valley
Highlight: Hike to the Tigers nest temple temple, visit to the Ta Dzong (National Museum), Punakha Dzong, Worlds tallest bronze Buddha statue, Tigers nest hike, Dochula mountain pass, Fertility temple, Souvenir shopping, prayer flag ceremony at Paro, wear Bhutanese costumes during the trip which will be provided by the company, heritage farm house dinner etc.
ITINERARY OVERVIEW
DAY 01 : ARRIVE PARO
DAY 02 : PARO – THIMPHU
DAY 03 : THIMPHU SIGHT SEEING
DAY 04 : THIMPHU – PUNAKHA VALLEY
DAY 05 : PUNAKHA – PHOBJIKHA
DAY 06 : PHOBJIKHA – PARO
DAY 07 : HIKE TO TIGER NEST MONASTERY ( FAREWELL DINNER )
DAY 08 : DEPARTURE
DETAILED TOUR PROGRAM
Day 01 : Arrive Paro
Besides the Paro valley and the festival, this tour will also visit Thimphu, the capital of Bhutan and the Punakha, Wangdue, the glacier valley of Phobjikha etc.
Fly into Paro by Druk Air, Bhutan's National Airline. The great snow-capped peaks of the inner Himalayas rise up to the heavens can be seen during clear weather. As the plane approaches Bhutan, if you look down farmhouses as dots on the hillsides can be seen.Check into your hotel in Paro and after refreshments.
visit the following:
Ta Dzong, built in the 17th century as a watchtower for the Paro Dzong.
Rinpung Dzong, built in 1645 to defend the valley against Tibetan invaders. The Dzong is now being used as an administration center and school for monks.Then walk down to Rimpung Bridge (Traditional Bridge), oldest bridge in Bhutan.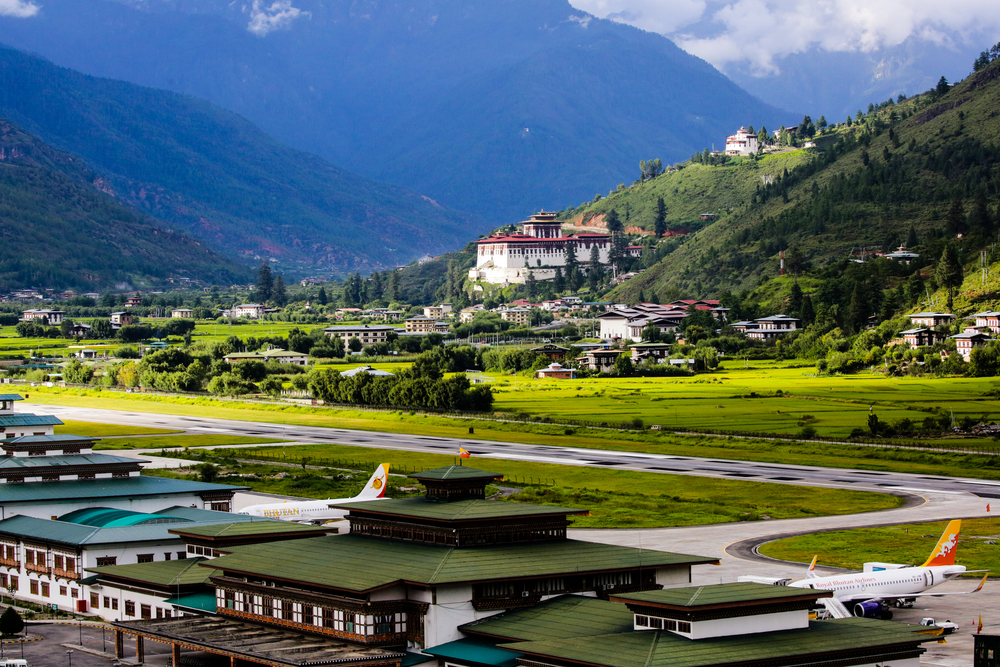 Overnight at a hotel in Paro

Day 02 : Paro Festival – Thimphu
Altitude: 2,350m / 7,710ft
Distance: 54 km
Estimated driving time: 1 hrs
After Breakfast visit the Paro Dzong where the masked dance-dramas, Bhutanese all dressed in their traditional finery witness the age-old, wonderfully colorful and of this typical Buddhist festival are going on. Be amongst throngs of Bhutanese from the Paro valley and from outlying villages of esoteric Religious masked dance-dramas performed by specially trained groups of Buddhist monks.
Overnight in hotel/resort at thimphu

Day 03 : Thimphu Sightseeing
• Visit the weekly Thimphu market.
• Change money at the Bhutan National Bank
• Visit the Thimphu Post office.
• Visit the Arts and crafts school and the Traditional Medicine Institute.
• Visit Memorial Chorten.
• Observe traditional paper making from Daphnia and Edgeworthia
• Visit the Takin rehabilitation center.
• Drive up to viewpoint and take a hike beyond to see the clear picture of Thimphu Valley.
• Downtown Thimphu on foot visiting Handicrafts Emporium and other Arts & Crafts stores. Buy stunning kiras which can be used and bed covers or wall decoration, jewelry's and many more.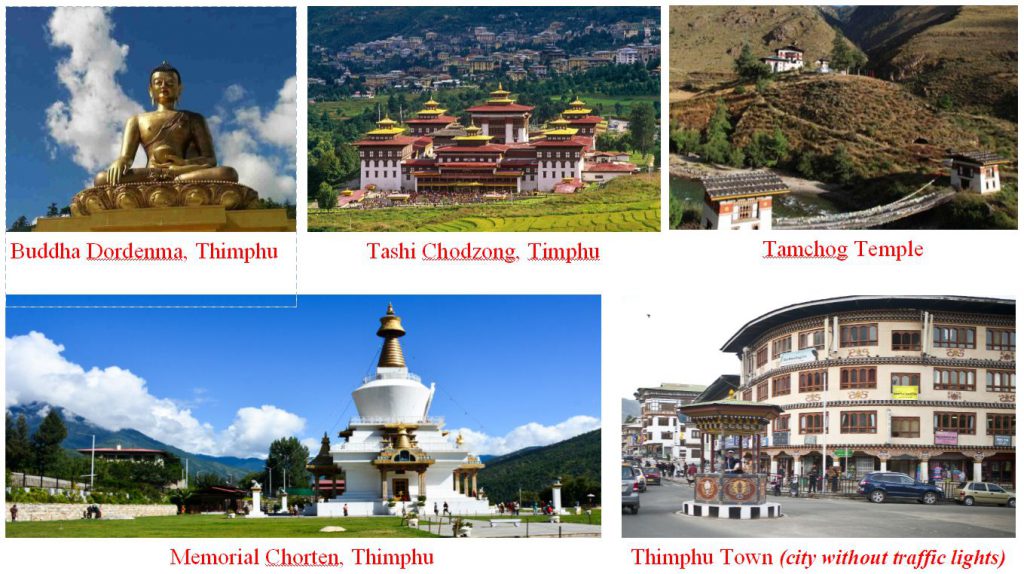 Day 04 : Thimphu – Punakha
Altitude: 1200 meters
Distance: 70 km
Estimated driving time: 3 hrs
After breakfast we will drive to Punakha Valley.Visit Dochula Druk wangyel temple situated at 3150 meters above sea level.We will continue drive down into the Punakha valley. Hike to Chhime Lhakhang , an ancient monastery near Punakha, dedicated to fertility and founded by Lam Drukpa Kuenley.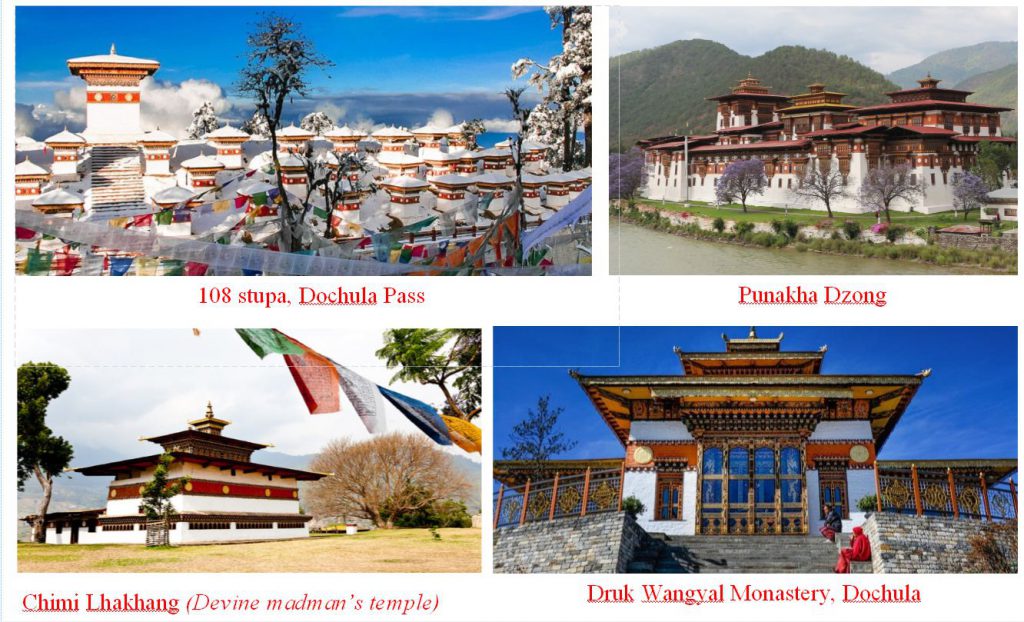 Overnight inhotel/resort at Punakha

Day 05 : Punakha – Phobjikha
Altitude: 2,900m /9840 ft
Distance: 78 kms
Estimated driving time: 3 hrs
After breakfast we will drive to the beautiful Gangtey and Phobjikha valley. Visit the Gangtey Gompa monastery and hike through the valley after reaching Phobjikha.Overnight Phobjikha at Hotel.

Day 06 : Phobjikha – Paro
Altitude: 2,900m /9840 ft
Distance: 218 km
Estimated driving time: 7 hrs
After breakfast, travel to Gangtey Gompa. Visit Gangtey Gompa, which now houses one of the only Nyingmapa monasteries in Bhutan. Later drive back to Paro Valley.Lunch at Punakha. Overnight at Paro.

Day 07 : A Day Hike to Tioger's Nest Monastery
After breakfast, drive up to the base camp of Taktsang and then hike up to the most famous Monastery in the entire kingdom of Bhutan perched on the edge of a steep cliff, about 900 meters above Paro Valley.
The hike to the viewpoint will take about an hour and it will take 2 hours to the monastery. Lunch at the viewpoint. Afterwards visit the famous 7th century Kyichu Lhakhang. Farewell dinner with in the evening.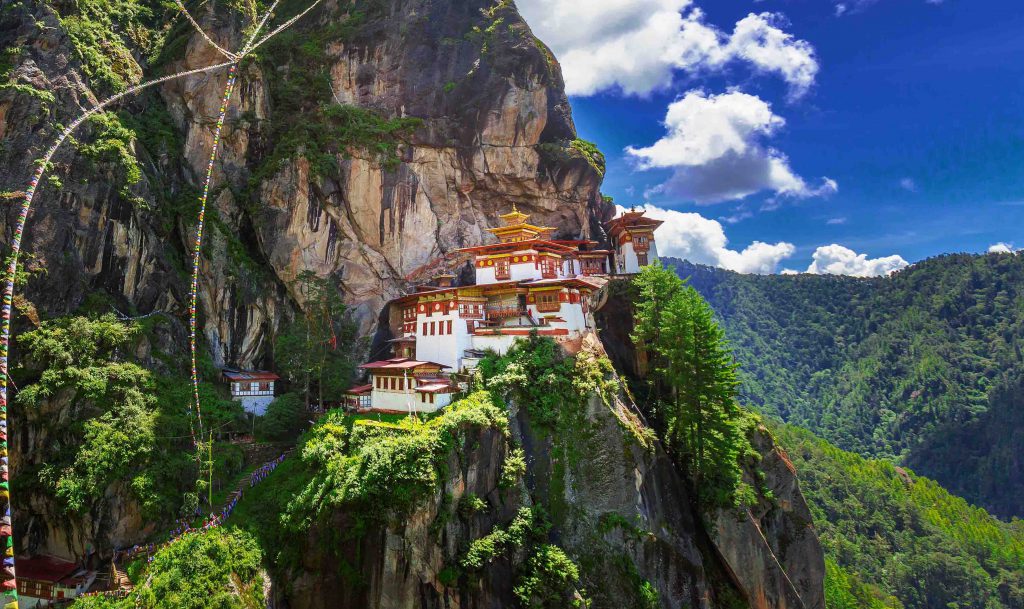 Overnight at a hotel in Paro.
Day 08 : Fly from Paro
After breakfast at the hotel, we will transfer you to the Paro International airport.
End of Tour