Bumdra Trek with Culture Tour : 10 days
Durations: 10 day with culture tour
Locations: Paro Thimphu, bumthang, Phobjikha and Punakha.
Highlight: High up in the mountains one hundred thousand angels descended and left footprints on a rock 800 years ago. Now a group of horses, yaks and tour guides eagerly wait to take tourist not to see the sight but rather experience mythology of Bhutanese history, tradition and culture 3800m above sea level.
Visit to the Tashichho Dzong, Memorial stupa, Ta Dzong (National Museum), Punakha Dzong, Worlds tallest bronze Buddha statue, Tigers nest hike, 7th Century Jampa Lhakhang, Dochula mountain pass……
ITINERARY OVERVIEW
DAY 01 : ARRIVAL – PARO
DAY 02 : TREK START
DAY 03 : TREK ENDS
DAY 04 : PARO – THIMPHU
DAY 05 : THIMPHU – PUNAKHA
DAY 06 : PUNAKHA – BUMTHANG
DAY 07 : BUMTHANG
DAY 08 : BUMTHANG – PHOBJIKHA
DAY 09 : PHOBJIKHA – PARO
DAY 10 : DEPARTURE FROM PARO
DETAILED TOUR PROGRAM
Day 01 : Paro Valley Tour
After the breakfast, we will do the following sightseeing.
Paro Rinpun dzong
National Museum which was watch tower in olden days during the civil war
Drukgyel dzong, the fortress of victory
Kyichu temple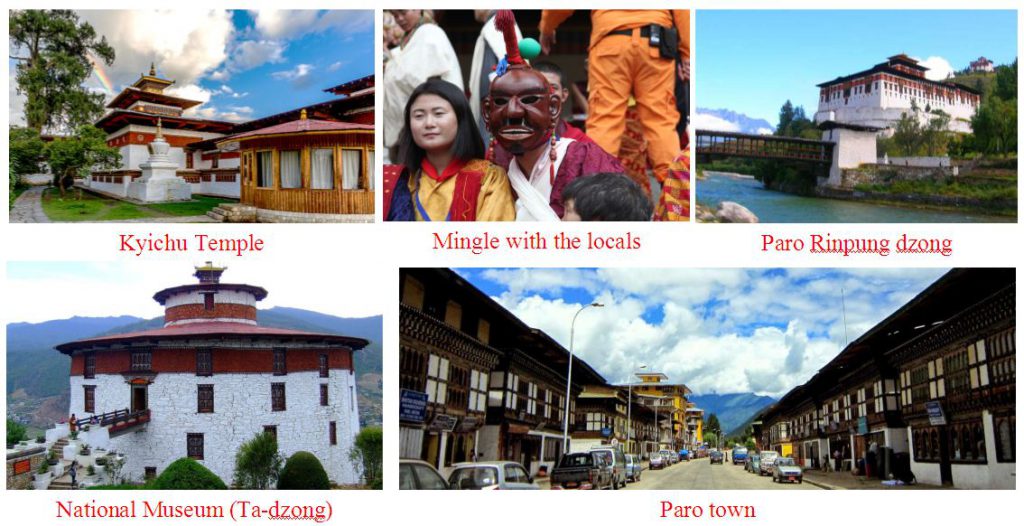 Then visit one of the farm houses in Paro for organic Bhutan Dinner and there is hot stone bath which very popular in Bhutan. If you wish to experience hot stone bath, then you have to pay USD 20 to USD 30 per person.
Overnight in hotel/resort in Paro

Day 02 : Sangchokor to Bumdra Monastry (Trek Start)
Trek Start: Sang Choekor in the Paro (Altitude: 2,800 m).
Time: 4 hours walk + 3 hours (climbing the peak and enjoy the Beautiful Himalaya)
Lunch: 4 hours walk (Campsite) and climb mountain after lunch.
Altitude: 4000 m
Temperature: 4°C – 7°C at Campsite (summer).
Difficulty: Moderate, guided with picnic.
Overnight: Camping
Day 03 : Bumdra – Zangdho Pelri – A Hike Tiger's Nest (Trek Ends)
Starting point: Bumdra (Altitude: 4000 m)
Lunch: Tiger's nest monastery (3 – 4 hourss walk from Bumdra)
Altitude: 3120 m
Total time: 6 to 7 hours walk
Overnight: Paro Hotel
Return hike from Bumdra Monastery camp via Zangto Pelri Monastery & Taktsang Monastery. After a hearty breakfast, it is time to either head straight back into the valley or spend a little extra time soaking up the view. Eventually we have to drop back into the ancient pine and rhododendron
forest on the monks' zig-zagging trail. After 2 hours walk we catch glimpses of the golden roofs of temples below.
The path snakes across the mountainside between these monasteries before reaching the gardens of Zangto Pelri (Heaven on Earth) from which you can, if you are brave, peer over the edge, straight down onto the ornate rooftops of Taktsang Monastery perched against the cliff-face far below. An hour later and we are across the gorge from Taktsang Monastery. Follow a steep descent to a waterfall then up some steps and you'll reach the Tiger's Nest itself. Retracing our steps we begin the final descent of about 45 minutes to Paro Valley floor to reach our vehicle from where you will be transferred by road to your overnight accommodation.
Duration: 6 – 7 hours depending on time taken in monasteries
Difficulty: Moderate
Day 05 : Paro – Thimphu Sightseeing
After breakfast, we will drive to Thimphu and visit the following:
The Institute for Zorig Chusum (commonly known as the Painting School) where students undergo a 6-year training course in Bhutan's 13 traditional arts and crafts.
Centenary Farmers' Market (open from Thursday to Sunday) where farmers sell their farm produces (vegetables, fruits, cereals, spices, wild vegetable collections, livestock products, etc. and free interaction with local people who come shopping to this market, especially on weekends.
Takin Preserve which houses the national animal- takin which is found only in Bhutan. Takin is an extremely rare member of goat family.
Visit Buddha Point and offer your prayers to the largest Buddha statue in the country and walk around to enjoy the great view of Thimphu valley below.
The National Memorial Chorten (stupa) which was constructed in 1974 as a memorial for the third King of Bhutan, King Jigme Dorji Wangchuck, who is widely regarded as the father of modern Bhutan. The term "chorten" literally means ' seat of faith' and Buddhists often call such monuments the 'Mind of Buddha'. Meet the elderly generation in circumambulation, especially in the evenings, at the National Memorial Chorten.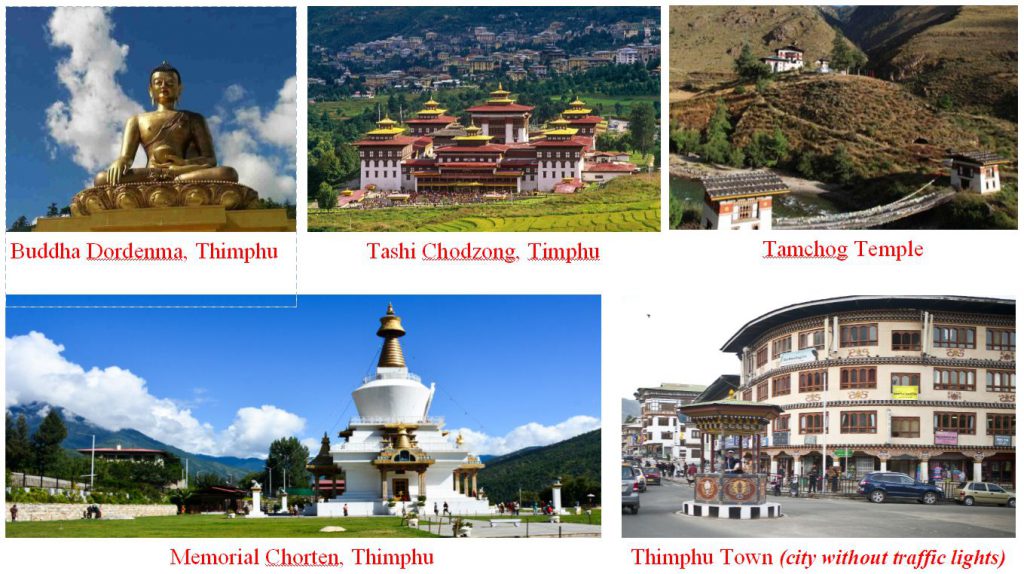 Overnight in hotel/resort at Thimphu

Day 05 : Thimphu – Punakha
Altitude: 1,300 meters
Distance: 71 km
Estimated driving time: 2 1/2 hrs
After breakfast, travel to Punakha through Dochula Pass (3,088m/10,130ft). If you have a clear sky, the view of the Himalayan Mountain ranges is spectacular and you can even see the Gasa Dzong as a white dot in the horizon. Visit the beautiful 108 chortens built on the hill by Her Majesty Ashi Dorji Wangmo for the security and wellbeing of His Majesty the King of Bhutan.
Travel onto Punakha, the old capital of Bhutan and presently the winter residence of the central monk body. Visit the Punakha Dzong, located on the island of the Pho – Chu (male) river and the Mochu (female) river. 108 stupa at Dochula pass, between Punakha and Thimphu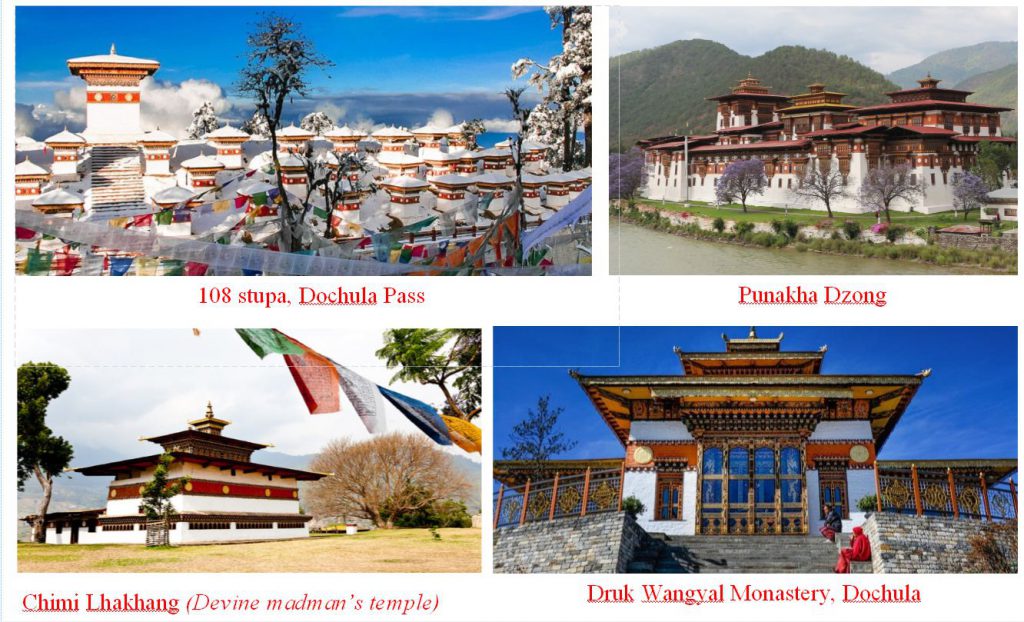 Evening, walk through the Metshina Village and take a 20minute walk through the rice fields to the Devine Madman's Monastery-Chhimi Lhakhang, famously known for its fertility shrine, where one can receive a special fertility blessing .
Overnight at a hotel in Wangdue/Punakha.

Day 07 : Punakha – Bumthang
Altitude: 2,650 meters
Distance: 198 km
Estimated driving time: 7 hrs
After breakfast, drives to Bumthang via Pelela pass at the altitude of 3,150 meters, a wonderful opportunity for photographs. En-route stops at Chummy village to visit yathra weaving central. Which Yathra are made into colorful scarves, bags, blankets and sweater. Continue drive to Bumthang.Mingle with the locals.
Overnight at the Resorts/Hotels in Bumthang

Day 07 : Bumthang Valley Tour
Whole day sightseeing in Bumthang, which is the most beautiful place in Bhutan and we normally say, "Switzerland of Bhutan". In the morning visit the Jakar Dzong. The fortress is now used as an administrative center of the valley and summer residence of monks. Chakhar Lhakhang (Iron
Castle). It is the site of the palace of the Indian King Sendha Gyab also known as Sindhu Raja. Jakar Dzong, Bumthang
Kurjey Lhakhang (Kurjey means, "Body imprint"). The temple to the right was built by Minjur Tempa in 1652. It was built around the cave in which Guru Rinpoche meditated and left his body imprint. Visit the Thangbi Temple which is located on a plateau above the Chamkhar River north
of Kurje Temple. The 4th Shamar Rinpoche, one of the two highest ranking lamas of the Karma Kagyu religious school came to Bumthang from Tibet in the 15th century in order to establish a monastery.
Jambay lhakhang, built in the 7th century by the King Songtsen Goempo of Tibet. In his effort to propagate Buddhism he had a plan to build a total of 108 temples in Tibet and neighboring kingdoms. Finish above sightseeing before lunch and after the lunch drive to Ura Valley and return at Chamkhar for overnight.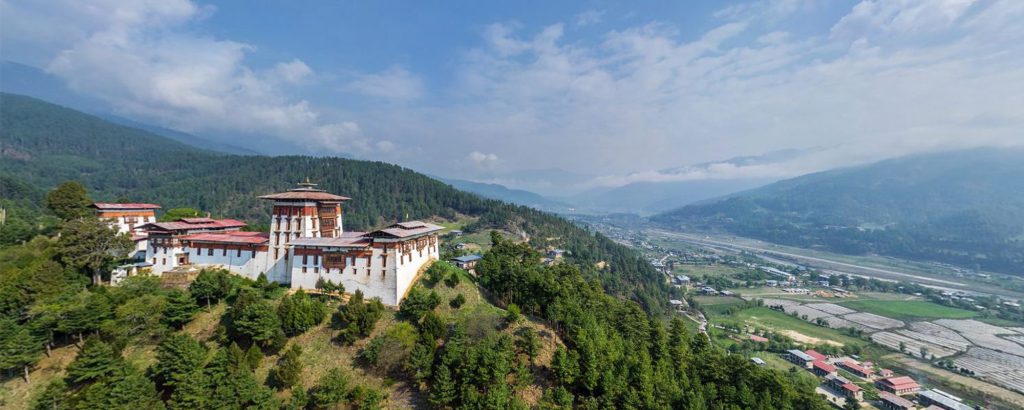 Day 08 : Bumthang – Phobjikha
Altitude: 2,900 meters
Distance: 188 km
Estimated driving time: 7 hrs
After breakfast drive to Trongsa. And then Visit Trongsa Dzong – seat of the districtadministration, built in the 1648. And visit Tower of Trongsa -converted into the museum from watchtower that once guarded Trongsa Dzong from internal rebellion, stands in Bhutan's history. Then drive to Phobjikha after lunch. Phobjikha- is a bowl-shape valley on the western slopes of Black Mountain.
Optional: After lunch or in Morning visit Gantey Goenpa – This monastery is a major attraction with an old monastery date back to the 16 century. Later walk around the valley which is also the winter home to the rare black-necked cranes, which migrate, from remote parts of Tibet, China and Siberia during winter to this valley.
Overnight in resort/hotel in Phobjikha

Day 09 : Phobjikha – Paro
Altitude: 2,280 meters
Distance: 190 km
Estimated driving time: 6 hrs
Today after well rest we will drive to Paro. We will do some sightseeing on way and also stop at Thimphu for while if there are any last minute shopping. Later stroll through the town and rest in Resort.
Overnight in hotel/resort at Paro


Day 10 : Departure
After the breakfast the guide and driver will escort you to Paro International Airport for your onward departure accordingly with the departure time.
End of Tour