Dagala Trek with Culture Tour 9 Day
Durations : 4 Day Trek 5 Day Culture Tour
Locations : Paro, Thimphu, Punakha
Highligh: During the trek an entire day will be dedicated to visiting some of the more picturesque lakes and resting. The trail also takes you through several Bhutanese villages so you can get a good idea of traditional Bhutanese village life as you make your way back from the lakes.
ITINERARY OVERVIEW
DAY 01 : ARRIVE PARO, SIGHTSEEING
DAY 02 : PARO – GENEKHA – GUR(TREK START)
DAY 03 : GUR – LABATAMA
DAY 04 : LABATAMA – PANKHA
DAY 05 : PANKHA – CHAMGANG THIMPHU (TREK ENDS)
DAY 06 : THIMPHU SIGHTSEEING
DAY 07 : THIMPHU – DOCHULA PASS – PARO
DAY 08 : A HIKE TO TIGER'S NEST MONASTRY
DAY 09 : A DEPARTURE FROM PARO
DETAILED TOUR PROGRAM
Day 01 : Arrive Paro, Sightseeing
Arrival at Paro by Air. The flight offers you beautiful view of mountains and landscapes. On arrival and after visa formalities you will be received by our members. Afternoon or, evening time at leisure and visit Paro Dzong and the national museum.
Places to visit:
National Museum (Ta-dzong)
International Airport, Paro
Paro Rinpung dzong
Nyamey Zampa (traditional wooden bridge)
Paro town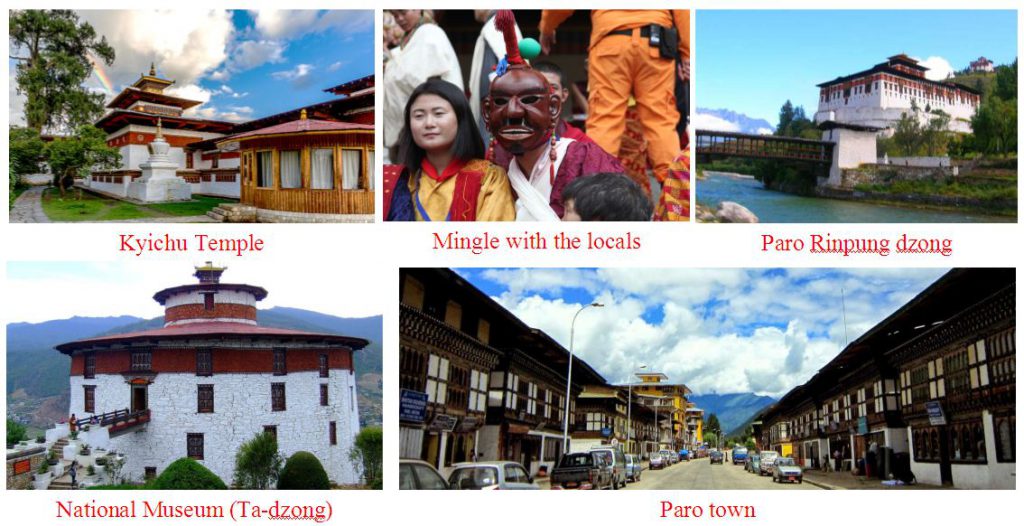 Overnight in resort/hotel at Paro

Day 02 : Paro – Genekha – Gur (Trek starts)
Distance 7Km, Time 5 hours, Ascent 550m, Descent 60m, Camp Elev 3290 m.
From Thimphu you will drive for 45km to the starting point of the trek. Today's trail is all through terraced fields and conifers vegetation. The trek starts from beautiful Genekha village (2800 m) with a short descent down to the river. From here – after crossing the river- you start climbing till you reach a huge rock platform at 3350m from where you have a picturesque view of the valley below. After another 2 hours you reach Gur amid yak pastures at 3290m.
Day 03: Gur – Labatama
Distance 12Km, Time 6 hours, Ascent 1220m, Descent 110m, Camp Elev 4100m.
While trekking across the ridges, one enjoys beauty of the rugged mountains vegetation. The path winds through flowers and wild asparagus (in spring). The meadows are refreshing and inspiring. The first pass symbolize by a huge cairn gives a spectacular view of Kanchenjunga (Sikkim) and more or less all the Bhutanese Himalayan peaks. Once descended into the Lamatama valley you ascend gradually through the valley passing some yak herder huts till you reach Utsho Lake where golden trouts are in abundance. The campsite is right next to the lake at 4100.
Day 04: Labatama – Pankha
Distance 8Km, Time 5-6 hours Ascent 269m, Descent 520m, Camp Elev 400m.
The trail along the western side of the Dalatsho up to a saddle at 4520m from where you can have majestic view of Himalayan peaks during descent. This point is around 4460m. The mountain peaks include Everest (Nepal), Kanchenjunga (Sikkim), Jumolhari, Jitchu Drake, Tshering Gang, Khangbum, Masa Gang , Tshenda Gang and Gangche Ta. If you want even better view, you can climb a peak close to the saddle with an altitude of 4720m. From the saddle the path descends, passing some yak herder huts to Docha Chu. You follow the river for a while, but stay higher up on the slop to reach Pankha with some ups and down on the way. Camp at Pankha at 4000m.
Optional Note:If you are trekking in spring time, the Pankha camp will not have drinking water. So you can hike about another 1 ½ hours further from Pankha for your tonight's camp. And this can also make your last day easier and bit shorter too.
Day 05: Pankha – Chamgang – Thimphu (Trek ends)
Distance 14Km, Time 8 hours, Ascent 180m, Descent 1630m.
You will start early today. This day entails the crossing of several passes, each one more impressive than the other. Search for different varieties of Blue Poppy (June-July) and mountain birds. After crossing the last small ridge, you will gradually decent toward the main Junction pass, which crisscrosses each other for the trail towards Chamgang, Talekha, Ganekha and Gaselo. So just make a very short descent on your right, and then take left horizontally for few minutes towards Chamgang trail with about three to four small ridges to go up and down before you begin a steep downhill hike until you reach a Chamgang village. You will finally arrive at the motor able road where transport will be awaiting to transfer you to Thimphu.
Overnight in hotel/resort at Thimphu

Day 06: Thimphu Sightseeing
After breakfast we will visit Buddha Dordenma (the larges Buddha Statue at Kuenselphodrang), Memorial stupa, Tashi Chhodzong Changangkha temple. Then after the lunch, visit Institute of Zorig Chusum, CHangzamtog National weaving center, and week end market which is called Centenary Farmer's Market.
Places to visit:
Buddha Dordenma, Thimphu
Tashi Chodzong, Thimphu
Institute of 13 Arts and Crafts
Memorial Chorten, Thimphu
Thimphu Town (city without traffic lights)
Hand woven silk kira
Centenary Farmer's market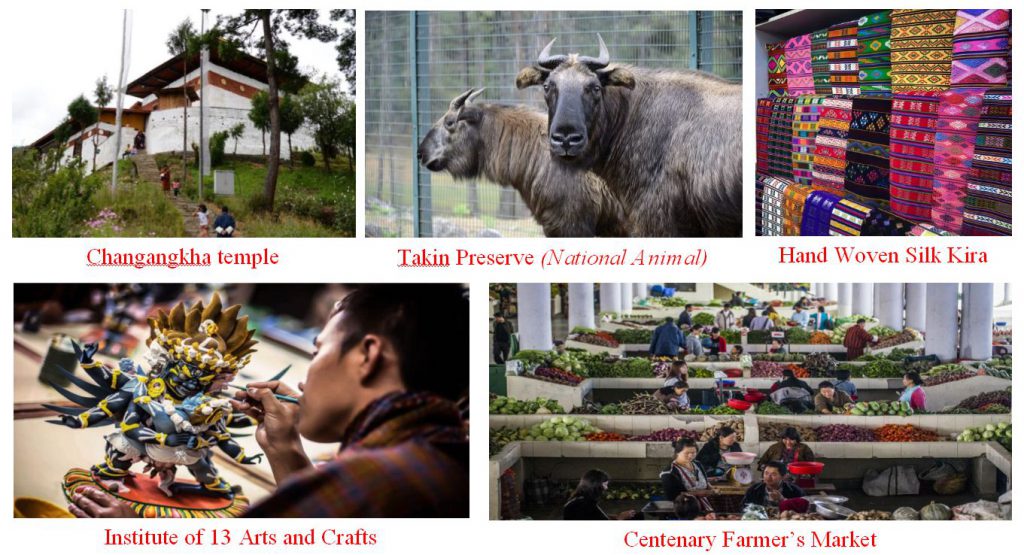 Day 07: Thimphu – Dochula pass – Paro
After breakfast, travel to Dochula Pass (3,088m/10,130ft) and back to Paro. Visit the beautiful 108 stupas built on the hill by Her Majesty Ashi Dorji Wangmo for the security and wellbeing of His Majesty the King of Bhutan. After that travel back to Paro and on the way visit Tamchog temple.
Overnight in hotel/resort at Paro

Places to visit:
108 stupa, Dochula Pass
Tamchog Temple
Day 08: A Day Hike to Tiger's Nest Monastery
Elevation: 3120 m; Hike time: 5 hours (up and down)
After breakfast, drive up to the base camp of Taktsang and then hike up to the most famous Monastery in the entire kingdom of Bhutan perched on the edge of a steep cliff, about 900 meters above Paro Valley. The hike to the viewpoint will take about an hour and it will take 2 hours to the monastery. Till view point, you can experience horse ride by paying USD 15 to USD 20 per horse but if you prefer to hike, then it is great.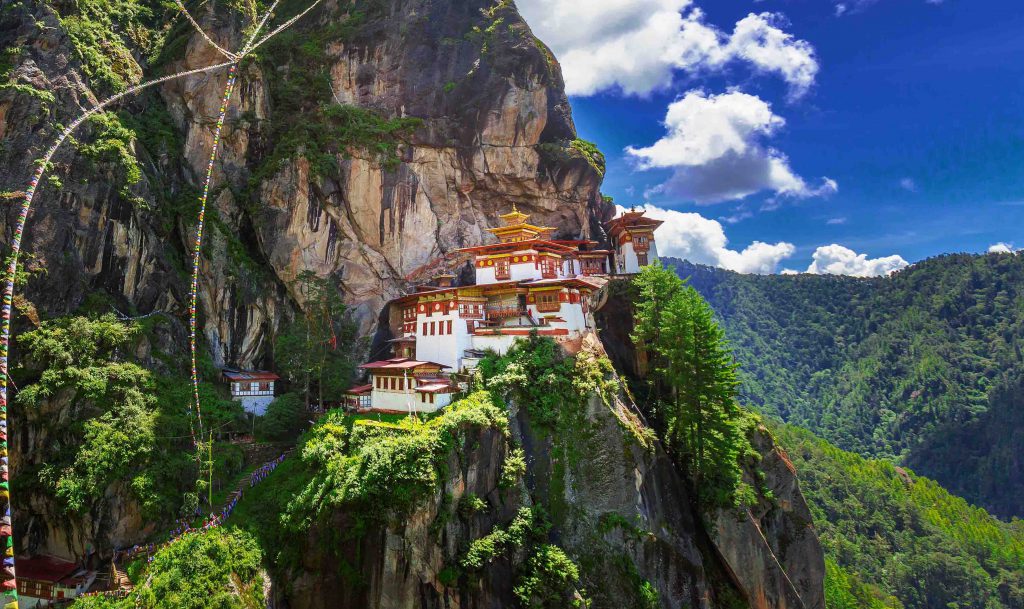 Lunch at Taktshang Café just above view point or you can have picnic lunch. On the way back to hotel from the tiring hike, visit Kyichu temple and then you will be visiting one of the farm houses in Paro to experience Bhutanese life-style and the organic Bhutanese dinner. You can also experience hot-stone bath at farm house (US $ 20 per person).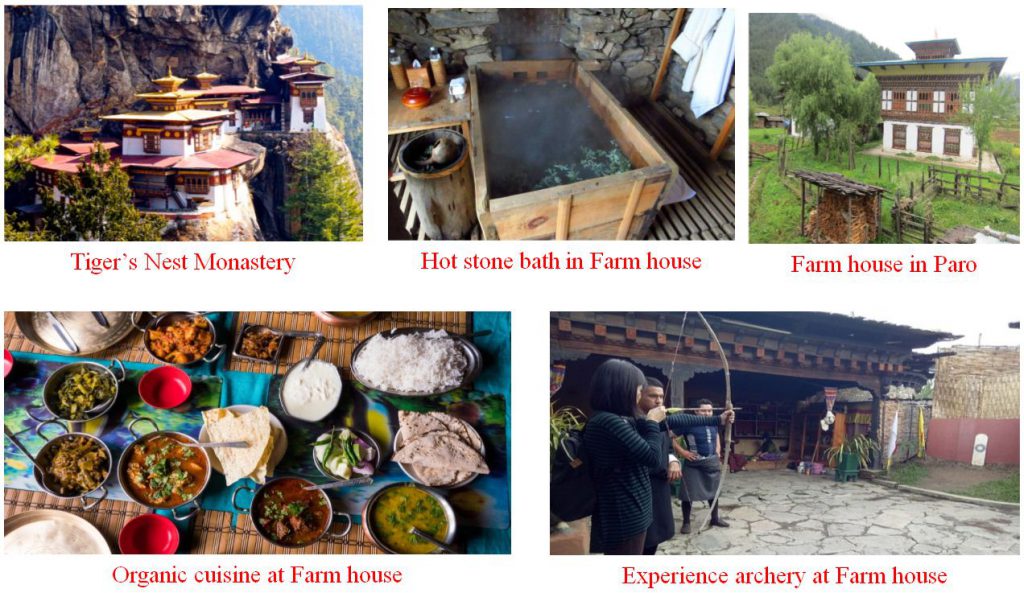 Day 09: Departure from Paro
After the breakfast, our representatives will escort you to the International Airport accordingly with the departure time. You have to reach there at the airport 2 hours prior to the departure time.
End of Tour