Druk Path Trek With Culture Tour
Duration: 14 Days 13 Nights
Location: Paro, Jili dzong, Jangchulahakha, Jana tsho, Jangchulhakha, phajoding, Thimphu, Punakha and Wangdue valley.
Highlight: The Druk Path Trek is also a fairly easy hike to undertake as the distances between rest camps is fairly short. The trail takes you through forests of fir, blue pine and dwarf rhododendrons at altitudes ranging between 2400-4200 m. On the third day hikers will arrive at Jimiling Lake, whose crystal clear waters are home to gigantic trout.
This trek also offers hikers stunning views of Mt. Gangkar Puensum, the highest unscaled peak in the world. The best times to embark on the Druk Path Trek are between March-June or September-November.
ITINERARY OVERVIEW
DAY 01 : ARRIVE PARO – SIGHTSEEING TOUR
DAY 02 : PARO – JILI DZONG (TREK SATRT)
DAY 03 : JILI DZONG – JANCHULAKHA
DAY 04 : JANCHULAKHA – JANA TSHO
DAY 05 : JANA TSHO – PHOJODING VIA SIMTOKHA
DAY 06 : PHOJODING – THIMPHU (TREK END)
DAY 07 : THIMPHU SIGHTSEEING
DAY 08 : THIMPHU – PUNAKHA VIA DOCHULA PASS
DAY 09 : PUNAKHA – BUMTHANG
DAY 10 : BUMTHANG VALLEY
DAY 11 : BUMTHANG – PHOBJIKHA VALLEY
DAY 12 : PHOBJIKHA – PARO
DAY 13 : A DAY HIKE TO TIGER'S NEST MONASTERY
DAY 14 : DAY 14 : DEPARTURE FROM PARO
DETAILED TOUR PROGRAM
Day 01 : Arrive Paro – Sightseeing Tour
Fly into Paro by Druk Air, Bhutan's National Airline. The great snow-capped peaks of the inner Himalayas rise up to the heavens can be seen during clear weather. As the plane approaches Bhutan, if you look down farmhouses as dots on the hillsides can be seen.
As the aircraft enters the Paro valley, you will see Paro Dzong on the hillside overlooking the Paro Chu (river), with Ta Dzong, formerly a watchtower and now the National Museum, above it. You will be received by the representative of Yelha Bhutan Tours and Travels (Bhutan tour operator) who will be your Bhutan travel guide throughout your tour.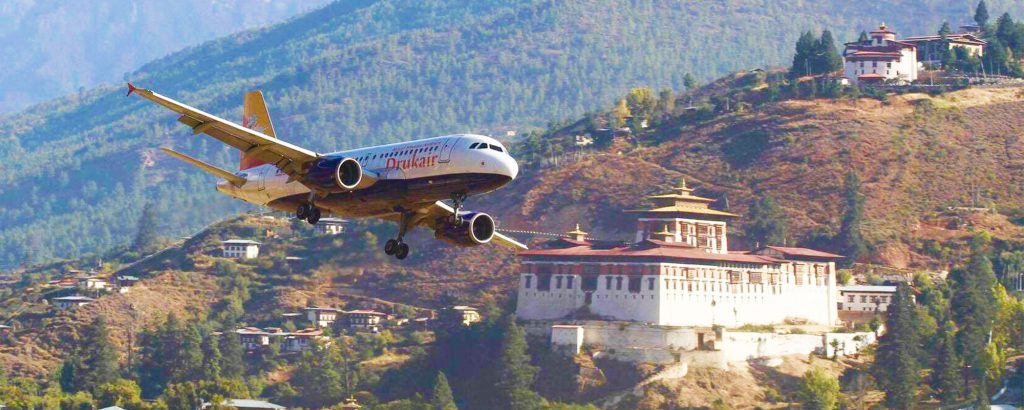 After meeting with the guide and driver, drive to hotel and visit Paro Rinpung dzong, built in 1645 to defend the valley against Tibetan invaders. The Dzong is now being used as an administration center and school for monks. Visit Taa dzong which was built in the 17th century as a watchtower for the Paro Dzong. This dzong was converted into the National museum in 1967.
Places to visit:
National Musuem (Ta-dzong)
Internaitonal Airport, Paro
Paro Rinpong dzong
Nyamey Zampa (traditional wooden bridge)
Paro town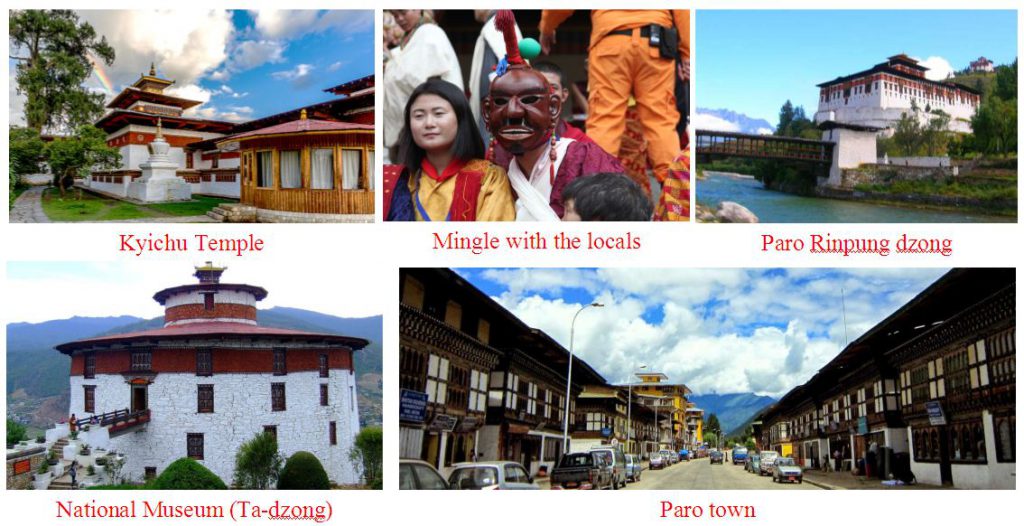 Overnight at Paro in Hotel.

Day 02: Paro – Jili Dzong (Trek Start)
Altitude: 3,450 m/11,319 ft; hike time: 4½ hours
The route is part of the original mule track that linked Thimphu Valley with Paro Valley and ultimately connected Bhutan to the Indian border. The walk is always done from Paro to Thimphu, as baggage horses are only available in Paro. It is a much more exciting way of reaching Bhutan's capital and after five days' trekking the sense of anticipation is keenly felt.
The walk starts appropriately behind Paro Dzong itself. Starting from the watchtower, the path winds its way slowly and evenly upward, through the forest towards the ridgeline of the Himalayan foothills above. As the day passes, the views below of the highly cultivated Paro Valley, the Queen Mother's Winter Palace, and the monastery/fortress itself are wonderful. The walk is firstly through pine, then bamboo, followed by birch and finally rhododendron.
You may have lunch near a Mani wall. The camp site is just a few hundred feet below Jili Dzong in a clearing. You will see plenty of interesting flora and fauna throughout the day and many interesting birds.
Day 03 : Jili Dzong – Janchulakha
Altitude: 3,770m/12,365ft; hike time: 5 hours
It is a short twenty minute hike from the camp to the dzong. This is a large monastery and supposedly haunted. It contains a huge statue of Padma Sambhava. There are birds nesting in the arrow slits and old Mongol helmets and shields hanging on the walls. The building was until very recently deserted, but has now undergone some renovation and is in use again.
It sits astride a ridge, which affords dramatic views of the valleys on both sides and the Himalaya to the north. On a clear day the second highest mountain in Bhutan can be seen, Mt. Chomolhari, 7,314m. The path now follows a ridge for a short while before descending into forest. It then follows a snake-like route on rather magical paths, along mountainsides and through many different types of rhododendron.
Occasionally you may meet local yak herdsmen and take in wonderful views of mountains, including another large peak called Kangcheeta. You will see this mountain has two peaks and is split by a straight, pronounced gully – locals believe that Kangcheeta is the brother of Chomolhari (female mountain goddess) who hit him with a stick because he wanted to marry her. To the south, the Dagala range dominates the skyline. Below Mt. Kangcheeta there is a temple, Tshomphu Monastery, where an idol is supposed to float in the air.
In the past our guides said they had visited the temple and it was possible to pass a string underneath the statue, thus proving it floated. Eventually, you pass through a number of yak herder clearings, stopping for the night at the largest of them.
Day 04 : Janchulakha – Jana Tsho
Altitude: 3,956 m/12,975 ft; hike/trek time: 7 hours
From camp the path ascends to gain the ridge and then traverses along it, first one side and then the other, with wonderful mountain views. Eventually you cross a small pass and circle round, until above Jimi Langtsho Lake. This is a large beautiful lake, stocked with trout, with a large chorten (religious obelisk) built at one end. You zigzag down to the lakeside, which is thick with rhododendron and hemmed in by rocky bluffs.
The path then leads up from the lake and along cliff paths with massive drops below. Eventually it leads round a succession of ridges until you arrive at the second lake, Jana Tsho, another magical campsite.
Day 05 : Jana Tsho – Phobjikha Via Simtokha
Altitude: 4,210m/13,812ft ; hike/trek time: 5 – 6 hours
Again a lovely walk in glorious high mountain country, crossing the highest pass, the Simkota La 4,210m/13,812ft. From the lake a wide stone path between rhododendrons leads to traversing a basin, which contains the 3rd lake. Two other lakes are above and out of sight, one male, one female and collectively they are called Dungkar Tsho.
The latter of these has a very strong spirit and if anything 'dirty' is done nearby, cloud comes down and only goes away with many prayers. The path is a mixture now of small passes, mountain tracks, some of which wander underneath cliffs. You may meet monks on their way from Thimphu to visit the sacred lake of Jimi Langtsho, where they meditate for a few days before returning.
The rocky mountain next to the highest pass, Thujedraj, used to be used for sky burials in the old days. Lower down there is one smaller pass with a chorten which looks directly down onto Thimphu.
Here you will have lunch (3½ hours to here) and then the path zigzags down to Phadjoding. There is time to rest, wash and then see the temples. There is a recent one, constructed with funds donated by the 4th King's Secretary, dedicated to Padma Sambava, but the 9th and 16th Jey Khempos (head monk of Bhutan) built the two main ones.
These are gorgeous buildings with golden roofs and acolyte monks will show you the inner temples. Phadjoding is a great meditation centre and there are a number of houses dedicated to retreat. A particular type of branch is put outside the front door, showing that the incumbent is not to be disturbed. High up on the cliff behind Phadjoding is a famous hermit temple, built many hundreds of years ago and still used today.
Day 06 : Pbobjikha – Thimphu (Trek End)
Altitude: 2,350m/7,710ft; Hike/trek time: 3 – 4 hours
It only takes two or three hours to reach the road, descending, steeply at times, through the forest, on a well-worn path. It is worth getting up early for the clear views of the Eastern Himalaya. Seen clearly on the horizon behind the temples is the highest mountain in Bhutan, Gangkar Punsum, at 7,550m/24,770ft now the highest unclimbed peak in the world.
There are several paths leading down to Thimphu; perhaps the best is the one leading to the Radio Station, which takes about 3 hours. Quite often the valley below may be filled with cloud, with just the mountains poking up into the clear air. Your vehicle will meet you at the road head for the short transfer to your hotel in town.
After reaching Thimphu, check into the hotel and take shower or rest for a while and stroll through through Thimphu town in the evening.
Overnight in Thimphu hotel.

Day 07 : Thimphu Sightseeing
After breakfast we will visit Buddha Dordenma (the larges Buddha Statue at Kuenselphodrang), Memorial stupa, Tashi Chhodzong Changangkha temple. Then after the lunch, visit Institute of Zorig Chusum, CHangzamtog National weaving center, and week end market which is called Centenary Farmer's Market.
Places to visit:
Buddha Dordenma, Thimphu
Tashi Chodzong, Thimphu
Institute of 13 Arts and Crafts
Memorial Chorten, Thimphu
Thimphu Town (city without traffic lights)
Hard woven silk kira
Centenary Farmer's market
Changangkha temple
Day 08 : Thimphu – Punakha Via Dochula Pass
Elevation: 1300 m; Driving time: 2 hours, 30 minutes
After breakfast, travel to Punakha through Dochula Pass (3,088m/10,130ft). Visit the beautiful 108 stupas built on the hill by Her Majesty Ashi Dorji Wangmo for the security and wellbeing of His Majesty the King of Bhutan. Travel onto Punakha, and visit Punakha Dzong, located on the island of the Pho – Chu (male) river and the Mochu (female) river.
Places to visit:
108 stupa, Dochula Pass
Punakha Dzong
Chimi Lhakhang(Devine madman's temple)
Druk Wangyal Monastery, Dochula
Overnight in punakha hotel.

Day 09 : Punakha – Bumthang
Elevation: 2650 m; Driving time: 7 hours
After breakfast, drives to Bumthang via Pelela pass at the altitude of 3,150 meters, a wonderful opportunity for photographs. En-route stops at Chummy village to visit yathra weaving central. Which Yathra are made into colorful scarves, bags, blankets and sweater. Continue drive to Bumthang and check into the hotel and take a rest.
Overnight in Bumthang hotel.

Day 10 : Bumthang Valley
Whole day sightseeing in Bumthang, which is the most beautiful place in Bhutan and we normally say, "Switzerland of Bhutan". In the morning visit the Jakar Dzong. The fortress is now used as an administrative center of the valley and summer residence of monks. Chakhar Lhakhang (Iron Castle). It is the site of the palace of the Indian King Sendha Gyab also known as Sindhu Raja. Also visit Kurjey Lhakhang (Kurjey means, "Body imprint"). The temple to the right was built by Minjur Tempa in 1652. It was built around the cave in which Guru Rinpoche meditated and left his body imprint.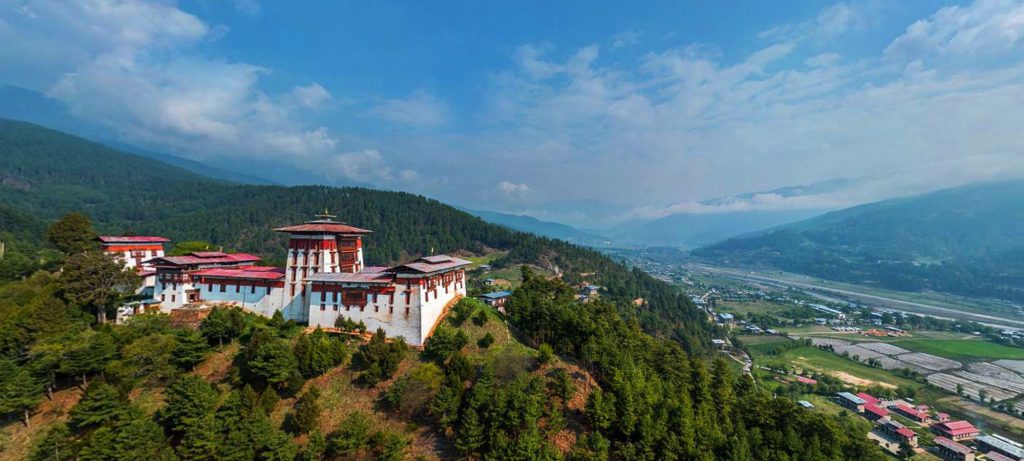 Jambay lhakhang, built in the 7th century by the King Songtsen Goempo of Tibet. In his effort to propagate Buddhism he had a plan to build a total of 108 temples in Tibet and neighbouring kingdoms. Then visit small Bumthang town and take leisure time by walking through villages nearby.
Places to visit:
Jakar dzong, Bumthang
Kuje Lhakhang
Chamkhar town, Bumthang
Jambay Lhakhang
Yathra (woven from wool)
Day 11 : Bumthang – Phobjikha Valley
Elevation: 2900 m; driving time: 7 hours
After breakfast drive to Trongsa and visit Trongsa Dzong, seat of the district administration, built in 1648 . Then drive to Phobjikha (lunch on the way). It is a bowl-shape valley on the western slopes of Black Mountain. Visit Gantey Goenpa – This monastery is a major attraction with an old monastery date back to the 16 century. Later start short short hike from Gangtey Goenpa to beautiful phobjikha valley.
Places to visit:
Trongsa Dzong
Gangtey Goenpa, Gangtey, Wangdue
Black Necked Crane (can see in winter only)
Bowl shape Phojikha Valley
Overnight in Phobjikha Resort.

Day 12 : Phobjikha – Paro
Elevation: 2280 m; driving time: 6 hours
Today after well rest we will drive to Paro. After reahing Paro, check into the hotel and in the evening, visit Paro Rinpung dzong, built in 1645 to defend the valley against Tibetan invaders. The Dzong is now being used as an administration center and school for monks. Visit Taa dzong which was built in the 17th century as a watchtower for the Paro Dzong. This dzong was converted into the National museum in 1967 and is filled with antique thankha paintings, textiles, weapons and armour.
Day 13 : Hike to Tiger's Nest Monastry
Elevation: 3120 m; Hike time: 5 hours (up and down)
After breakfast, drive up to the base camp of Taktsang and then hike up to the most famous Monastery in the entire kingdom of Bhutan perched on the edge of a steep cliff, about 900 meters above Paro Valley. The hike to the viewpoint will take about an hour and it will take 2 hours to the monastery. Till view point, you can experience horse ride by paying USD 15 to USD 20 per horse but if you prefer to hike, then it is great.
Lunch at Taktshang Café just above view point or you can have picnic lunch. On the way back to hotel from the tiring hike, visit Kyichu temple and then you will be visiting one of the farm houses in Paro to experience Bhutanese life-style and the organic Bhutanese dinner. You can also experience hot-stone bath at farm house (US $ 20 per person).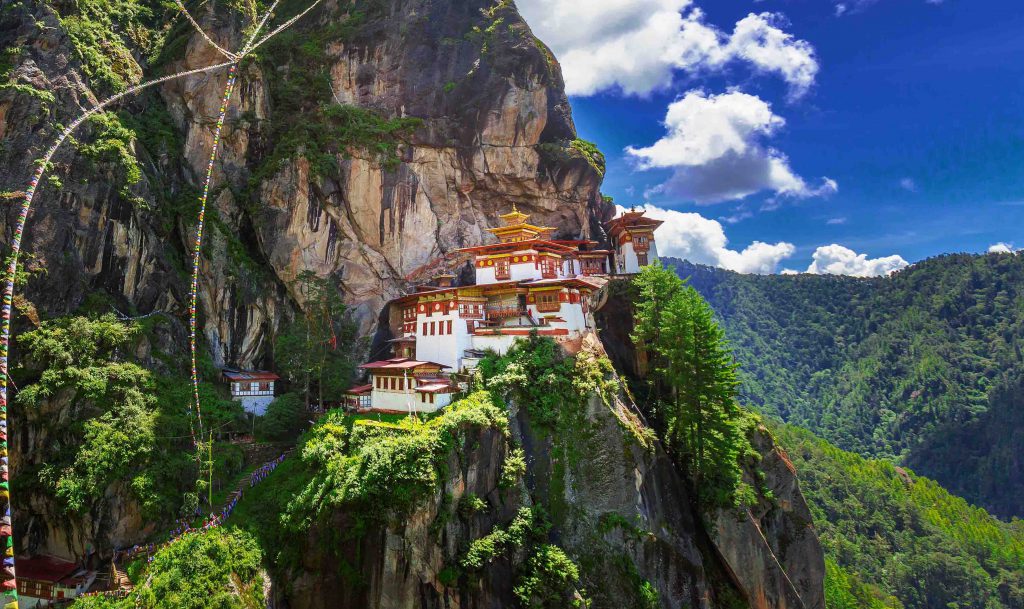 Places to visit:
Tiger's nest monastery
Hot stone bath in Farm hourse
Farm house in Paro
Organic cuisine at farm house
Kyichu Temple
Experience archery at Farm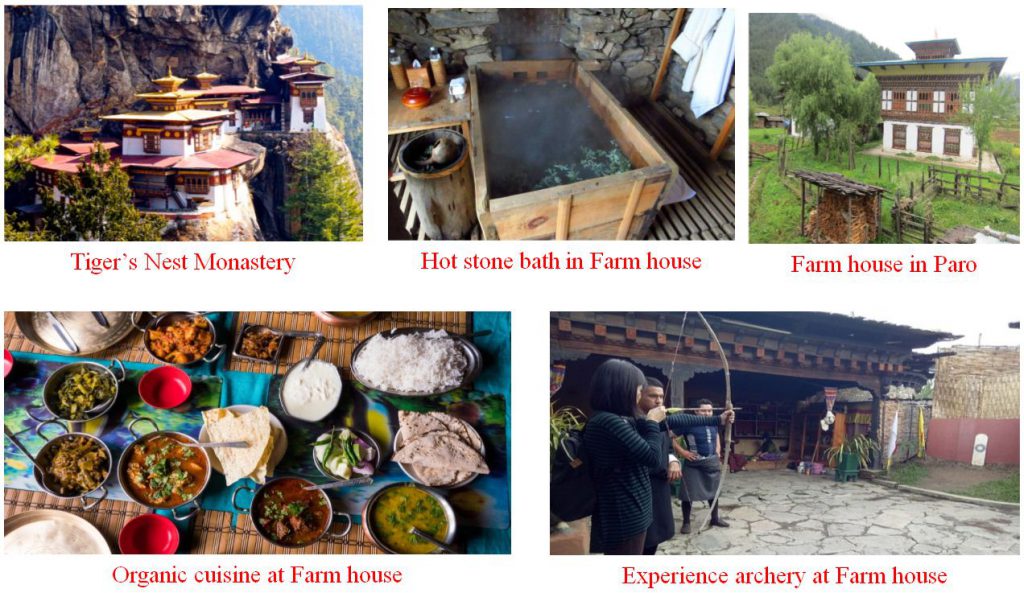 Day 14 : Departure from Paro
After the breakfast, our representatives will escort you to the International Airport accordingly with the departure time. You have to reach there at the airport 2 hours prior to the departure time.
End of Tour