Extensive Laya-Gasa Trek 18 Days
Durations : 18 Days Tour
Locations : Paro, Thangthangkha, Jangothang,Lingshi,Chebisa,Shomuthang,Robluthang,Lingmithang,Laya and Thimphu
Highligh :In Bhutan, trekking is a real charm! Adventure is what keeps your mind rolling and your keen travel appetite aroused. Imagine the feel of walking along sloppy hills and valleys, and the cool atmosphere that the mountain top offers!
ITINERARY OVERVIEW
DAY 01 : ARRIVE PARO – SIGHTSEEING TOUR
DAY 02 : A DAY HIKE TO TIGER'S NEST MONASTERY
DAY 03 : PARO – SOE THANGTHANGKHA
DAY 05 : SOE THANGTHANGKHA – JANGOTHANG
DAY 06 : JANGOTHANG – LINGSHI
DAY 07 : LINGSHI – CHEBISA
DAY 08 : CHEBISA – SHOMUTHANG
DAY 09 : SHOMUTHANG – ROBLUTHANG
DAY 10 : ROBLUTHANG – LINGMITHANG
DAY 11 : LINGMITHANG – LAYA
DAY 12 : HALT AT LAYA
DAY 13 : LAYA – KOENA
DAY 14 : KOENA – GASA(Gasa Tsachu or Hot spring)
DAY 15 : GASA HOT SPRING HALT
Day 16 : MORNIG DRIVE TO THIMPHU
DAY 17 : THIMPHU SIGHTSEEING
DAY 18 : DEPARTURE FROM PARO
DETAILED TOUR PROGRAM
Day 01: Arrival at Bhutan
Arrival at Paro by Air. The flight offers you beautiful view of mountains and landscapes. On arrival and after visa formalities you will be received by our members. Afternoon or, evening time at leisure and visit Paro Dzong and the national museum.
Overnight in hotel/resort in Paro valley.

Day 02 : Day Hike to Taktsang Monastery
Day hike to Taktsang Monastery. Horses can be arranged with an extra US $ 5/- The hike which is all the way uphill takes about 2 /3 hours through villages and pine forests. The monastery which clings to a huge granite cliff 800 meters from the Paro valley was devastated by fire in 1998 but the Royal Government has taken immediate steps to restore the monastery to its original structure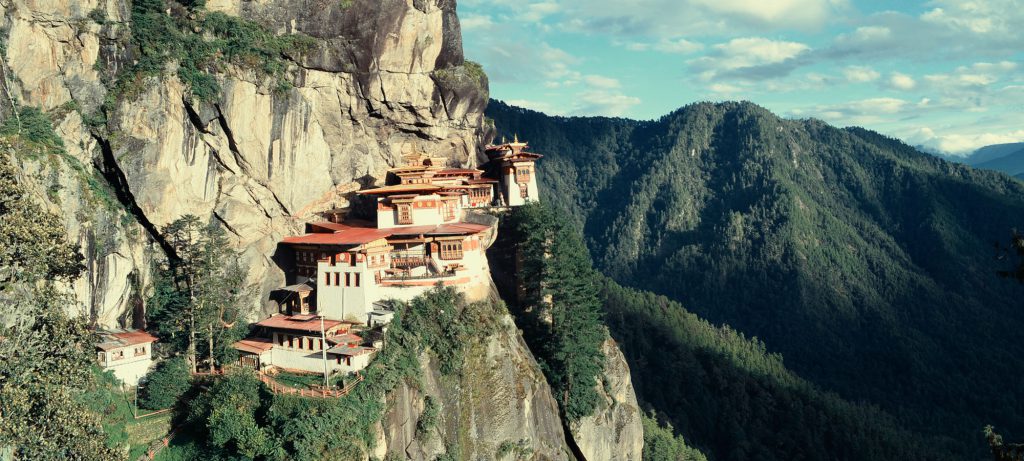 Day 03 : Paro – Soe Thangthangkha
In the morning we drive till Guni tsawa where there is Army camp is there and we start our trek. The trail continues uphill through the river valley, gradually becomes narrower and closes in after some distance. The winding trail with frequent climb and descend leads us to our camp site in a meadow with stone shelter at 3,720m. By then, we will have trekked about 23km in around 7-8hours.
Day 04 : Thangthangkha – Jangothang
Continue the trail along the Pachhu and the valley opens again after crossing a small army outpost. Trekking through the open valley affords view of high ridges and the snow-capped mountains with yaks and Yak herder's camp on the valley floor. Trekking 15km of trek within 5 to 6 hours will find us near the ruined fortress at the base of Mt. Jomolhari at 4040m. Camp here for the night!
Day 05 : Jangothang to Halt
After two long days trek, you will have a good chance to relax under the sun just infront of the Jomo lhari. But if you are interested you may go furthere from the base camp and climb to tsho Phu 4300m. Night at camp.
Day 06 : Jangothang – Lingshi
Climb gradually toward the pass through a wide pastureland. On your way, depending on the season you are trekking, you will find some yak herder's in their camps. Descending from the pass to Lingshi, you will have a beautiful view of Lingshi Dzong, the Valley, Tserim Kang (Mountain), and its glaciers. At 4150 m, camp in a stone shelter with built-in-fire pit or in the tent! By then, we will have covered 19km of trail within 5 to 6 hours of trek.
Day 07 : Lingshi – Chebisa
Today is the shortest of all days on our trip. Upon reaching Chebisa at 3, 850 m, having trekked for 3 to 4 hours covering 12km of trail, camp alongside the village settlement. You can visit the village houses and feel the Bhutanese rural life experiences.
Day 08: Chebisa – Shomuthang
Trekking through a wide pastureland will lead up to Gobu La Pass. Along the way, you find some Yak herder's. Conquering Gobu La Pass at 4, 305 m, descend down to the valley. The campsite will be above a river bank, a tributary of a Mochhu River at the elevation of 4, 260m. By then we will have trekked 17km in 5 to 6 hours of time
Day 09: Shomuthang – Robluthang
We start early for the trek is little strenuous. Upon crossing the Jerela Pass at 4, 600m, descend to Tsharijathang Valley, where you can see the herds of Takin, the National Animal of Bhutan. Camp at Tsharijathang at 4, 390m after having trekked from 15km for 6 to 7 hours
Day 10: Robluthang – Lingmithang
Cross the Shingela Pass at 4, 900m, you take a downhill trek following the valley. Lingmithang, a beautiful village under Laya County offers an opportunity to see people dressed in typical Laya costume with long bamboo hats on their head. Camp at Lingmithang at the elevation of 4, 140m after a day long trek of 6 to 7 hours covering 19 km of the trail! A day halt exploring the valley and meeting the people of unique costume and habit will be of unique experience.
Day 11: Lingmithang – Laya
The trek for the day is downhill walk along the narrow winding river valley. The trail leads you to the west side of the Laya Village. At the elevation of 3, 850m, campsite is on a high flat bench above the village. The trek stretches for about 10 km requiring 3 to 4 hours of normal trekking
Day 12: Laya Halt
A day halt at Laya will give us a time to go around and explore the Laya Village to the fullest.
Day 13 : Laya – Koena
The trail involves series of winding rounds to avoid steep cliffs while affording breaking view of crashing river, feeder streams and cascades of waterfalls. Covering 19km of trail in 6 to 7 hours, we reach at our campsite at 3, 800m.
Day 14 : Koena – Gasa (Gasa Tsachu or Hot spring)
Upon crossing the Babela Pass at 3, 740m, the trail is all the way down leading up to our campsite, close to Gasa Dzong at the elevation of 2, 900m. The 17km stretch of the trek takes 6 to 7 hours of normal trekking. Camp near the Hot Spring!
Day 15 : Gasa Hot spring to halt.
After breakfast, you will have full day of soaking into the hot spring after long trek and it is the best place for starching your muscles and relax.
Day 16 : Morning Drive to Thimphu
Today after breakfast we will visit Punakha dzong and then drive to Thimphu via Dochula mountains pass.
Visit the Memorial Chorten, a huge stupa built in memory of the Third King of Bhutan who reigned from 1952-1972;
Visit Tashichho Dzong, the seat of the Royal Government as well as the summer residence of the Head Abbot and the central monastic school.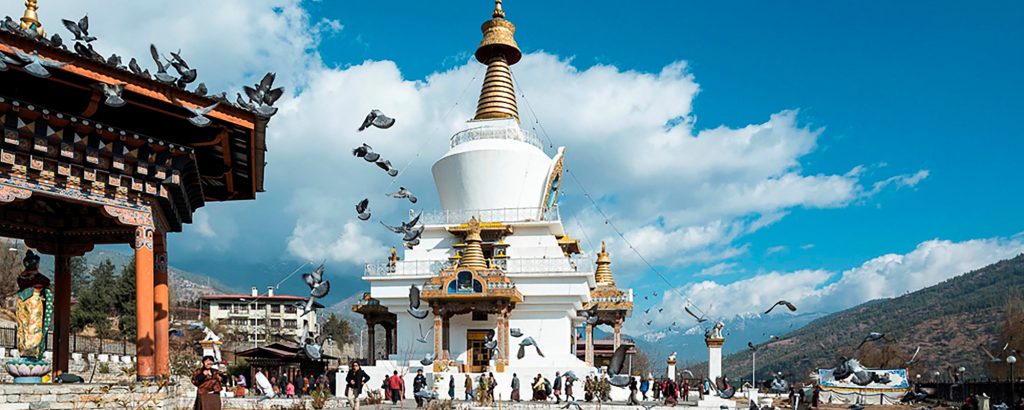 Overnight in hotel/resort at Thimphu

Day 17 : Thimphu Sightseeing
Visit the Craft and Painting school where traditional arts and crafts are still kept alive. The Post office.
Visit the World's tallest Buddha statue, The Art and craft centre, the paper factory and Kezang weaving centre at changzamtog.
You can wear Bhutanese traditional costumes which will be provided by the company and then attend the farewell in the evening with Bhutanese cultural program.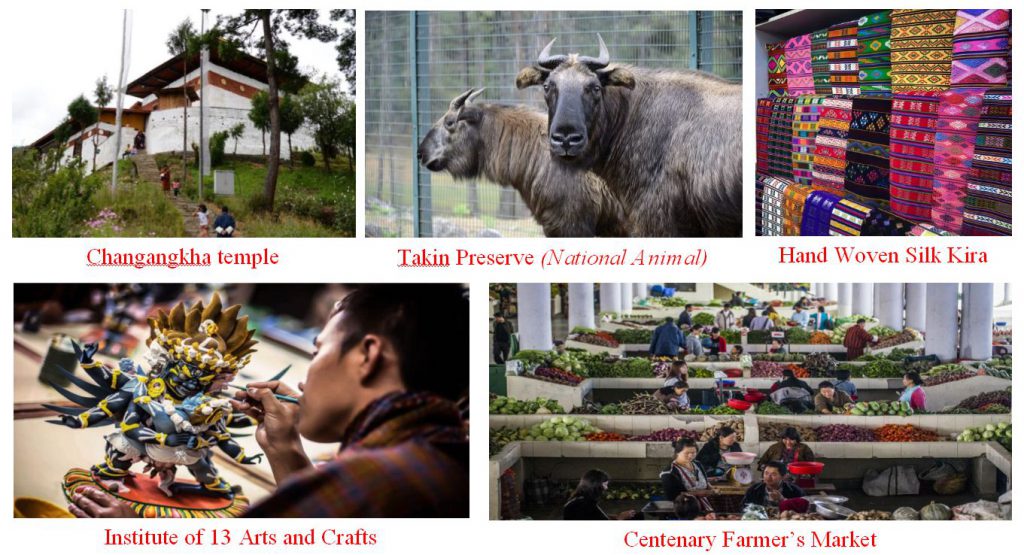 Day 18 : Departure from Paro
After the breakfast drive to Paro airport for your departure.
End of Tour